Top ten peculiar delicacies from Scandinavia
Text: Linnea Dunne | Photos: Dreamstime.com
You may have tried the meatballs with lingonberry sauce in IKEA, but do you know your real Nordic delicacies from the sanitised, well-travelled clichés? Here are some treats, snacks and arguably quirky dishes from the lands up north, which every self-respecting Scandiphile must try.
1. Semla
If you've never tried a Swedish lenten bun, also known as 'semla', you're missing out. These fluffy cardamom-flavoured buns are cut in half to create a lid, then scooped out, filled with a sweet marzipan mix, topped with whipped cream and the bun lid, and then finished off with a sprinkling of icing sugar. Semlor make the main treat on Shrove Tuesday, known as Fat Tuesday in Sweden, but can these days be enjoyed throughout January and February in cafés across Sweden.
2. Æbleskiver
Literally translating to 'apple slices', æbleskiver are in fact fluffy pancake-like balls made in special pans and served with jam and a sprinkling of sugar. Hugely popular in the build-up to Christmas and at Christmas fairs, they are also commonly served at birthday parties and other celebrations.
3. Lutefisk
All Nordic nations have versions of this delicacy, but 'lutefisk' fish is a quintessential Norwegian dish. Made mostly using stockfish – dried white fish, most commonly cod – it is pickled in lye, giving it a gelatinous texture and its characteristic flavour. Lutefisk appears at every Christmas dinner in Norway but is also enjoyed regularly as part of a traditional meal.
4. Gravad lax
More fish! Gravad lax, a dish that has travelled and even kept its original Swedish name abroad, looks a lot like smoked salmon – but it's not. The two dishes have in common that they consist of thinly sliced salmon, but while smoked salmon is, well, smoked, 'gravad' means cured. Gravad lax, then, is cured using salt, sugar and dill, and makes a natural part of every smörgåsbord, Christmas dinner and Midsummer celebration.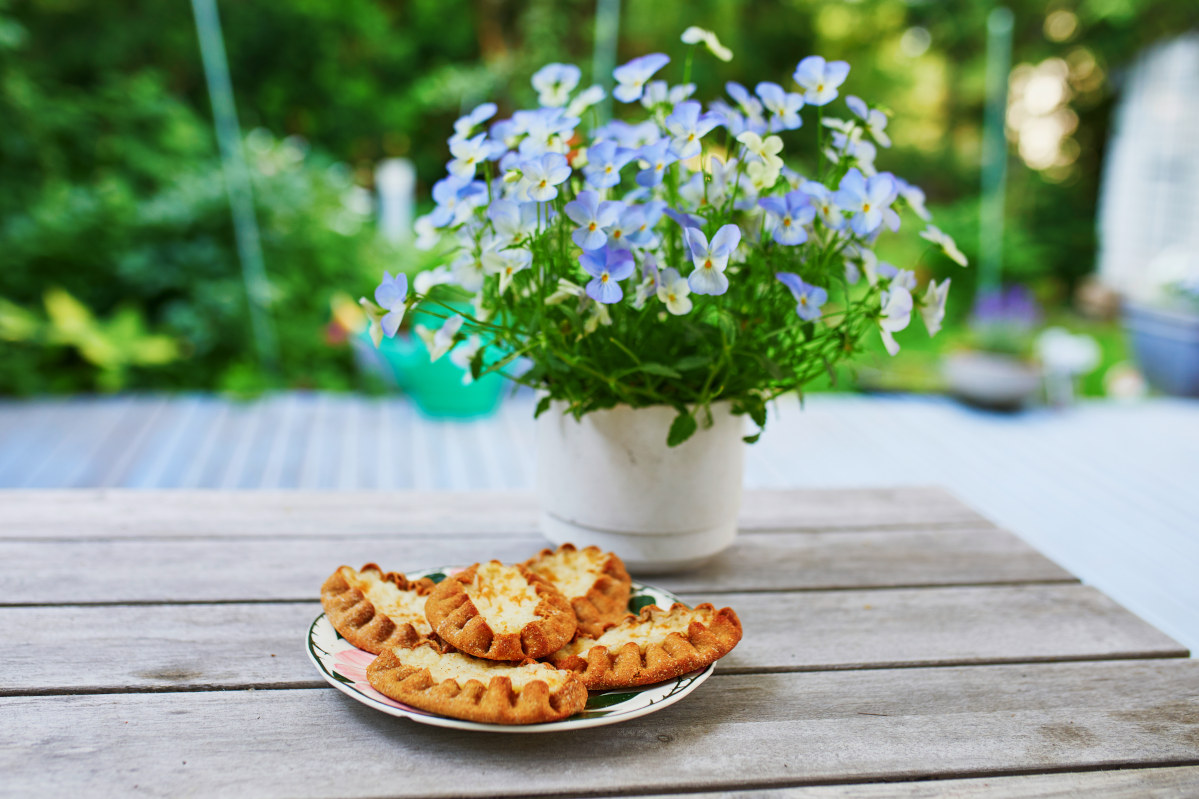 5. Karjalanpiirakka ('Rice pies')
Pies, pastries, pierogis – call them what you want, but these savoury rice delicacies are a remnant of Finland's ties to Russia, their roots specifically in the Karelia region. Mixing rye and wheat for the dough, the pies previously came filled with whatever was in stock and affordable, but these days the most popular version comes stuffed with rice and egg butter – chopped, hard-boiled egg mixed with butter.
6. Smörgåstårta ('Sandwich cake')
This favourite of every Swedish granny, smörgårstårta, meaning sandwich cake, pretty much does what it says on the tin. It's made of layers of white bread with generous amounts of creamy fillings, including egg and mayonnaise as well as a selection of sliced fish or cold cuts and cucumber, tomato, lemon, grapes and caviar. A must at every summer celebration. Comes with '90s vibes.
7. Toast Skagen
Everybody knows that Scandinavians are fans of open sandwiches. Add the newfound knowledge of the 'sandwich cake' above, and you won't be surprised to hear about Toast Skagen – indeed, small, often triangular pieces of white toast topped with mayonnaise, prawns, caviar and dill. Again, popular at various types of smörgåsbord-friendly happenings. Extra delicious with a glass of something cool and light, like white wine or Prosecco, in the summer.
8. Lefse
Is it food or dessert? Who knows! The potato in the batter suggests the former, but then the accompanying cinnamon, sugar and jam says otherwise. In any case, these Norwegian pancake-style flatbreads are comfort food at its simplest. And perhaps the real beauty of them is that you can choose: why not make it dinner by adding some gravad lax, or go heavy on the sweet stuff for a filling dessert?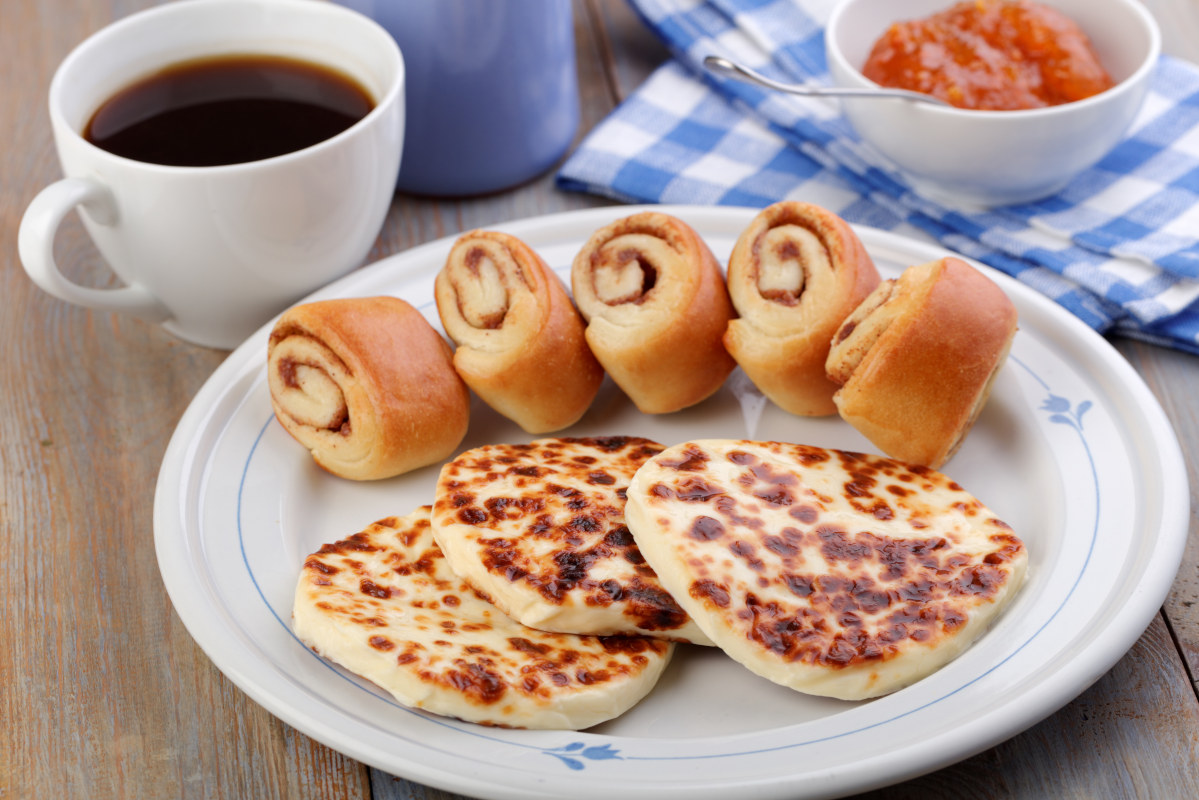 9. Leipajuusto ('bread cheese')
Why choose between bread and cheese when you can have both – in one? The Finns have thought of everything. Leipajuusto, meaning 'bread cheese', is the best savoury type of evening snack you can imagine. Sometimes referred to as 'squeeky cheese' because of the sound it makes when you bite into it, it was traditionally made of cow's milk from a cow that had recently calved, but these days it comes in a range of interpretations, including using reindeer or goat's milk. We're tempted to freestyle and call it Finnish halloumi.
10. Chokladbollar
Chokladbollar, or chocolate balls, are perhaps the easiest no-bake treats imaginable, made with oats, butter, sugar and cacao, perfect for stress-free (but admittedly a little bit messy) treat-making with children, and almost justifiable as an after-school snack, what with the healthy oats and all. For adults, add some coffee, or perhaps experiment and go vegan with dates and the likes? Suffice to say, the way to a Swede's heart goes via traditional chocolate balls, which will evoke memories of sunny days running barefoot across the grass to a picnic blanket with raspberry squash and – you guessed it – chokladbollar.
Subscribe to Our Newsletter
Receive our monthly newsletter by email