Tornøes Hotel: Unwind at Kerteminde's historical seaside retreat
By Tina Nielsen | Photos: Tornøes Hotel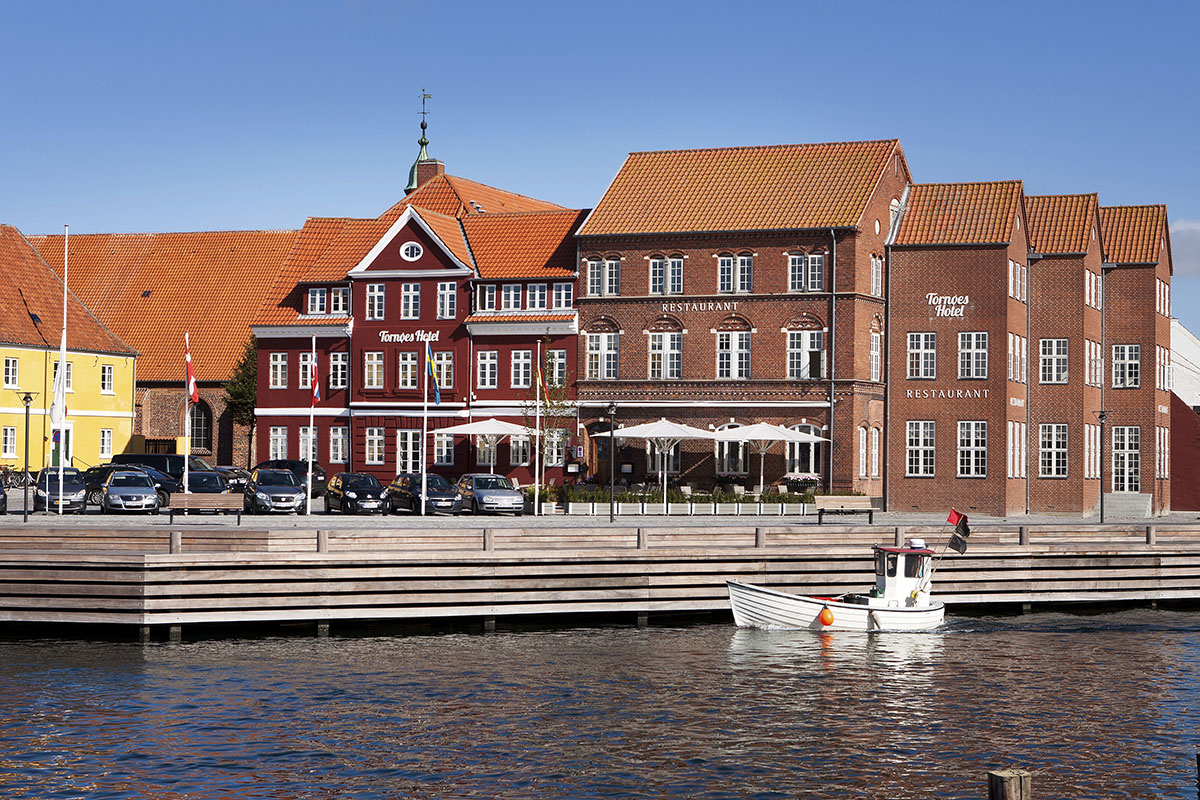 With its 150-year history, Tornøes Hotel in the quaint harbour town of Kerteminde offers a blend of tradition and modernity in a beautiful setting.
Tornøes Hotel, on the edge of the beautiful Kerteminde harbour, has plenty of stories to tell. Historically, the building was home to a brewery and a pub, but when a new wave of tourism saw the wealthier classes of Denmark go on beach holidays in the small coastal towns of Denmark, the demand for hotels increased. Tornøes Hotel was established in 1865 and has operated continuously as a hotel since.
Located on the island of Funen in the centre of Denmark, Kerteminde is an idyllic coastal town popular with tourists from Denmark and beyond. "Unlike many other popular coastal towns along the Danish coasts, Kerteminde feels very alive all year round," says owner and director Ulrich Frandsen. "It is not just a summer town; there are many activities and events taking places outside the high season."
The town, home to Skænkestuen – the oldest pub in the country, has a lively gastronomic life with many good restaurants. After the addition of a new building five years ago, Tornøes Hotel today has 59 rooms – from classic to superior with and without sea views, and including suites as well as facilities for conferences and functions. During the summer months, the guests span everyone from families to couples and business travellers.
The new building was constructed to match the historic visual appeal of the original building in such a style that nobody realises it's actually a new build, according to Frandsen. "We take a lot of pride in maintaining the history around Tornøes. Respecting the original classic look of the buildings – inside and out – is important," he explains.
The restaurant in Tornøes Hotel is open for breakfast, lunch and dinner, offering a modern Nordic menu of classic Danish food, including herring, for lunch, while the dinner menu is focused on modern-classic dishes such as fish and steak.
The experienced staff of the hotel are experts in the area and are happy to guide guests in the many local activities. "There are so many things to do," says Frandsen. "This really is a cosy and welcoming town."
Web: www.tornoeshotel.dk Instagram: @tornoeshotel
Subscribe to Our Newsletter
Receive our monthly newsletter by email