Törst Beverages: Real ingredients, real flavour
By Malin Norman | Photos: Törst Beverages
Is it possible to find soft drinks without added preservatives, aromas or artificial ingredients? It certainly is! Swedish brand TÖRST has redefined the category by producing real soda from real ingredients – such as fruit, herbs and spices – for real flavour.
The idea of brewing soft drinks in a simpler way and from natural ingredients originally came from the engineer-turned-beer-brewer Ludvig Brydolf, who teamed up with visionary businessman Allan Mabon, seasoned bar and restaurant professional Karl Stein, and a collective of beverage professionals in order to realise the dream.
"Something was lacking in the market," says Rasmus Lindgren, marketing manager. "Even though the food and beverage industry has changed a lot in the past five to ten years by, for instance, moving towards more local and organic production, we saw that people were still drinking the same kind of industrial soda as in the 1930s. There was room for better alcohol-free options in restaurants, cafés and bakeries – so TÖRST was born in 2020."
The team has a varied background, ranging from environmental engineering and manufacturing planning to brand building, product development and gastronomic expertise. "What really unifies us is the view that there is a clear need for our products," says Lindgren. "We want to offer a range of products to consumers who want to enjoy a treat made with real ingredients from time to time."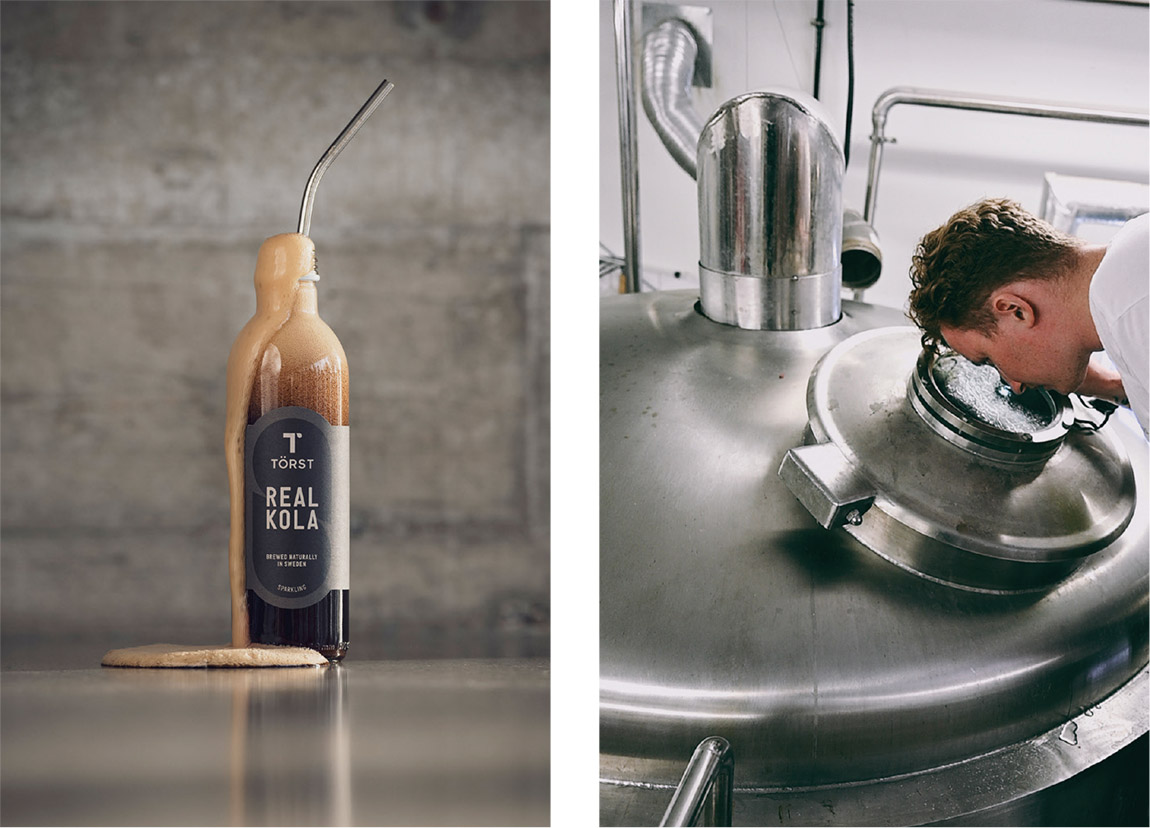 Still a soda, just better
With an honest approach and no use of questionable chemicals, added aromas, preservatives or artificial colourants, TÖRST was launched in the first summer of the pandemic. The refreshing thirst-quencher called Real Raspberry instantly became a big hit, and since then, another six products have been added to the line-up.
The team brews the soda on Värmdö, an island in Stockholm's archipelago. "Our process is straightforward and we never compromise on ingredients. It's a completely natural product made of water from our own well and cane sugar mixed with fruits, herbs and spices," explains Lindgren. "This is just how grandma used to make soda at home, with simple and natural ingredients."
Once brewed and lightly filtered, the sodas are carbonated, bottled, pasteurised and labelled. TÖRST strives to be at the very forefront of sustainability and to act as a role model within the industry – an ambition that's evident in everything from the lightweight glass bottles to the paper labels and plastic-free packaging. "Basically, we're trying to produce the soda in the best way possible, for our planet and its people. There's value in a good soda that also does good – where ingredients are mindfully sourced, processing is gentle and the result is delicious."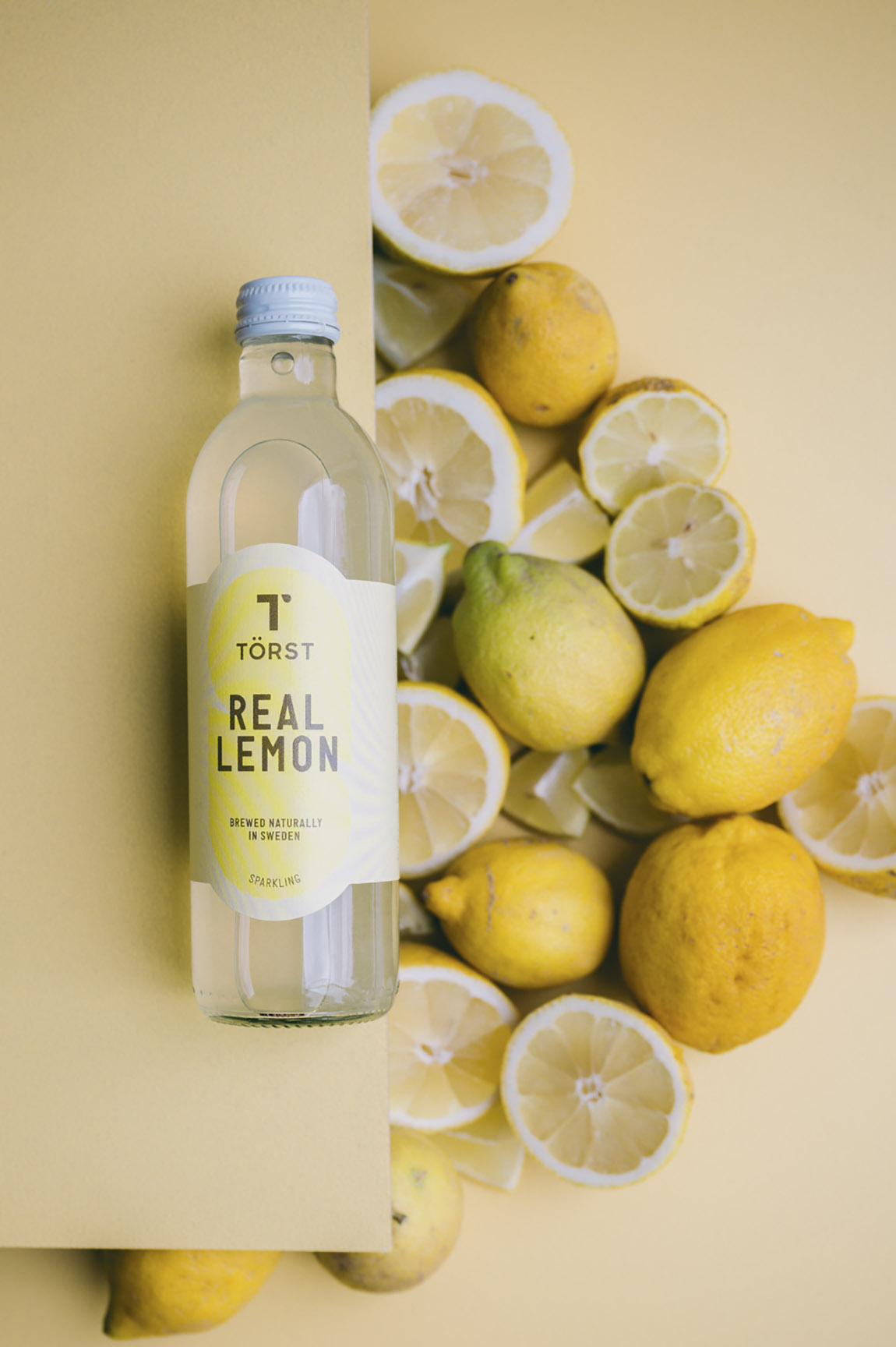 All about natural flavours
"In the early stages of our journey, when creating the recipes, we started with a blank sheet of paper and asked ourselves, what could there possibly be in a lemon soda," says co-founder Ludvig Brydolf. TÖRST's lemon soda may be the perfect showcase for the ethos behind the products, made with just lemons, sugar and water. Nothing more. The attention lies not in the chemical composition of an industrialised recipe, but rather in the details of sourcing the best possible produce to work with.
"We have built fantastic relationships with producers and importers of organic fruits, herbs and spices from all over the world," explains Brydolf. "By sharing knowledge and working with their produce, we have learned so much! We now know which seasons are the best to buy different ingredients, and which variety of certain fruits suit our production and preference. This way, we can keep things simple, transparent and natural." On production days, delicious fruity aromas fill the brewery. "Imagine boiling 2,000 litres of raspberry soda packed with ripe raspberries. The aromas are just insane – so deliciously fresh and real!" he enthuses.
Heading into its third year, the story of TÖRST has just begun. In the second quarter of 2023, the company expects to pass the milestone of a million bottles sold, with products being shipped to customers across Sweden and the Nordics. With a lack of chemicals, and an ingredient list that a five-year-old can understand, this brand is on the right path to deliver sustainable pleasure.
Web: www.torstbeverages.com Instagram: @torstbeverages Facebook: torstbeverages
Subscribe to Our Newsletter
Receive our monthly newsletter by email