Trelleborg: Where the south coast and the vast plains meet
By Malin Norman | Photos: Joakim Lindström and Fredrik Pusa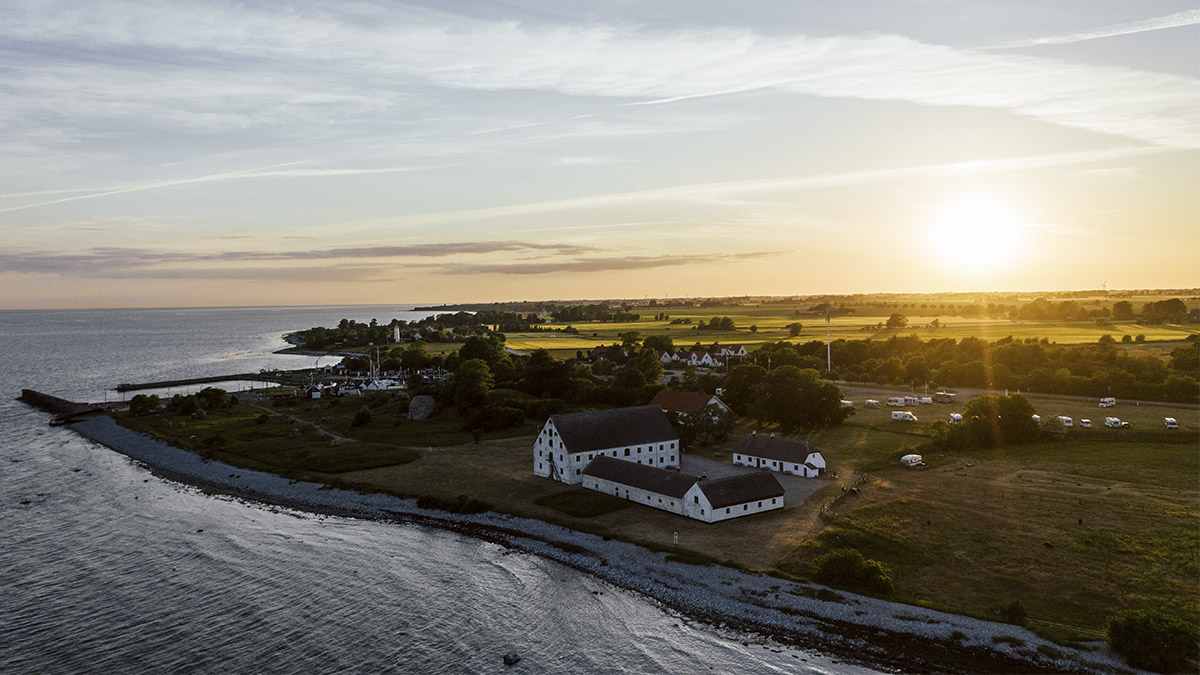 Sweden's southernmost city, Trelleborg, is surrounded by verdant countryside, traditional farms and picturesque villages and, of course, the beautiful shore.
Trelleborg is where the south coast and the vast plains meet. In summer, the coastline is bursting with life: it's all about the sun, the sea, hiking and cycling. In winter, focus is on mindful holidays that encourage stopping for a while to land and breathe. As a visitor, you'll discover the great quality of life that Trelleborg has to offer, regardless of season.
One of Sweden's national cycling routes, the South Coast Trail, runs along the coast here. The hiking trails Skåneleden and Pilgrimsleden also pass through the region. And this summer, Trelleborg was the proud host of ArkNat, a concept that saw architecture students design wind shelters in nature. It is well worth checking out Cocoon, the new shelter located in Östra Torp, a short walk from Smygehuk.
Trelleborg itself is a friendly, welcoming town. The city centre has convenient pedestrian areas, beautiful parks, culture, activities to explore and cosy terraces on which to enjoy lunch or fika. "Many of us have reimagined what makes for a great visitor experience. Since the pandemic, we tend to think more locally and look for things in our immediate surroundings to see and do," says Petra Strandberg, strategic development manager at Visit Trelleborg. "In the Trelleborg region, we have fantastic activities and a rich culture offering, as well as fabulous local produce. And above all, we have a great sense of hospitality and extend a warm welcome to all visitors."
Vineyards, breweries and the pantry of Skåne
The southern coast of Sweden is ideal for agriculture. "Trelleborg is often called Skåne's pantry because of its traditional craftsmanship and great local produce," explains Strandberg. "Here, traditional Swedish cuisine meets the modern kitchen. The quality of produce is fantastic, you have to come and try it!"
Grönby Chark is a great example of craftsmanship with sustainability in mind. In the farm shop, you can purchase handmade deli goods, and in the restaurant, try a delicious gourmet wood-fired pizza topped with carefully-selected ingredients. Another interesting destination is Hallongården, a farm specialising in raspberries. Its farm shop and café, which serves delicious raspberry treats, makes for a charming outing. Take the opportunity to buy jams, ketchup, dessert sauces and tasty drinks, all made from raspberries.
North of Trelleborg is Hällåkra Winery, a pioneer in Scandinavian wine production. Run by the Hansson family, the winery makes red, white, sweet and sparkling wines. Take a walk in the vineyard, enjoy a drink and a bite to eat in Vinoteket, or book a tour hosted by the winemaker himself. For beer aficionados, Hönsinge Hantwerksbryggeri is a must. This craft brewery at Jordberga Castle runs a brewpub in the park and organises beer tastings. Another of Trelleborg's gems is Sodalicious, Sweden's only organic soda factory.
The Vikings and Sweden's southernmost point
The city got its name from the Viking fort Trelleborgen, which sits in the middle of the city. The fort was discovered in 1988 and is circular – similar to the one in Slagelse in Denmark. In July, Trelleborgen opened new exhibition Borgen vid Havet (The Fort by the Sea), a modern multimedia experience that tells the story of the place and the people who lived here. Here, visitors can explore what the Vikings' everyday might have looked like.
Strandberg also recommends Smygehuk, Sweden's southernmost point. It's an unforgettable experience all year round with shops, a fish smokery and a café. During summer, there are lots of music, art and culture events, whilst the winter offers clean, crisp air and spectacular sunsets. Smygehuk Lighthouse is located just a few hundred metres from the southernmost point, boasting fabulous views, and you can even spend the night at Smygehuk Lighthouse Hostel.
For a well-deserved break, Weinbergs is an excellent hotel with a focus on gastronomy and local produce. Weinbergs Hotel is based in a traditional farmhouse from 1859, with uniquely furnished rooms. "This is our best accommodation," says Strandberg. "Here, you can combine the best of two worlds: rural relaxation and close proximity to the city."
Apart from stunning surroundings, rich culture and amazing food, Trelleborg has unique shopping opportunities in the countryside, at the many traditional farms that have been transformed into boutiques and meeting places, with restaurants and cafés. "You will find a mix of fashion, interior, gardening and handcraft. Each boutique has its own charm, but they all have creative ideas and stylish collections in common," concludes Strandberg. "The shops have generous opening hours and always offer a warm welcome. And you won't have to jostle with the usual city shopping crowds!"
Subscribe to Our Newsletter
Receive our monthly newsletter by email