Tuju Brewery: Brain and brawn: Finland's most masterful craft brewery is also its most metal
By Lena Hunter | Photos: Panimoyhtiö Tuju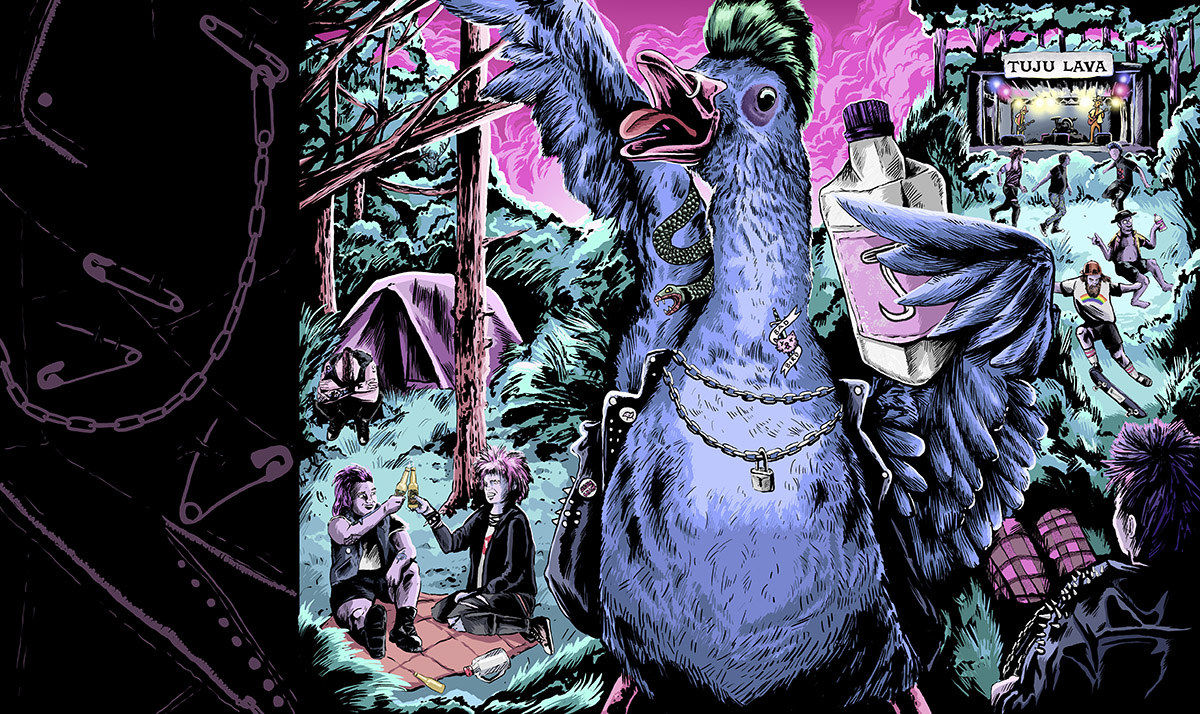 Tuju Brewery, out of Lappeenranta in south-eastern Finland, is one of the country's most exciting names in craft beer today. Its range of no-nonsense cans and kegs, wild-fermented bottles, and dark heavy-hitters are uncompromisingly crafted according to traditional techniques. They've scooped numerous awards for their brews, but Tuju is also catching eyes with its wicked sense of humour and penchant for heavy metal artwork.
The brewers at Tuju have a deep respect for technique. Every beer they can keg and bottle promises a precise and intense flavour. "We believe that a beer has to represent the style: an IPA has to have a certain amount of hopping in it; a lager needs to be a lager," says Tuju's CEO and co-founder, Jukka Mononen.
Tuju's canned beers are its most audience-friendly, comprising favourites like session, West Coast and New England IPAs, helles and American lagers, and an American porter and stout. "Hazy IPAs remain the biggest trend in beer right now, and that's reflected in our cans," says brand designer and illustrator, Samu Koskinen. The stylish range has whipped up a hype amongst beer-gourmands and casual drinkers alike – for its dark graphic art, as well as its flavour. As an official partner of Helsinki Death Fest, Tuju has made several special beers for metal bands and festivals: "We have three illustrators making our artwork. Tuju is a super creative brewery and our design is too. Our vision is to be the most interesting brewery in Finland," says Koskinen.
The Wild Barrel Series
Tuju's cans might look experimental on the outside, but the real fun starts with the Wild Barrel Series. "These wild-style beers resemble Belgian lambics. Flavour-wise, they are somewhere between beer and wine. They're matured in wooden barrels, often ex-bourbon or wine barrels, to which we introduce a a cocktail of several different cultures of Brettanomyces yeast and lactic-acid-producing bacteria, resulting in a range of dry, complex, sour and funky profiles," explains Mononen.
Some of the Wild Barrel bottles have been matured with fruits from the local forests of Lappeenranta, like raspberries, lingonberries, quince and sea buckthorn. "Everything is hand-picked. The beers work particularly well with fruits that have a natural tartness and sweetness," says Mononen. The Wild Barrel bottle range has caught the attention of a slew of Finnish restaurants who pair them, like wines, with their menus. "They pair really well with food, but are also great to enjoy on their own," he says.
The Black Barrel Series
Then there's the Black Barrel Series – the most metal of the lot, sporting dark, gothic artwork. These bottles represent the pinnacle of Tuju's barrel-aging methods, with long-maturation imperial stouts and barley wines that display deep, rounded flavours, soft aromas and a velvety texture. "These days, most brewers produce quite sweet imperial or export stouts, like pastry stouts. We do more American-style traditional imperial stouts – dry, with a high ABV and strong bitterness. In the Black Barrel Series, we blend and season the beers to introduce different accents. The long maturation really helps them to transform," says Mononen.
Meanwhile, Tuju's barley wine – a lesser-known style that's yet to see a popular renaissance – quietly marks them out as uncommon devotees to the craft of brewing. "I really enjoy heritage styles, like old British ales, Scotch ales, shilling ales. Barley wine is one of my favourite styles because of the bold, sweet maltiness. Ours is closer to an American style, with more hopping than is usual," says Mononen.
Beer trend predictions from the experts
Though it doesn't get the same press, there's a dark horse at Tuju. "We have a farmhouse ale called Farmhouse Alien. It's close to Belgian IPA in flavour, and it's seriously under the radar. People don't realise how good it is. I think farmhouse and saison styles tend to scare people," says Koskinen. Mononen agrees: "Saisons don't have the footprint in Finland that they deserve."
Despite wandering deep into the annals of beer history, Mononen and Koskinen's own everyday choices are the brewery's well-done classics – and they project that the vox populi will swing in this direction, too. "At the moment, I'm into dry-hopped lagers, American lagers and IPAs," says Koskinen. "Lagers and West Coast beer styles are coming up fast. I think we're going to see a trend for cleaner IPAs with more crispness and hopping, and more breweries trying to do high-quality lagers."
Thirsty Lappeenranta locals can visit Tuju's brewery and beer store, while Helsinki-siders can enjoy Tuju's freshly kegged beers on tap at Juova, one of the city's most centrally located taprooms. But those from further afield will have to wait for Tuju's much-anticipated debut on the European market. Beer aficionados, watch this space.
Web: www.panimotuju.fi Instagram: @panimoyhtio_tuju Facebook: panimoyhtioTUJU Untappd: Panimoyhtiö Tuju
Subscribe to Our Newsletter
Receive our monthly newsletter by email