Tunheims Fjørå: A feeling of floating above the water
Text: Ingrid Opstad | Photos © Tunheims Fjørå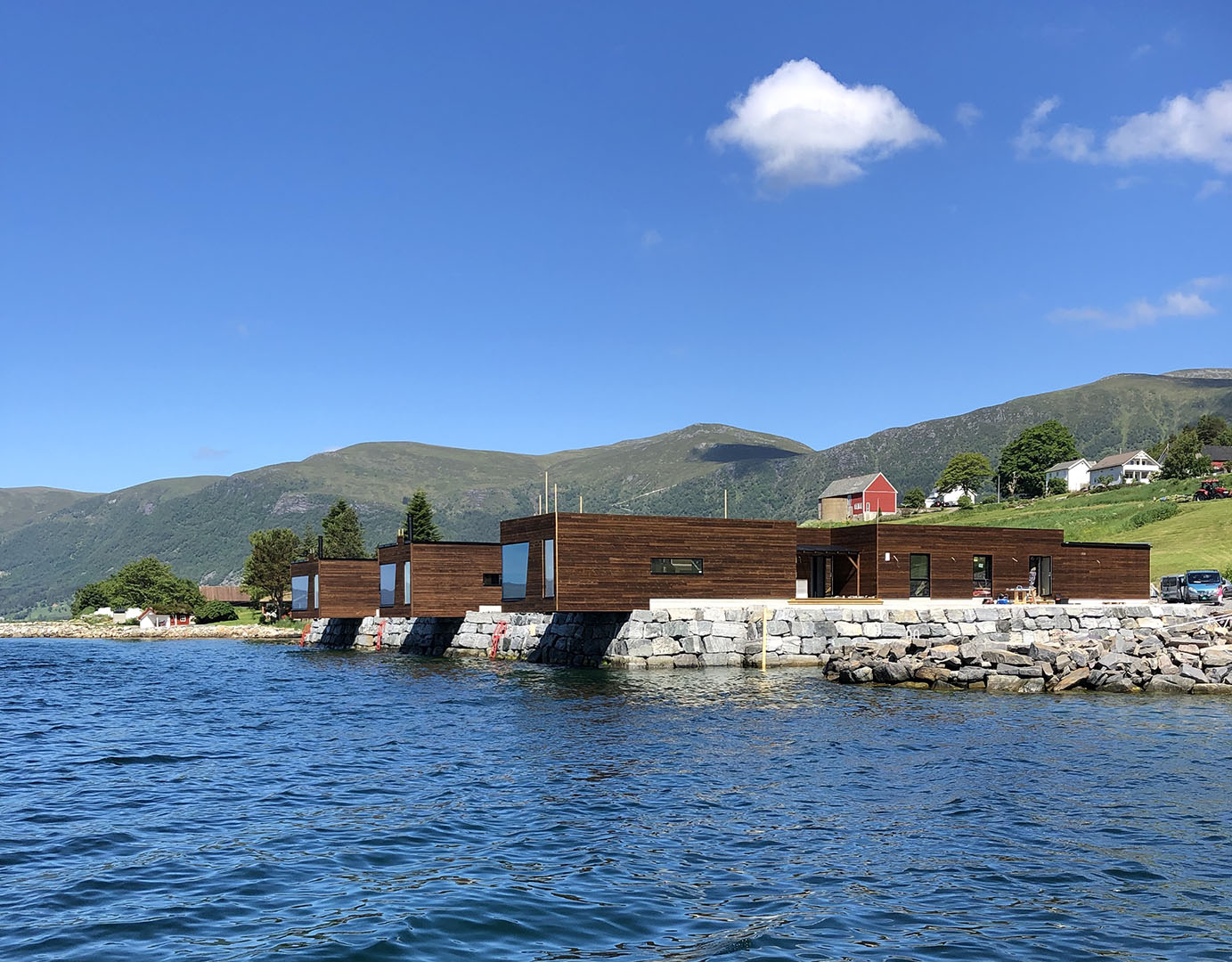 Located in the idyllic Fiskå, surrounded by majestic mountains, Tunheims Fjørå offers modern fjord cabins in a peaceful setting. A visit here will help you relax, while reconnecting you with nature as well as yourself.
Tunheims Fjørå is a fjord cabin rental service situated in Fiskå, a small village in the Vanylven municipality on the west coast of Norway. These brand-new cabins are cantilevered, overlooking the beautiful Vanylvs fjord, and their distinctive architecture truly gives you a feeling of floating above the water.
"We want to offer our guests an experience out of the ordinary. Our goal is that a stay with us will bring our guests closer to nature and to themselves, in a place free from mass tourism and the hectic everyday life," says owner Webjørn Eikrem.
He saw the potential for a unique accommodation project and decided to start this new adventure alongside Nils Olav Moen and marketing manager Anita Bjørningstad.
The three exclusive cabins were designed by Stein Halvorsen Arkitekter, each with three bedrooms, a fully equipped kitchen, a sauna and a private terrace with a Jacuzzi. Guests also have direct access to boats located underneath, which they can use freely. "The cabins all have different themes relating to my life and travel discoveries, but also to the area's history," says Eikrem. The Fisherman, based on the owner's previous job as a fisherman, is a stylish cabin with an interior inspired by the ocean. In contrast, Casa Argentina is a sea cabin influenced by the wonderful styles of Argentina, a country Eikrem has travelled to regularly. Lastly, the newest addition, Kong Ring, was created as a tribute to a Viking king who lived here.
Fiskå offers a great variety of activities, and Tunheims Fjørå can help plan and organise this for you.
"We can arrange everything from RIB safaris to see the whales and experience the wildlife of the fjords, to kayaking, fishing and hiking with spectacular views of the area. There is something for everyone to enjoy here, and it is still quite an undiscovered part of Norway," says Eikrem.
The Tunheims Fjørå fjord cabins make the perfect getaway, whether it's for a romantic weekend stay, a family holiday or a business trip – a luxurious home away from home.
Web: tunheimsfjora.com Facebook: tunheimsfjora Instagram: @tunheimsfjora
Subscribe to Our Newsletter
Receive our monthly newsletter by email