Upper House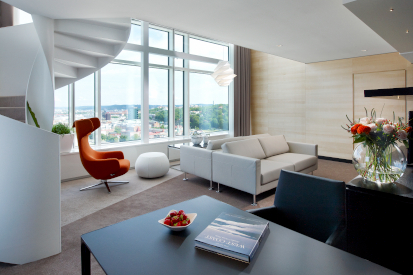 A journey for the senses
TEXT: MALIN NORMAN | PHOTOS © UPPER HOUSE
Luxury hotel Upper House offers up a superb mix of the highest quality tranquil space plus peace of mind. In addition to its fantastic views of Gothenburg from up high, this is a real hotspot for yoga enthusiasts and Michelin-star dining.
Upper House is conveniently located in the centre of Gothenburg and close to the huge indoor arena Scandinavium, as well as Liseberg, one of Scandinavia's most frequented amusement parks. Many guests come to stay while visiting international exhibitions and events, or when having fun at the fair. Part of the tall building complex Gothia Towers, Upper House is an oasis sitting in the middle of the three towers, with its 53 stylish rooms spread across levels 21 to 24. The floor-to-ceiling windows ensure plenty of light throughout and, of course, fabulous views.
Opened in 2013, the small yet modern hotel Upper House has already won several awards for its excellence. For instance, it has been named Best Hotel in Sweden at the Trivago Awards 2017, and won in the categories Best Service Hotel, Best Romantic Hotel and Best Luxury Hotel at the TripAdvisor Traveller's Choice Awards. Most recently, it was named Best Guest Experience 2018 by Svenska Spahotell (Swedish Spa Hotels). "This is fantastic, as the award is based on guest recommendations," says the hotel's spa manager Jenny Hayward. "Our guests appreciate the exceptional service and feel well taken care of by our staff."
Spa and yoga luxury up high
In addition to the stunning vistas of Gothenburg, Upper House also features a fantastic spa. With oriental influences and inspiration from the west coast of Sweden, the tranquil interior is a mix of marble details and light wood. "We have developed the holistic concept further, including yoga classes and meditation," says Hayward, and continues: "our spa is a place to get away from the hustle and bustle, somewhere to find peace and breathe for a while."
Guests can also try the hamam, a Turkish sauna with a traditional bathing routine, or they can book a massage and other treatments and go for a relaxing swim in one of the pools. During weekends, the spa offers a sauna experience consisting of a seven to ten minute ritual hosted by a sauna master. Hayward confirms: "this is a fantastic experience. The ritual is incredibly relaxing with the use of aromas and music. A moment to close your eyes and let your thoughts wander."
As Upper House Spa is attractive also to those who are not staying at the hotel, with a membership service, members gain access to the spa, gym and classes. All guests will get a guided tour of the spa and they have the opportunity to buy exclusive spa products under the hotels' own brand, UH by Upper House. This brand supports local production in Gothenburg and is based on Nordic ingredients − for instance, the lush shampoo, conditioner and shower cream with honey and sea-weed, and the luxurious body oil with sunflower oil and blackcurrant.
Michelin-star dining
On the 25th floor is the hotel's gourmet restaurant, Upper House Dining, with a fantastic terrace and the same light and airy atmosphere as the rooms and spa. Hidden away on the building's roof, are two beehives – Sweden's highest located – and a space to grow vegetables and herbs for the kitchen.
Upper House Dining has received several prominent awards since opening and, in 2016, its very first Michelin star. The talented culinary team is continuously elevating the creative work further with high-quality produce from carefully selected suppliers and by using its own honey and harvests from the roof garden.
The gastronomic experience is based on local produce according to what is in seasons, combining unique flavours, playful presentation and heaps of passion, in addition to delicious wines picked by the trained sommeliers. Guests also praise the splendid hotel breakfast, which consists of homemade muesli, organic yoghurt, sliced fruit and freshly baked bread, and warm dishes can be specially ordered at the table and freshly prepared – for a great start to the day.
Subscribe to Our Newsletter
Receive our monthly newsletter by email