Vandkunsten Architects: Joint building ventures — a new way to build and live together
Text: Signe Benn Hansen | Photos : Vandkunsten Architects
Seen as a bottom-up strategy to change the housing market, joint building ventures and co-housing are increasingly making their way onto the Danish housing market. For Vandkunsten Architects, a firm founded in the 1970s, this has opened up for a welcome return to the firm's ideological roots.
Founded in 1970, a time when communal living was a political and ideological statement practised by many, Vandkunsten has been behind the design of numerous different shared living communities. But due to changes in political ideology as well as financial structures, the demand for shared accommodation had since stagnated for decades. Today, however, new family structures and a growing focus on the social and environmental benefits of co-housing have rekindled the interest in modern forms of communal living arrangements.
Indeed, a recently conducted survey by Realdania showed that a significant share of senior citizens (around 80,000 according to the published survey) would like to live in some sort of co-housing community. Unfortunately, that offer is not currently on the market in Denmark, explains Jan Albrechtsen, partner at Vandkunsten. "Basically, it's very simple – people just feel that being closer to other people would give them more joy; they don't want to sit in their own little flat, staring at the wall. They want to be able to go out, have a cup of coffee and a chat – it's a human need, and, together with PensionDanmark, we're currently working on some very exciting projects to fill that need."
The projects Vandkunsten is designing for PensionDanmark will provide seniors with rental accommodation in a co-housing community, but more seniors are also becoming interested in taking things into their own hands. Like their German neighbours, they want to create their own collective housing without depending on private or state-backed developers. "In Germany, you have entire neighbourhoods built like that, and the result is a vibrant urban environment with a broad variety of homes that express the different dreams of people," Pernille Schyum Poulsen, partner at Vandkunsten, explains. "When people build together, it also creates very strong local communities and communities that are ready to lift and take on more social responsibility. It's a huge resource when talking social sustainability."
To explore the concept, Vandkunsten has initiated Fællesbyg Køge Kyst, which will see 42 individual homes as well as extensive shared in- and outdoor spaces and facilities created through a joint building venture.
Tinggården in brief:
Client: Boligselskabet tæt/lav Herfølge.
Size: 78 units, one 'forsamlingshus' (a large events hall), six community houses.
Average unit size: 87 square metres. Activity: Social housing experiment. Completed in 1978.
From its site on a field in the village of Herfølge, Tinggården has served as a primary example of low-rise, high-density architecture in Denmark since it was built in 1978. It is the story of a non-profit housing experiment that successfully used architecture to reinstate residential community democracy. The project was years in the making and developed from the far more radical Project 35, which won the low-rise, high-density vision competition. Tinggården was popular from the outset and was soon expanded with Tinggården II.

Rebelling against the commune
Currently engaged in several co-housing projects, Vandkunsten has worked with communal spaces and shared living arrangements since the firm's foundation in 1970. As a matter of fact, Tinggården, the very first project designed by Vandkunsten, was a social housing complex with extensive communal spaces. "Recently, on a study trip to Tinggården, we spoke to one of the residents who had lived there since the beginning. She described how the communal space was still used by residents for joint dinners every fortnight and for coffee get-togethers in the evening," explains Poulsen.
Vandkunsten also designed numerous alternative accommodation complexes, including co-housing, but that all stopped in the '90s, when ideological changes and a cancellation of the state's guarantee for cooperative mortgages meant an end to the interest in communal living. "It was a combination of a lot of things: the generation that grew up in communes revolted against their parents, and something happened in the general attitude towards shared habitation – it all meant that the demand just wasn't there," Albrechtsen explains.
Communal living in the old sawmill
The co-housing development Jystrup feels like one single organism with 21 private residential units and 40 per cent communal space, where private and communal areas can be expanded and reduced as required. A big glass roof covers an interior street with trees and flower beds and room for sharing meals and playing.
Jystrup Sawmill in brief: 21 units in a co-housing project with a community house. Five basic living unit typologies from 63 to 98 square metres with numerous variations and 'added rooms'. Built: 1983-84. Client: Andelsboligforeningen Jystrup Savværk.

Living and building together
Like many other nations, Denmark has in recent years seen a significant change in terms of demographics, with the number of singles, senior citizens and alternative family set-ups outnumbering the traditional nuclear families. However, most housing developers seem to have missed the significance of this shift, and this discordance has, to a large extent, been behind the drive for people to join together and create their own accommodation. "A lot of what is built at the moment is off-the-rack two- or three-bedroom flats, with the only alternative being the single-family house, so for many people, collaborative building groups are the solution, which gives them the chance to live together in a shared building but at the same time define their own home and the frames and life they dream of," explains Poulsen.
Giving people the chance to do that was one of the ambitions behind Fællesbyg Køge Kyst, a joint building venture initiated by Vandkunsten, an urban district developer and an affordable housing foundation. When completed, the complex will comprise 42 individual flats and terraced houses, as well as a number of shared facilities such as a communal kitchen, work spaces, guest rooms, and roof gardens. "Fællesbyg Køge Kyst started out as a joint building venture. It was an attempt to create something like what we've seen in Germany – to give people the chance to take part in the design and construction of their own homes independently, without a developer," explains Albrechtsen. "The funny thing about it is, as we hadn't drawn anything yet, that the group very quickly turned the project into a co-housing complex with approximately ten per cent of all space dedicated to communal areas. It wasn't something we encouraged them to do, but through the collaboration that the building venture created, arose the wish to create more than just a building – they wanted to create a community."
At the same time, each of the members of the venture has had the chance to individually discuss their requirements with Vandkunsten and will thus have a home uniquely designed to meet their needs. "It's been a challenge, but it also means that everybody will truly feel that this is their home," stresses Albrechtsen.
Shared living the modern way
Unsurprisingly, one of the greatest challenges of joint building ventures is raising and securing the capital necessary to realise the project. This means that a lot of groups who contact Vandkunsten are halted during the initial phase, due to a lack of resources. "People need to be able to raise the funds necessary to secure the site and get the project approved by authorities. This means that a lot of people will need to risk everything they own; it's a fairly big amount of money, and there is always a risk involved in a construction project, as a lot of expenses are unpredictable," explains Albrechtsen.
Eco Village in brief:
Lejre I and II: 50 units (stage I). Client: Rikke Søndler and CASA. Location: Lejre, Denmark. Stage 1 completed in 2019.
Eco Village is a series of modern co-housing villages with shared facilities and a strong community feeling. For the Eco Village, Vandkunsten has developed a comprehensive building system and a series of site-specific master plans, with small compact living units and plenty of shared spaces.

The requirement for significant investments of both time and money, as well as the fairly long prospective, means that in Denmark, so far, joint building ventures have tended to attract mainly senior citizens, while families with children seem more inclined to buy or rent as part of established concepts for shared living. This is an issue for many joint building ventures, who wish to create a diverse and mixed community. "In a lot of the concepts we have created for shared habitation, the residents simply buy into an already existing framework with shared dinner four times a week, ten per cent of the space dedicated to communal areas, and so on. They can't actually decide or define the community, but they get the benefits of shared living," says Albrechtsen.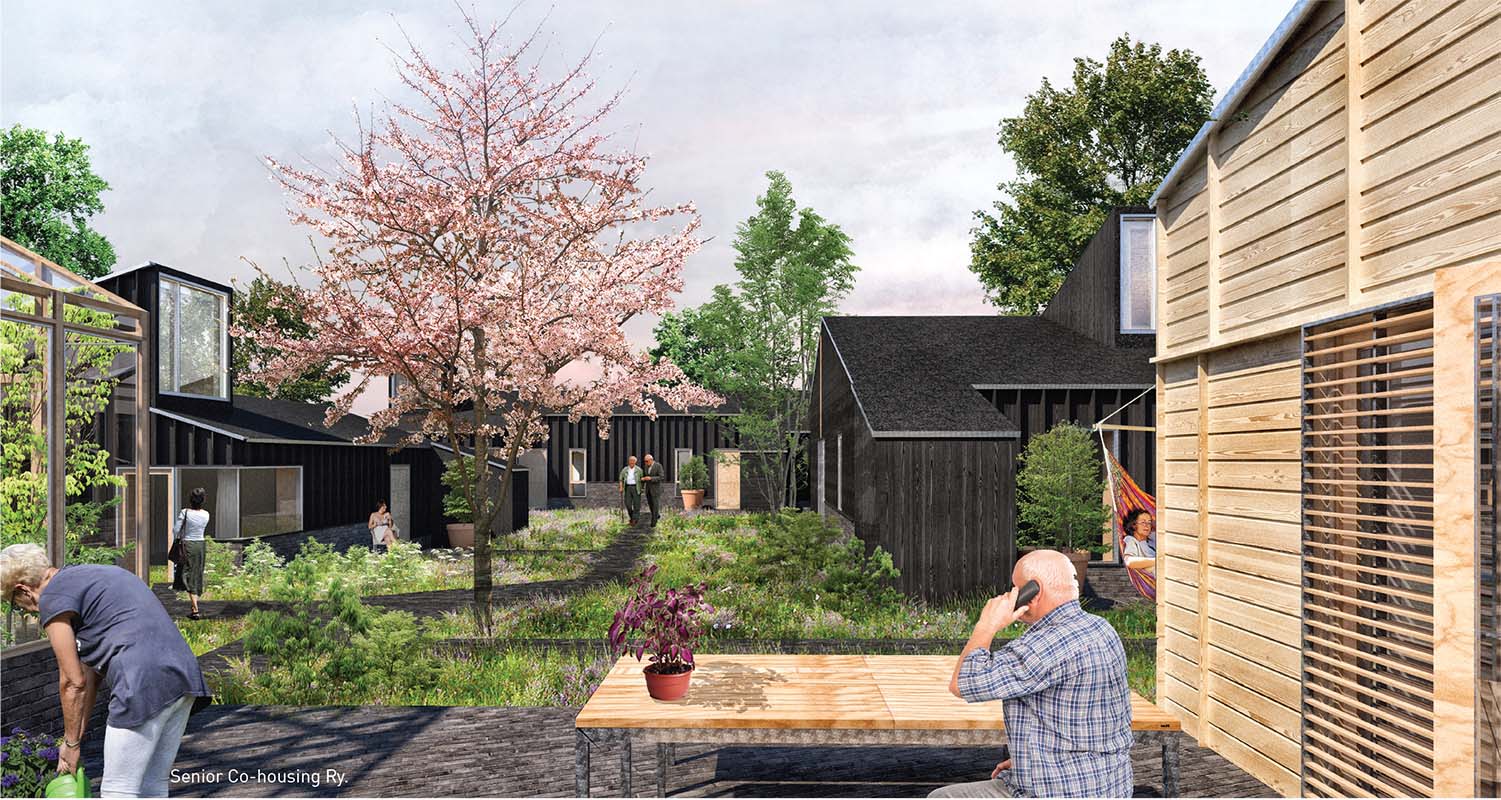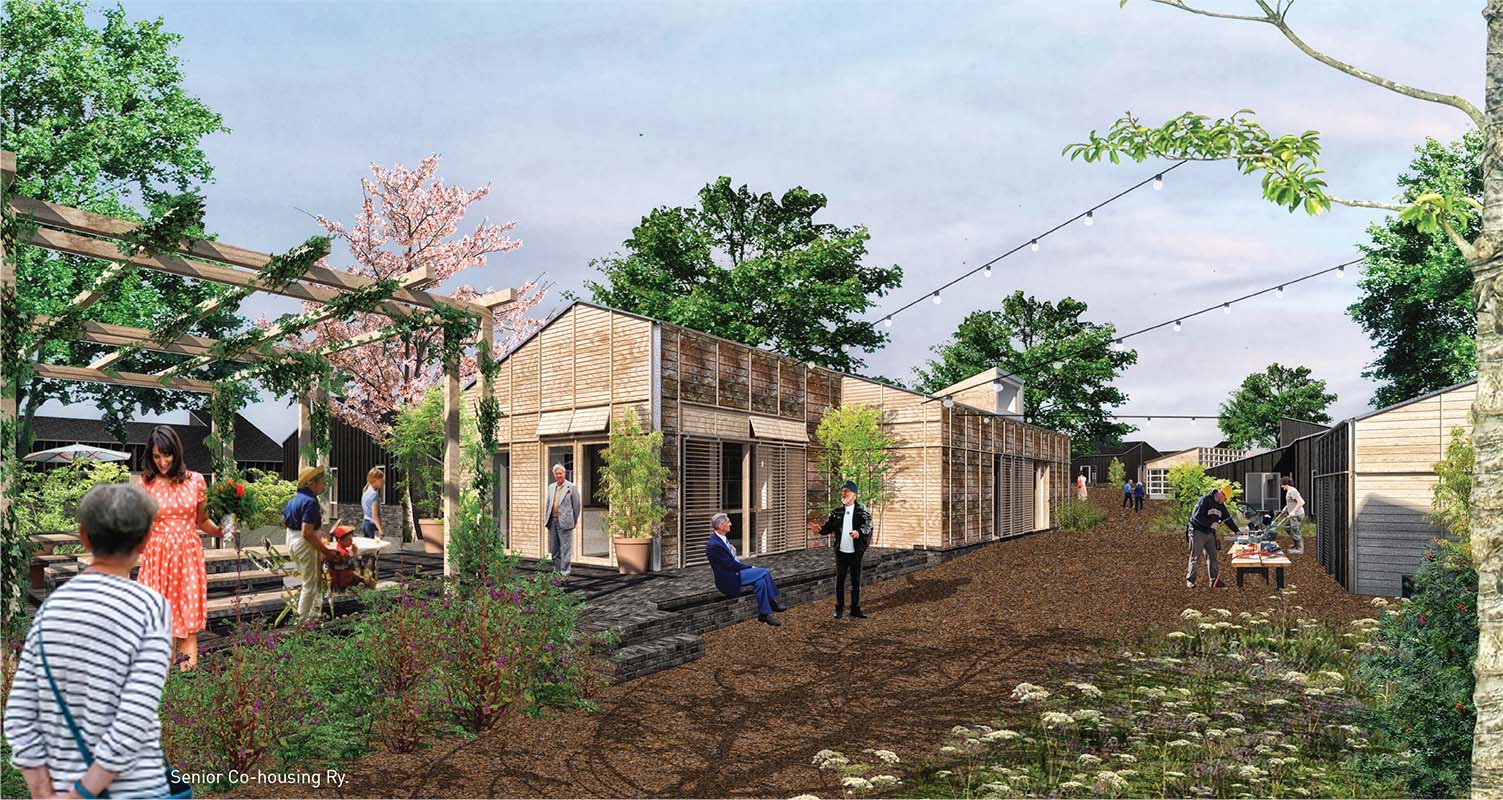 Senior Co-housing Ry:
Balancen is a series of co-living communities created with a fundamental respect for natural, cultural and economic resources.
Balancen I provides 38 homes for seniors aged 50+.
Balancen II provides 68 units for families, seniors, and cross-generational living.
Under development for PensionDanmark.

For many busy families, these benefits include having to cook just once or twice a week and having a close community with whom they can share daily tasks such as picking up children from school. "It's been a bit of a crazy development to see the increasing demand for this kind of accommodation from especially families with children. In our new EcoVillage in Lejre, which is centred on the idea of green living and being close to nature, mainly families have bought in. This time around, it might be more based on pragmatic needs than ideology, but the social, environmental and practical benefits are undeniable," says Poulsen, who also laments the difficulties faced by groups wanting to create their own shared accommodation through joint building ventures. "We see a large number of people who are ready to invest in these projects, and to us this is very interesting, because it gives us the chance to create something different, something where all the effort goes into the building and not, like when designing for developers, into creating a profit. This is why we think it's important that someone in the right place starts to look at creating an arrangement, like the past cooperative mortgage guaranty, which will enable people to realise their dream."
Fællesbyg Køge Kyst: Fællesbyg Køge Kyst is a co-housing project located in Søndre Havn in Køge. The collaborative building project was initiated by Vandkunsten, Køge Kyst and Selskabet for Billige Boliger (The Affordable Housing Foundation). The complex will comprise 42 individual flats and terraced houses, as well as a number of shared spaces. The project is expected to be completed in 2021. The venture is still open for new members. Facts about Vandkunsten: Vandkunsten Architects was founded in 1970. Employing approximately 80 people, Vandkunsten specialises in city planning, residential buildings, office buildings, cultural institutions, renovation and landscaping all over Scandinavia and northern Europe. In 2009, Vandkunsten was awarded the Alvar Aalto Medal. Since its establishment in 1967, the medal has been awarded approximately every five years to persons or companies with significant achievements in creative architecture. Web: www.vandkunsten.com
Subscribe to Our Newsletter
Receive our monthly newsletter by email