Varberg: A unique ocean vibe with a spectacular forest around the corner
Varberg is a coastal town in the southwest of Sweden, 40 minutes south of Gothenburg, which has been a tourist destination since the 1900s. These days, the health resort is popular not only because of its perfect seaside location but also because of its close proximity to the forest, hiking paths, and diverse countryside. This thriving town was named Sweden's Best Town Centre in 2016 and is something of a hidden gem, well worth visiting.
Varberg has more spa hotels than anywhere else in Sweden. The first visitors were city dwellers seeking rest and relaxation, but today, in addition to its spa town spirit, Varberg offers a range of physical activities for those who like to combine relaxation with exercise. You can start the day with a hike in the forest or a swim in the sea, followed by relaxation at one of the town's many outdoor saunas or famous spa hotels. Getting to Varberg is easy, as it is just a 40-minute train ride from Gothenburg and the international airport Landvetter. Two hours from Malmö and Kastrup and four hours from Stockholm, it is indeed very well connected.
People swim in the sea all year round in Varberg, even during the cold winter months, and it could not be easier as the town centre is right on the coast. After a walk along this beautiful coast, why not pop into Varberg's most photographed building, Kallbadhuset, the beautiful, public open-air bath built on pillars in the sea. It is open all year round and popular with both locals and tourists, who visit to swim in the sea and then warm up in the sauna with spectacular views of Kattegat, the sea area bounded by the Jutlandic peninsula in the west, the Danish straits and islands to the south, and the Swedish provinces of Västergötland, Skåne, Halland and Bohuslän in the east. The public bath was built in 1903, and there are separate saunas for men and women. Swimmers must get in the sea nude – swimming with clothes on in the winter is much colder! For those who do not fancy a swim, the café at Kallbadhuset is in itself well worth a visit, as you can enjoy a coffee and a snack with beautiful views as well as spectacular architecture.

THE PROMENADE BY VARBERG'S HISTORIC FORTRESS, PHOTO © MIKEAL PILSTRAND
A common sight in Varberg is people in dressing gowns walking through the town down to the public bath. The beautiful pedestrianised promenade is 2.5 kilometres in length and popular with walkers, cyclists, and joggers. Along the promenade, you will find several spots for swimming, and where saunas have been built into the cliffs.
The historic fortress in Varberg is a prominent landmark, also located right by the sea. The new swimming pier, Fästningsbadet, is located next to the fortress, which it deliberately resembles. It is a good spot for sunbathing and swimming and also has a diving platform.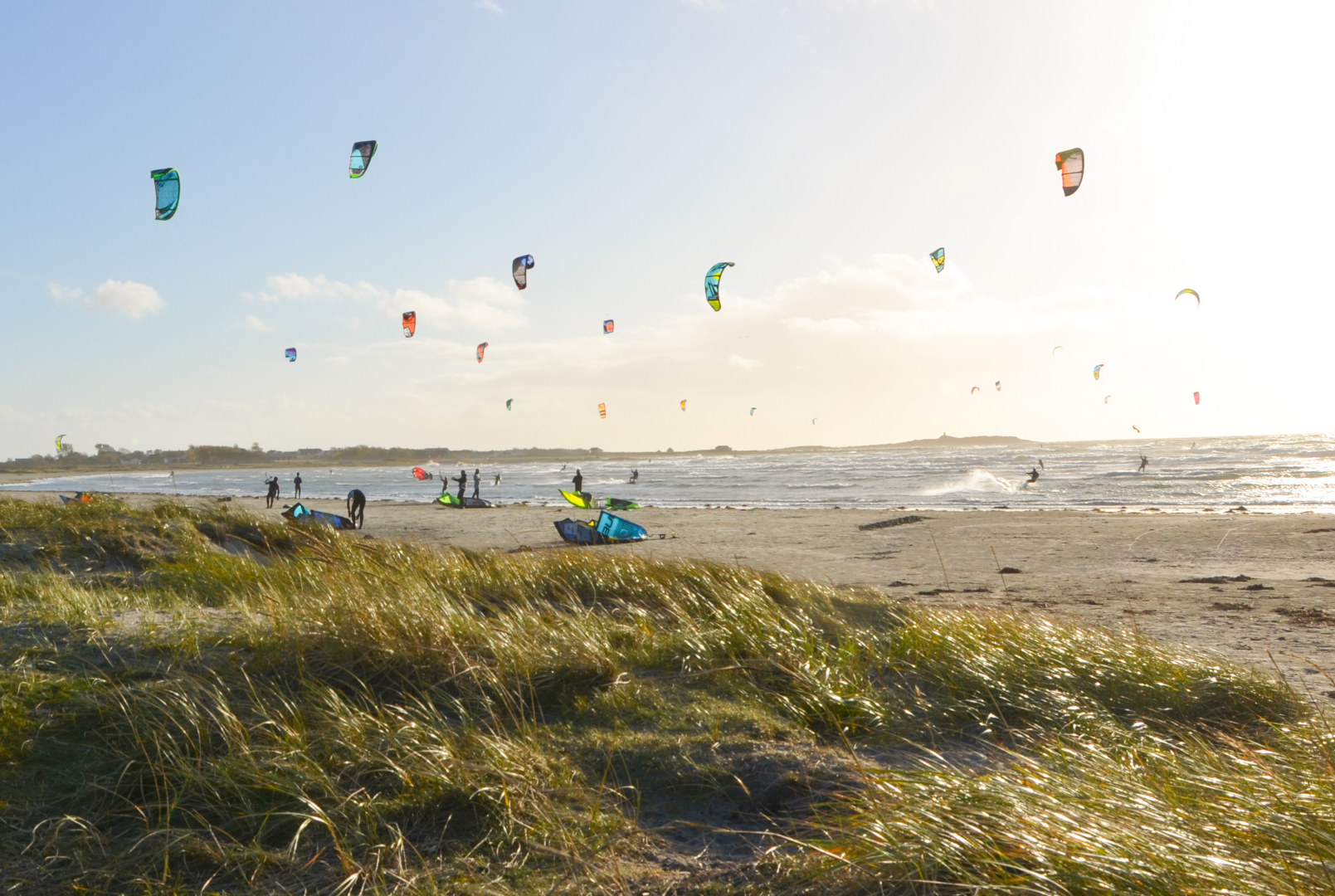 KITES AND SURFING AT APELVIKEN, PHOTO © OWE OLSSON
"Varberg is Sweden's surfing mecca," says Magnus Thomson, destination manager. Surfers visit Varberg all year round to catch the waves, which get better when the temperature drops. Windsurfing, kite surfing, and stand-up paddle (SUP) boarding are all popular sea sport activities. The sandy beach Apelviken, three kilometres south of Varberg is particularly popular among surfers. Here, you can swim, surf and relax on sun loungers. The beach is also home to a number of cafés and restaurants.
Woods, cycling and market charm
"Varberg isn't just a coastal town, it is also a paradise for those who enjoy exercising and hiking in the forest," says Thomson. Åkulla forest is only 30 minutes east of the town centre, covering 50 square metres of magnificent hiking trails, nature reserves, and lakes. Åkulla is very accessible from the town, with a daily hop-on/hop-off bus from Varberg central station between May and September. The area has plenty to offer, and in addition to the hiking trails and spectacular natural beauty, you can also visit vineyards, cafes, and spas.
Do you like market towns? Well then, Varberg most definitely has something to offer in that respect, too. It has one of the largest market town squares in Sweden, and its market, open Wednesdays and Saturdays, is considered one of the best in the country. A good selection of cafes, restaurants and bars are scattered around the square and the nearby streets.


PHOTOS © LEFT: OWE OLSSON, RIGHT: SIMON LAUTRUP
Varberg is also a cycle-friendly town and very easy to get around thanks to the town's many cycling routes. Monark bicycles was founded here in 1908 and is still here today, known as Cycleurope and producing modern electric bicycles. Sweden's first national tourist bicycle route, Kattegattleden, runs through Varberg and is popular with visitors from Sweden as well as abroad. The route, which starts in Gothenburg and follows the west coast through Varberg down to Helsingborg in the south, was awarded Cycle Route of the Year in Europe 2018.
Web: www.visitvarberg.se and www.visithalland.com

Facebook: VisitVarberg
Instagram: @visitvarberg
TEXT: SOFIA SCRATTON | TOP-IMAGES © MIKAEL PILSTRAND AND OWE OLSSON
Subscribe to Our Newsletter
Receive our monthly newsletter by email