Västerbottensost – a love story between a country and a cheese
By Linnea Dunne | Photos: Fabian Björnstjerna
W ith an exquisite and inimitable flavour, a legendary history dating back to 1872, and a craft passed down through generations of cheese masters, it's hardly surprising that Västerbottensost has become Sweden's most beloved cheese. But despite the fact that the cheese is mostly known for its unique flavour and has been served both at royal dinners and Nobel banquets, it still remains a mystery how the characteristic flavour comes about.
Västerbottensost is a hard cheese, matured for at least 14 months. With its unique flavour, combining sweetness, saltiness, bitterness and umami, it is perfect served as it is as part of cheese platters and in all forms of cooking and is enjoyed daily throughout Sweden and beyond. Västerbottensost is a natural part of Swedish holiday feasts, where the characteristic Västerbottensost quiche has become a classic during both Midsummer and the traditional crayfish parties. In fact, Västerbottensost is so well-liked that it ended up in first place in YouGov's 2019 Buzz Rankings list of the most positively talked-about brands among Swedish daily goods.
The cheese that won't move
In the small village of Burträsk in northern Sweden, you'll find Burträsk dairy. Only here, Västerbottensost can be made. At this small dairy, each day is much like any other, and there is a calm pace where the cheese is allowed to decide for itself when it's ready – because in Burträsk, it is a well-known fact that ample time and diligent care contribute to a richer flavour.
In fact, the cheese does not take kindly to being moved. Attempts have been made to make it elsewhere, but in vain – something that puzzles many, including the cheese master himself. "Despite using the same recipe, and the same ingredients, getting that exact Västerbottensost taste has been impossible outside of the home dairy. There's simply something special about the Burträsk dairy and its unique flora that's required for the real Västerbottensost character to appear," says cheese master Thomas Rudin.
A lucky coincidence
The secret Västerbottensost recipe came about one day in 1872, when the skilled dairy maid Ulrika Eleonora, by a lucky coincidence, left the curdling vat to sit for a little longer than usual. At first, the cheese was considered ruined – but when it was tasted much later, the unique flavour was discovered. Fortunately, Ulrika Eleonora passed on her new knowledge to those who came after her by carefully documenting every step of the process – a document that has since been known as the top-secret recipe of Västerbottensost, which only a handful of people know. The recipe may well be one of Sweden's most important state secrets, and one that made Västerbottensost a royal purveyor, deeply treasured by both Swedes and visitors.
The mystery behind the Västerbottensost riddle may never be solved, but to understand the secret behind the cheese so cherished by successive generations of Swedes, perhaps simply tasting a piece of the special delicacy will suffice.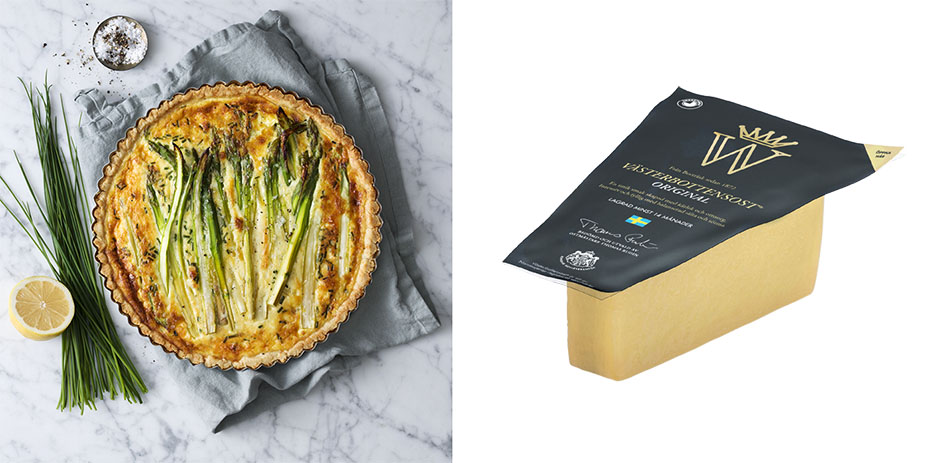 Ways to enjoy your Västerbottensost: Västerbottensost is a delicacy in its own right, perfect to enjoy on its own, as part of a cheese platter, or with your favourite drink. To experience a Swedish classic, try making a Västerbottensost quiche – full of flavour and perfectly comforting. To add a touch of luxury to a quick everyday dish, grate a generous amount of Västerbottensost over your favourite dish. Västerbottensost Visitor Centre in Burträsk: Would you like the chance to experience Västerbottensost with all your senses? Västerbottensost Visitor Centre in Burträsk gives you an insight into both the history behind the cheese and the mystique that surrounds the unique taste. Visit www.vasterbottensost.com for more information and inspiring recipes with Västerbottensost. Outside of Sweden, Västerbottensost is available in Finland, Norway, Denmark, Estonia, Iceland, Germany, the UK, Spain and Hong Kong. For more information about distribution, please contact export@norrmejerier.se
Subscribe to Our Newsletter
Receive our monthly newsletter by email