Vedholmen Gallery: A gallery built by a Dane and an Irishman, in Norway
By Hanna Margrethe Enger | Photos: Vedholmen Gallery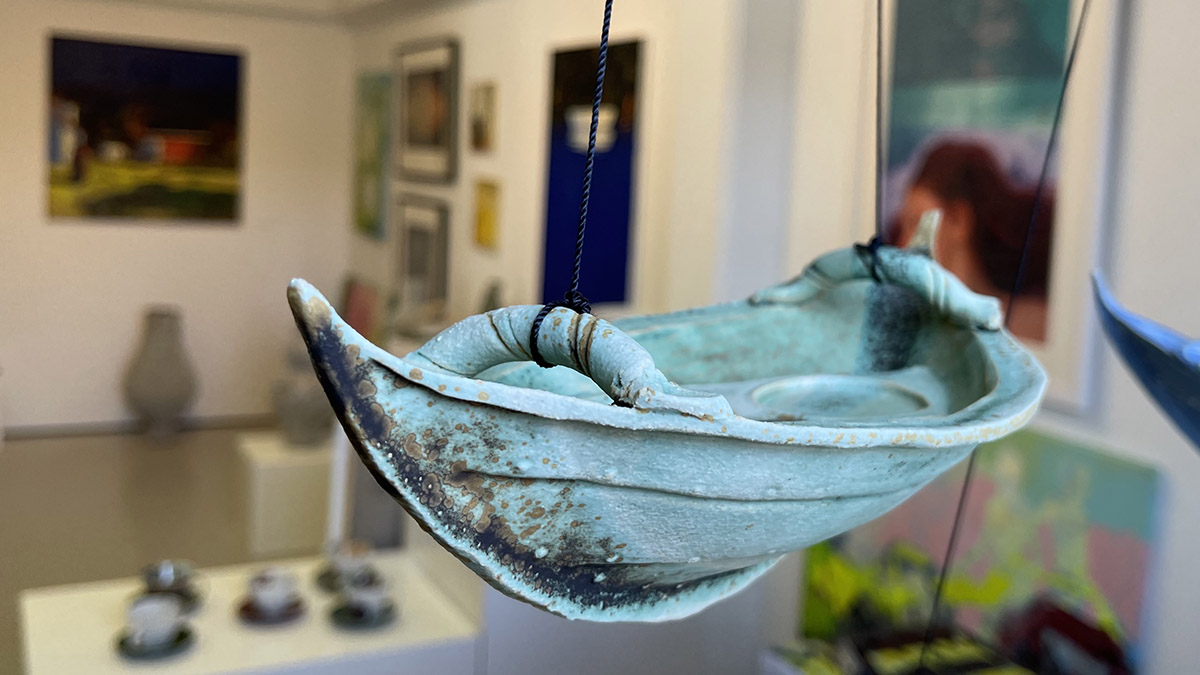 On a small island in a fjord stretching from Bergen to the famous Hardanger Fjord, lies a family-run contemporary art gallery. Vibeke Harild from Denmark and Peter Marron from Ireland met at the Art academy in Bergen in 1992 and, after falling in love with the Norwegian nature, decided to settle down by the coast and start their own art gallery.
For over 22 years, Harild and Marron have welcomed guests from far and wide into their traditional 'naust' (or boathouse) for a range of art experiences. With contemporary art, craft exhibitions and music events, they have created a dynamic art scene in the middle of the picturesque archipelago, 35 kilometres south of Bergen.
Meet the gallery's artists
The gallery exhibits contemporary art by 40 artists, covering everything from paintings and photography to ceramics, glass and sculpture. "A great deal of our artists have studied abroad," explains Harild, "and therefore the gallery has an international profile. We select art that interests us the most, and then make contact. This includes several foreign artists. We are very proud of our 40 artists in all these categories."
Harild continues: "It has been an absolute joy to experience renowned artists such as Bergen-based Erling Valtyrson, Line S. Hvoslef, Henriette Hagelien, Morten Holmefjord, Kjersti Olsen, Sarah Reed, Birgit Brühl, Elisa Helland-Hansen, Hanne Haukom, Tante Tuca and Kjell Johannessen. It has been an enlightening process working first as artists ourselves and then having to use that experience to realise and build exhibitions with others."
The gallery's 20-year anniversary in June 2020 was a highlight. "It featured art by Oddvar Torsheim, a contemporary artist," Harild reminisces. "200 people came together to celebrate the event, with music by the opera-singers Annika Beinnes and Jorunn Torsheim. We had an opening speech by Einar Økland, one of Norway's highly regarded authors."
Oselvar and the gallery
Just a few kilometres from the gallery lies a historic 'oselvar' workshop. An oselvar is a traditional wooden rowing boat, which originates from Bjørnafjord municipality, where Vedholmen Gallery is located. It has clear references and similarities to traditional Viking boats, with a history going back over 2,000 years, and has become the official national boat of Norway.
"Peter was inspired by these boats and, after some research, tried to explain, using clay, the beauty and history of this boat type in porcelain," Harild says. "The boats combine ceramic art and local history, and have been a brand-maker for the gallery."
Summer exhibitions
This summer, the gallery has three exhibitions lined up, with something to suit every art lover's taste. Painter Eva Harr has already exhibited twice. Her third exhibition runs until 12 June. "She is an artist from the north of Norway – something which is reflected in her art, in choice of colour and motif," says Harild. "She creates paintings and lithographic prints, which are inspired by where she grew up."
A collective exhibition including most of the gallery's 40 artists opens on 18 June. Their work will be shared alongside others' such as Lars Elling (graphic art), Jan Erik Willgohs, Henriette Emilie Finne (painting), Reinhard Haverkamp (kinetic sculpture) and Rita Marhaug (graphic art, performance).
A late-summer exhibition will feature fine-art painter Leif Nyland. His talent for painting scenes in the morning and evening light led Oslo art critic Tommy Olsson to compare Nyland with Gaugain.
Into the autumn with Ørnulf Opdahl, towards winter in Clear Glas.
A solo exhibition of the work of Ørnulf Opdahl, who paints with oils and water-colours and produces graphic art will run from 1 October until 30 October. Opdahl has had a great number of exhibitions, in Norway and internationally, and has even created art-projects with Her Majesty Queen Sonja.
Vidar Koksvik and Kari Håkonsen, the glass-artist duo behind the moniker Klart Glass (Clear Glass), produce traditional craftwork as well as publicly commissioned artwork. They are slated to open the gallery's final exhibition of 2022 on 3 November.
More than just art
Vedholmen Gallery has a great selection of artists, but they also have a knack for spotting the next big thing in music, often booking artists who have gone on to achieve international success, like Aurora, Boy Pablo, Marius Neset, Andreas Grønli and Ida Maria. "The music side of things has grown organically with the passing years, to a point where we see it as an essential offering, which enhances the visitor experience," Harild says.
"The gallery grew out of a need for a place to exhibit our work on our own terms and has grown – with the help and cooperation of like-minded artists, crafts people, musicians, customers and sponsors – into a cultural hub."
Web: www.vedholmen-galleri.net Facebook: vedholmengalleri Instagram: @vedholmen_galleri
Subscribe to Our Newsletter
Receive our monthly newsletter by email