Viking Restaurant Harald: Travel back in time to find your inner Viking
By Ndéla Faye | Photos: Viking Restaurant Harald
Viking Restaurant Harald has all the attributes you would expect from a good restaurant: Nordic recipes made from fresh, local produce and great service topped off with a wide selection of drinks. But one thing is different: you will be dining in a Viking village.
Restaurant Harald offers guests a multi-sensory experience. Covering the ceiling and walls are a myriad of cave paintings, animal pelts and cave drawings. The first Viking Restaurant Harald was established 17 years ago in Tampere, Finland. Since then, Helsinki, Jyväskylä, Kuopio, Lahti, Oulu and Turku have all opened their own branches of the restaurant.
Switch off and let your hair down
"The idea is for the customers to be able to switch off, to leave their everyday lives at the door. We offer them an all-round experience where they can delve into the Viking world," explains Raine Verho, development director and partner in the company. "Our customers range from couples to young professionals and big corporate functions, so this is a great way for them to relax and let loose for a while."
To give the dining experience an even more authentic Viking feel, the waiting staff are in on it too – dressed, of course, in full Viking attire. "During the recruitment process, members of staff choose their own Viking name and think of a back story for their Viking character," Verho continues. "We pride ourselves on great service, and team spirit: we were chosen as one of the best places to work in Finland in 2014."
A multi-sensory dining experience
Diners feast on meals and drinks specifically designed to appeal to all senses: dishes are served from shields, swords and clay pots to give an authentic feel to the dining experience. The serving dishes are all hand-crafted Finnish design, and the dining experience comes with all the props you would expect of a Viking feast: animal pelts, horn helmets and humorous limericks on the menu – every minute detail has been carefully designed to add to this unique dining experience.
The menu has a strong focus on Nordic ingredients, alongside some traditional Finnish and other Nordic recipes. On the menu are a number of different taste combinations, including roast ox served on a plank, Birger's reindeer soup, moose sausages and tar ice cream. Viking Restaurant Harald offers a bit of something for everyone, including the more adventurous eaters.
"We use Nordic ingredients and there is a great emphasis on local produce. Sourcing fresh produce is an ongoing process, and we are constantly looking at how we can improve and where to source the highest-quality seasonal ingredients – everything on our menu is home-made," says Verho, adding: "Our restaurants serve meals from all the elements: the Nordic woods, waters, the air and earth are all present on our menu, as well as in our restaurant's décor."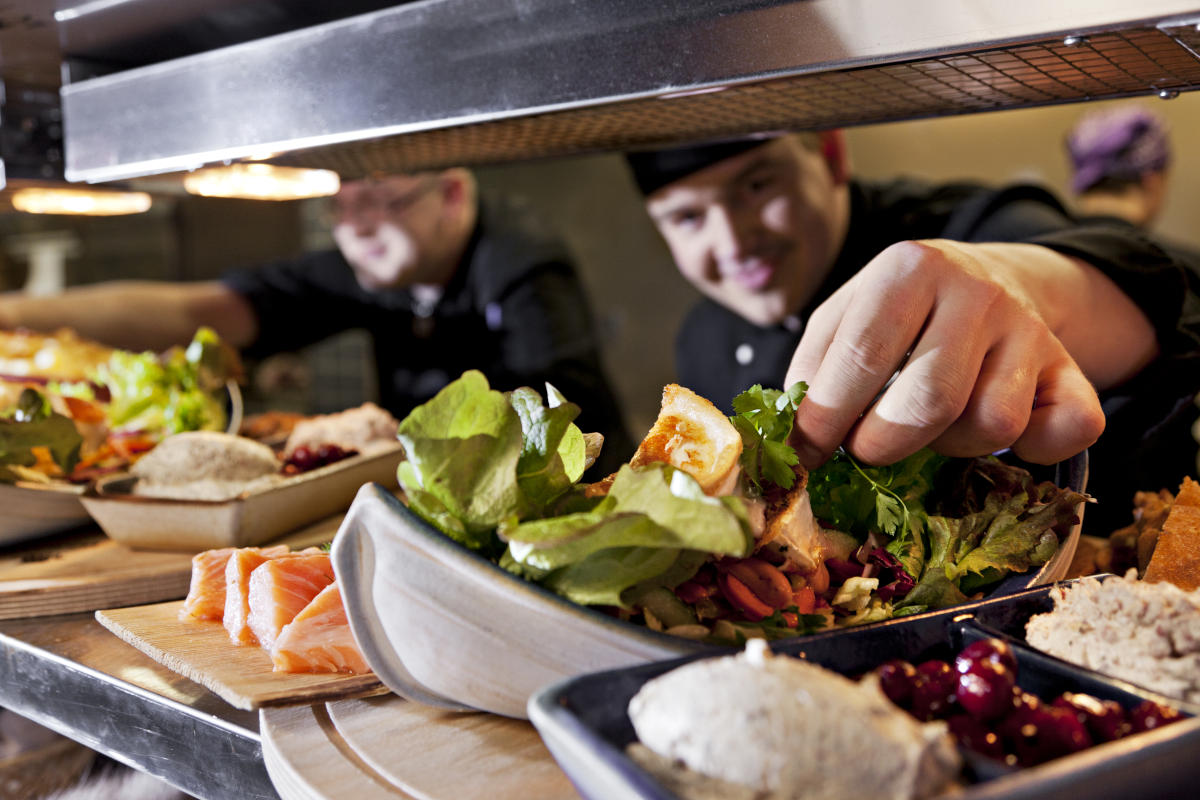 A Viking baptism for the brave
The set menus, or voyages as they are called, offer different packages, such as Harald and Helga's Love Package for couples, which includes a candle-lit meal with a number of shared dishes. The restaurant's signature Chief's Feast challenges guests to complete a number of tasks alongside their dinner, the ultimate dare being eating fermented shark, washed down with berry-flavoured schnapps. Only those brave enough to indulge in this Icelandic exotic-smelling delicacy, the shark meat having been buried in volcanic rock for six months and then dried outdoors, are given Harald's Viking Baptism complete with a certificate to state that they are now fully-fledged Vikings.
The drinks menu includes a number of drinks flavoured with seasonal fresh berries, such as sea buckthorn berries, raspberries and bilberries. Another specialty is the Harald Vikings Strength Ale, a special beer made out of honey, brewed according to the restaurant's own recipe and a very old tradition: to reward his fellow Vikings on long journeys. Chiefs used to distribute a so-called Strength Ale to keep the villagers' spirits high.
Undoubtedly, Viking Restaurant Harald provides a novelty dining experience, but also a great way to try traditional Nordic foods. The restaurant's ultimate aim is to make the whole meal an experience, from start to finish. The unique setting along with the small details, all designed to heighten this time-travelling experience, strike the perfect balance between letting your hair down and trying something that is out of the ordinary.
For more information, please visit: www.ravintolaharald.fi
Subscribe to Our Newsletter
Receive our monthly newsletter by email