Wadköping: Where past meets present
By Emma Rödin | Photos: Wadköping
Discover Wadköping and be swept back in time. Situated right next to the idyllic Svartå river in Örebro, Sweden, this free-for-all museum and recreation area celebrates the meeting between old and new, past and present.
Picturesque cobblestones line the streets of historical red buildings in Wadköping, shaping a welcoming atmosphere that encourage curiosity. It was through an act of preserving architecture and craftmanship that selected buildings from around Örebro, from four different centuries, were moved to Wadköping and opened as a cultural reserve in 1965.
"The point of moving these buildings was to ensure that future generations could appreciate them later on," explains Maria Gustafsson, head of culture at the Örebro administration office. "What's unique about Wadköping is that entire estates were moved as well, and not just single buildings," adds Gustafsson.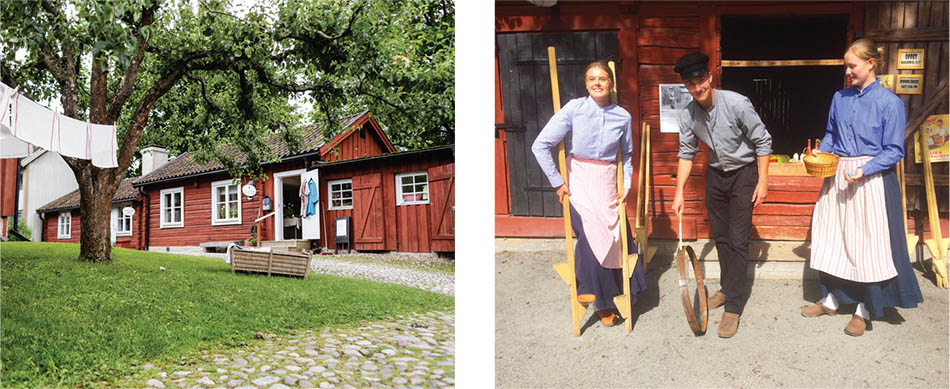 The idea of showcasing Örebro's architectural history like this has been very successful, with national and international guests visiting throughout the year. "You'll find double-sided signs on each building," says Gustafsson. "One side tells the story of the people who lived there in the past, while the other side talks about how the building is used today. It's a wonderful meeting of past and present."
Although buildings play a great part in Wadköping's offering, there's plenty more to enjoy. Numerous interactive installations and exhibitions are available, and there's a number of shops selling antiques, clothing and pottery. Those who fancy a bite to eat can head to Wadköping's café and restaurant, Gamla Örebro ('Old Örebro') or visit Jeremiah bakery for some freshly baked goods. Children will be busy, too, enjoying puppet shows, performances and playgrounds. And to really get a sense of what life was like in the past, there's the chance to try out some timely chores, such as churning butter and sawing wood – and let's not forget that Wadköping in the summer is the perfect place for ice cream.
Wadköping also collaborates with local schools, inviting students from cultural education programmes to exhibit their work on the grounds. "These kinds of initiatives keep the offering interesting, and I think that's something people really appreciate," says Gustafsson.
Then there's of course the range of seasonal events, like the upcoming Easter market on 5 April, which will celebrate craftmanship, food and everything else Easter. With so much to see and do, Wadköping is a great place for a day out – at any time of the year.

Web: www.orebro.se/wadkoping Facebook: wadkopingofficial
Subscribe to Our Newsletter
Receive our monthly newsletter by email