We Love This – December 2021
By Lena Hunter | Press Photos
Whether you "welcome the scenery of ice" like Walt Whitman, or sulk in the "desolation of winter's dregs" à la Thomas Hardy, the darkest season has an undeniable beauty – and Scandinavians have a unique knack for appreciating it. The Scandinavian term 'friluftsliv', literally translated as 'fresh-air life', is about embracing the outdoors. Though pine forests and glassy lakes might not be on everyone's doorstep, you can still find 'friluftsliv' close to home – with our five design picks to bring the outside in.
Artek Rivi Fabric
Iconic Finnish design company Artek began its journey with Parisian design brothers Ronan and Erwan Bouroullec in 2013. In 2017, Artek introduced Rivi, the first textile produced under the collaboration. Consisting of parallel lines from which tiny diagonal strokes grow like twigs from a branch, the hand-drawn pattern is as precise as it is irregular. The 100 per cent cotton fabric is available pre-cut (150x300cm) in six colours.
Artek Rivi Fabric, €140
Amoln Barr Scented Candle
Malmö-based Amoln is an artisan perfumery label that creates fragrances based on intimate memories. Each scented candle is crafted over a span of two weeks in sustainably sourced blue wax and hand-painted ceramic. The 'Barr' candle is inspired by the forest Trollskogen in Öland, with notes of "Swedish pine, fir and resin collected from coastal forests, sandalwood, cinnamon and a chorus of discrete herbs".
Amoln Barr Scented Candle, €65
Alvar Aalto Vase
The Aalto Vase, also known as the Savoy Vase, was created by Alvar Aalto and his wife Aino in 1936 and remains an iconic piece of Finnish design. The undulating lip is often likened to the characteristic shapes of the Finnish landscape, to a tree-trunk, or to other organic forms – though Aalto himself said the shape was inspired by that of a puddle. The timeless glassware is available in varying sizes and colours – including the newest natural tone, linen.
Alvar Aalto Vase, €160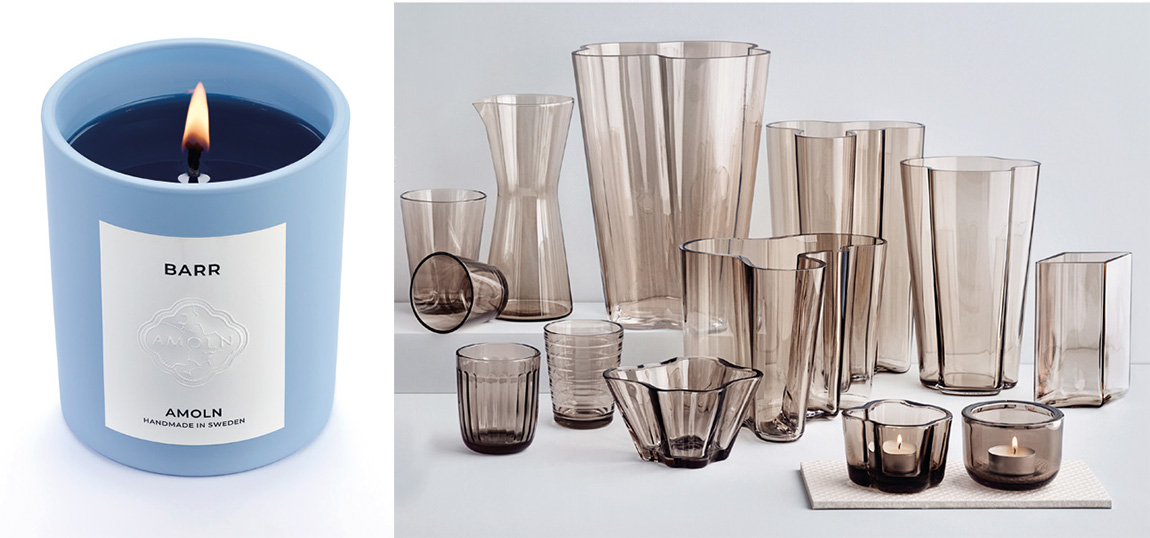 Nuura Blossi Table Lamp
Award-winning Danish designer Sofie Refer took inspiration for Blossi from the unique natural light of the north. The Blossi Table Lamp, which mimics the indirect glow by reflecting light in repeating mouth-blown screens of glass and lacquered metal, was nominated for a Danish design award in 2018.
Nuura Blossi Table Lamp, €708
Mismo Laptop Protector
Made from smooth, full-grain vegetable-tanned leather, Mismo's elegant laptop case is the perfect sleeve to guard against winter storms or the hard knocks of a daily commute. The Danish label uses solid brass with gold coating and a durable cotton-blend lining in their travel bags, alongside quality leather that will develop a rich patina over the years. This 16-inch version, in a stately shade of tobacco, features one large inner pocket and two smaller pockets for business cards, phone and the like.
Mismo Laptop Protector, €315
Subscribe to Our Newsletter
Receive our monthly newsletter by email