Wernersson
Text: Signe Hansen | Photos © Wernersson Ost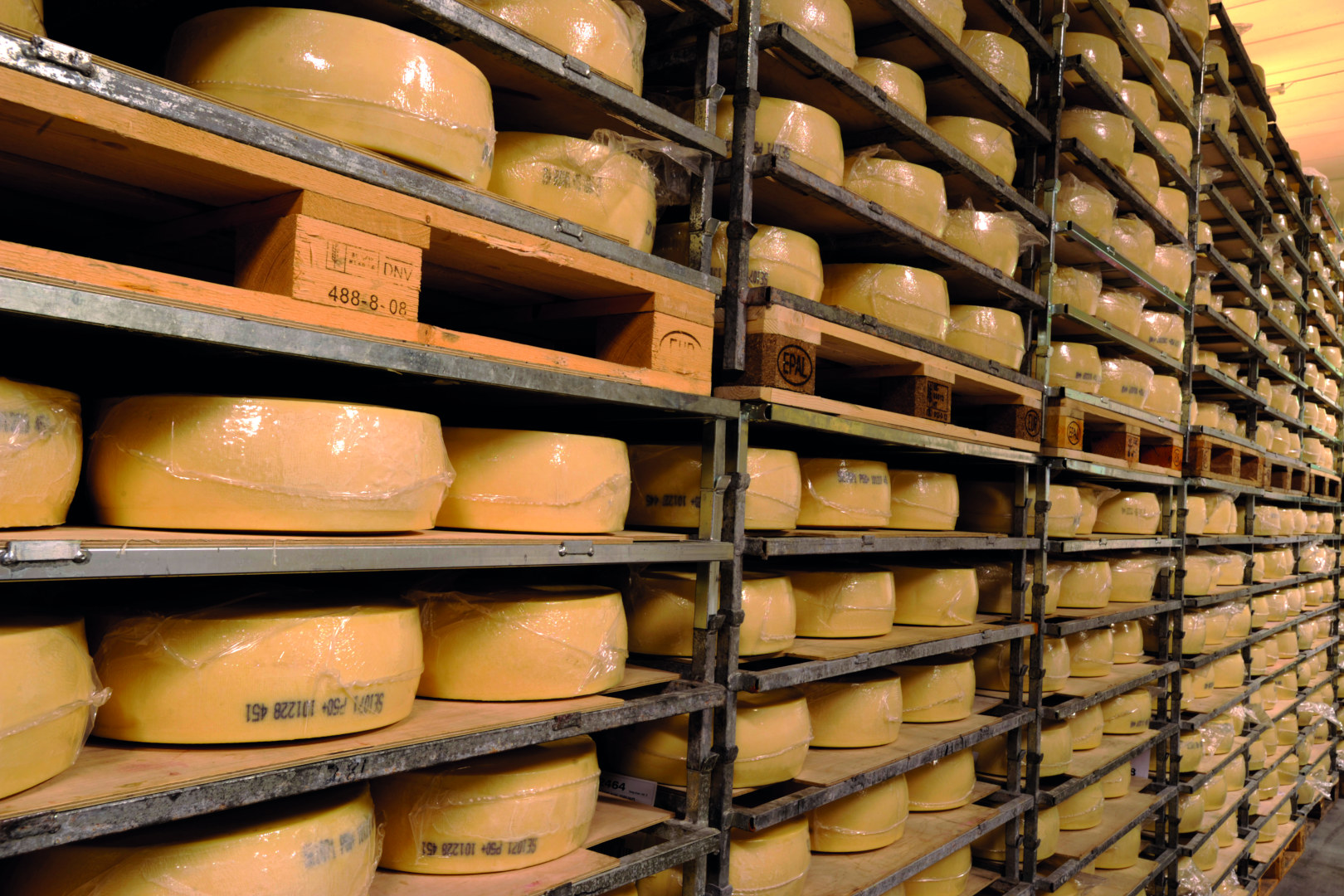 A cheesy tale of passion, innovation and tradition
S trong, sweet or a little nutty – like with people, the individual characteristics of a cheese determine how to optimally handle and promote its best features. However, just as with its human counterpart, there is no exact science that will promise the right result – the secret is human passion, tradition, and innovation. Having had almost 90 years to perfect this art, Wernersson is today responsible for the ennobling and ripening of a number of Scandinavia's most famous cheeses.
Jarlsberg, Kolibrie, Gudbrandsdalen and Danablu – unbeknown to most, many of Scandinavia's most loved cheeses are ripened, waxed, hand-turned and ennobled at a huge 7,000-square-metre facility in Ulricehamn, Sweden. The facility is owned and managed by Wernersson, a company that dates back to 1930. Today, the company ships off approximately 18,000 tonnes of cheese every year.
But, according to Jesper Jakobsen, general manager of Wernersson Ost Danmark, despite the huge amounts, it is not about quantity, but quality. "There's a growing demand for cheese that's been ripened for longer, seven to eight months," he says. "In general, there's a tendency for people to want to eat a little less, and that often means going for something with a better taste. We all know how it is – if there's no taste, we just add an extra slice, but actually that doesn't give you more taste, just more calories. I think that's why quality is on the way up; people don't mind spending a bit more money on something that's better quality and then eating a bit less of it."
Despite this, the most popular brands ripened by Wernersson are still consumed in staggering amounts. For instance, more than 1,600 tonnes of Wernersson's biggest brand, Jarlsberg, is consumed in Scandinavia each year.

The perfect time for enjoying
Ripening cheese from approximately 70 cheese producers across Scandinavia and Europe, Wernersson has no single recipe for how to achieve the optimal taste, texture and tang – not even when it comes to the same cheese, as everything depends on natural interactions between the cheese's micro flora, protein and fat. Depending on their disposition, the cheeses spend between two weeks and two years reaching the perfect time for eating. And, while Wernersson has decades of experience as well as advanced temperature and testing technology, finding the right time to cut, wrap, and ship off the cheese requires something more.
Employing 130 people at the storage facility in Ulricehamn and a new ripening facility, Wernersson makes sure that each cheese is carefully watched, hand-turned and tested. "We have some very experienced cheese masters who make sure that everything is right. It takes passion to do their job – passion and a lot of knowledge. They make sure the cheese is stored correctly, turned and waxed – we don't play music to them, but it's pretty close," jokes Jakobsen. "Our three key words are passion, innovation and tradition, because that's what it takes to ripen good cheese."
To pinpoint when the cheese has reached its optimal state, the facility's cheese masters have the enviable job of testing and tasting the cheese. When found to have the perfect taste and texture, they are shipped off as quickly as possible, because once cheese has reached perfection, it needs to get to costumers as quickly as possible for them to enjoy that perfect creamy brie, fragrant camembert or nutty Jarlsberg. "Even though we're located in Sweden, we do day-to-day delivery. If you order in Copenhagen before half past eight, you'll have the cheese by noon the next day," Jakobsen stresses.
A truckload of cheese
While Wernersson today uses a fleet of refrigerated trucks to distribute cheese to stores, supermarkets and caterers all over Scandinavia, it all started out with a single Ford T and a stand at a local market. In 1930, Tage Wernersson began dabbling at making homemade cheese from his home in Marbäck, a small town in the outskirts of Ulricehamn. In the following years, he and his family would load up their car, a Ford T, to drive to a local market in Ulricehamn and sell the increasingly popular cheese.
When Tage and his family eventually decided to move their home and business to Ulricehamn, the wheels really began spinning in the cheese-making business. Soon, the family was renting basements to store and mature their popular cheeses all over town. Having perfected the technique to do so, in the 1970s and 1980s, under the leadership of Tage's son-in-law, the focus of the business gradually shifted to the ripening and ennobling of cheese, and in 1983, Wernersson sold off the cheese-making part of the business completely.
The following two decades, two major events further increased the company's slice of the cheese market: Sweden's entry into the EU in 1996, and Wernersson's merger with the Danish Tølløse Ost, today Wernersson Ost Danmark. The merger is what brought Jakobsen into the picture. Having taken over Tølløse Ost from his dad in 2000, he merged the company with Wernersson in 2007. "Actually, it wasn't really on the cards for me to take over, as I was an electrician, but I grew up among cheese, and what I said to myself was that I'm good at remembering so surely I can also remember how to take care of the cheese business – and it's gone alright since," Jakobsen says rather modestly.
Facts:
In 2018, Wernersson oversaw and managed the maturation and ennobling of nearly 18,000 tonnes of cheese.
The company delivers 2,500 truckloads of cheese every year.
Wernersson delivers cheese to Sweden, Denmark, Norway, Finland, Iceland and the Baltic countries.
Wernersson's premium seller is the Norwegian Jarlsberg, which was created in 1956 and is today one of Norway's biggest exports.
Wernersson's master brands are: the French Kolibrie brie, the Italian Michelangelo, the British Ilchester, the classic Norwegian Gudbrandsdalen, and Wernersson's alcohol-infused cheeses.
Danes consume, on average, 16 kilogrammes of cheese from Wernersson each year. They are topped by the Swedes, who consume 19 kilogrammes of cheese from Wernersson every year.
Wernersson was founded in 1930.
In 2007, Wernersson merged with the Danish Tølløse Ost, today Wernersson Ost Danmark.
In 2020, Wernersson will celebrate its 90th anniversary.
Web: wernerssonost.se
Subscribe to Our Newsletter
Receive our monthly newsletter by email