ZENI Architects: Buildings to be lived in
"A building is much more than just a structure; it's a character in itself, which influences the way that we live or work," says Torben Sørensen, co-owner of ZENI Architects. "Architecture starts off with certain needs, which must be accounted for. If the building doesn't properly cater to how it'll be used, then it fails as a building, no matter how pretty it is. Good architecture listens to its users."
TEXT: LOUISE OLDER STEFFENSEN | PHOTOS : MARTIN SCHUBERT
MAIN IMAGE: Kedelhallen.
ZENI Architects' buildings will see you through from birth to grave. As the people behind an ever-expanding portfolio of private, commercial and public buildings in southern Denmark, they have built everything from kindergartens to the interfaith Aabenraa Crematorium. The team has won critical acclaim, particularly for its educational buildings, and this year is no exception: ZENI Architects won 'Årets Skolebyggeri' (School Building of the Year) in 2017 and has been nominated four times in the seven years since the award's inception. This year, it is the quirky lines of its newly completed FYNs HF in Odense, designed together with local architect Jesper Thyge Brøgger, which have gained a nomination.
People's impact on the building
Though only ten people strong, ZENI Architects has know-how and experience that span far and wide. "No two days look alike for any architect, and particularly not for us," Sørensen says. "That's what I love the most about what we do here at ZENI. We build a lot of different types of buildings, but the basic principle is always the same: every building needs to fulfil the needs of its inhabitants; it's a building to be lived in, whether that's 8am to 5pm or 24/7. We ground ourselves in that, and then we have fun with the aesthetics based around that mould."
In order to create architecture that continues to wow and inspire long after the first impression has faded, ZENI Architects works closely with the buildings' inhabitants-to-be, whether they're school children, gym goers or homeowners. "We value workshops a great deal when mapping out people's needs and wishes – they're very helpful in articulating thoughts that even the user might not have fully realised yet, or in ironing out issues that no one had really thought about changing."
Left: Kedelhallen. Right: FYNs HF. Photo: Kirstine Mengel
The building's impact on people
"That said, however, architecture is about more than 'just' fulfilling people's needs." On the one hand, Sørensen believes, it is crucial that the architect stays humble and actually listens to the users; they should be happy and comfortable in the building. On the other hand, buildings are more than mere receptacles for function; they in turn impact their inhabitants, and in that fact lies great potential for the skilled architect to support the users' future behaviour with subtle, positive touches before they even move in.
At the newly opened Broager Kindergarten, for example, 50 happy little humans stomp down the wide, open corridors in search of the cosiest cubbyhole, while others make numerous traffic violations racing each other round the pedal car track outside. "Nowadays, we are much more aware of the importance of being active from an early age, so we've taken care to encourage movement in every aspect of the design," says Sørensen.
The building encourages children to interact with each other, to roam about exploring both inside and out, and to get in touch with nature – and away from screens. "We also made sure to solve the needs of its other users, the nursery staff, and to anticipate the challenges they'll face working there," Sørensen notes. The open layout makes it easy to keep an eye out while features such as sound-absorbent walls and easily accessible sinks provide a safe, practical and comfortable environment for all of Broager Kindergarten's inhabitants, regardless of maturity level.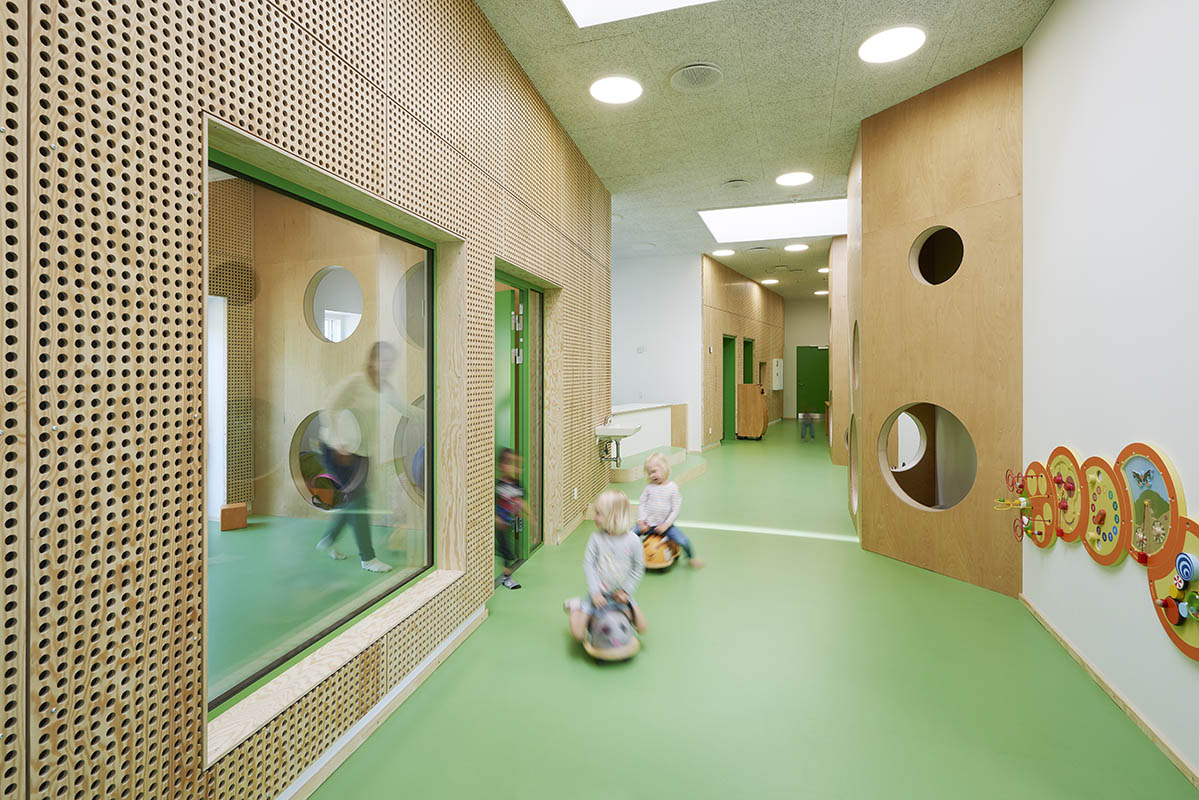 Broager Kindergarten.
A taste of their own medicine
"For years, we've been talking about the need for buildings to perform practically as well as aesthetically; for the importance of long-term functionality," Sørensen says. "Now, we actually get to experience a taste of our own medicine." In 2018, ZENI Architects hit upon a golden opportunity to transform the old steam-power plant in Aabenraa into their own offices. "It was, if you'll excuse the expression, an architect's wet dream. We had this gorgeous old building, Kedelhallen, with an exciting past that we were free to shape to our hearts' desire."
ZENI Architects went about the design the same way they do any other project – considering Kedelhallen's specific context and hosting regular workshops with their own employees, leading to details such as shower facilities and quiet nooks. "We wanted to preserve Kedelhallen's great spirit and character without compromising our own modern requirements." Windows and pipes from the plant add interesting focal points to the impressive open space, while great new acoustics ensure that noise isn't thrown around the room, creating a comfortable working environment. "We're all in love with the look, but we're just as pleased to say our process works: we've lived here for nine months and everything works for us," Sørensen says. "We've learnt a lot about what it's like to be on the user side of the build. Best of all, when clients ask to see our work, we can just point to our surroundings."
Web: www.zeni.dk
Facebook: ZENIarkitekter
Subscribe to Our Newsletter
Receive our monthly newsletter by email