A memoirist finds peace in the Westfjords of Iceland
Text and photos: Deidre Olsen
As the southeast coast of Iceland came into view, I gasped in awe at the volcano shrouded in snow below. The mighty Öræfajökull rests on the edge of the Vatnajökull 'Glacier of Lakes', the largest ice cap in the island nation. I watched as turbulent Atlantic waves crashed on beaches of black sand, made of basalt rocks and lava, with nary a tree in sight.
I grew up outside of Vancouver, a city nestled between the mountains and the ocean. I've always felt the most at home with and inspired by nature. Trapped inside my Berlin flat, lockdown had made the challenge of writing a trauma memoir insurmountable. I pressured myself to be productive but fell into a deep depression. I desperately needed something to look forward to, some kind of far-flung refuge to illuminate the path forward.
In December 2020, following a cursory Google search, I came across The Westfjords Residency. I was immediately drawn to the dramatic landscapes and remote location, alongside the focus on creative exploration and community connection. The residency being scheduled for February 2021, I quickly filled out the application and hit submit. The next month, I was thrilled to find out that I had been accepted. Sadly, due to complex travel restrictions and the unpredictability of the Covid-19 pandemic, the retreat was pushed back to October – but while initially disappointed, I was elated knowing that the residency would bookend a challenging year.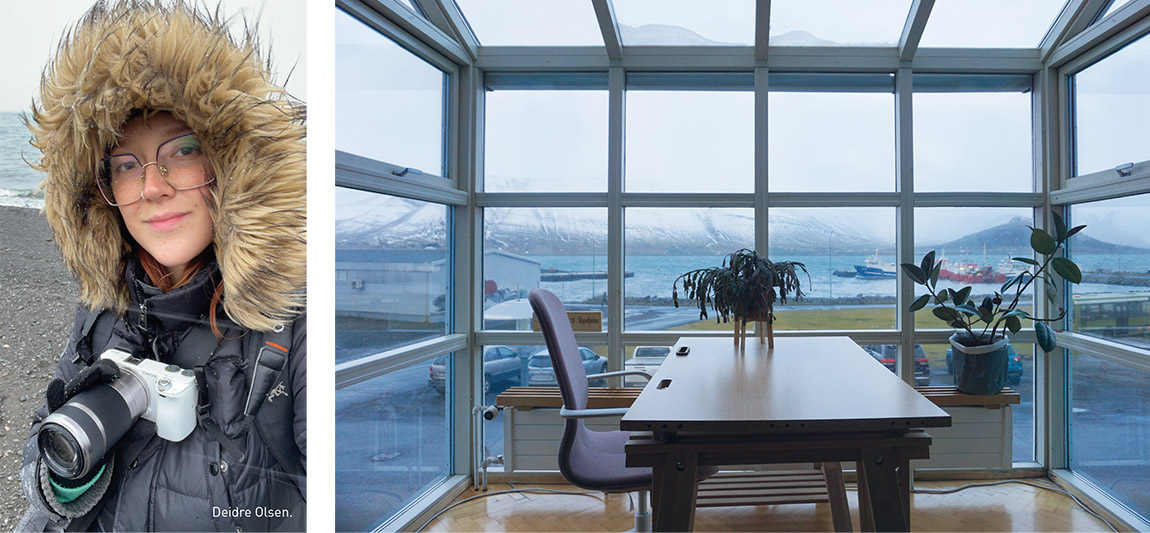 A gobsmacking drive to Þingeyri and Simbi's Palace
When the day finally came and I arrived at Keflavík Airport, I nearly levitated off the landed plane, my teeth clenched in an excited smile under my mask. I spent two days in Reykjavík with an old friend before meeting my group early on a Saturday morning at Hallgrímskirkja, a Lutheran church in the city centre. After our bags were packed into the back of a small bus, we hopped on board to begin our seven-hour journey. We took the north road to Þingeyri, passing through Ísafjörður to pick up groceries.
The drive was gobsmacking. We saw two beached whales, the skeletal remains of one and the partial flesh of another. We passed through tunnels, over mountain passes and down winding roads, peering off into the wild expanses of fjords, cliffs, waterfalls and beaches. While there were few animals to behold, long-haired brown and white Icelandic horses rested and grazed in open fields.
We arrived in Þingeyri in the late afternoon, unpacked our things and settled into our respective bedrooms. Þingeyri is one of the oldest settlements in the Westfjords and where the first trading post was established. With a population of 246, the village is situated on a strip of land on the coast of the Dýrafjörður. My window faced the ocean, a dock and the only open store in town – a gas station with limited hours. Later, the organisers gave us a tour of Þingeyri, including a coffee house, studio space and recreation centre. Before bed, we shared a hearty meal complete with soup, bread and a hummus dip.
The next morning, I rose late with the sun, showered and made myself a warm bowl of apple cinnamon oatmeal. I zipped up my insulated jacket, pulled on my blundstones foot by foot, and headed off to 'Simbahöllin'. The four-storey olive-green Norwegian timber house is hard to miss. In 1915, Sigmundur 'Simbi' Jónsson imported the dwelling to the remote Icelandic village. The former grocery store earned the nickname of 'Simbahöllin', which means 'Simbi's Palace'. For more than four decades, Simbi and his wife Fríða sold everything from baked goods to Fisherman's boots here. In 2006, a young Belgian-Danish couple came across the dilapidated house and decided to buy it and fix it up.
Sitting on the main road through Þingeyri, the coffee shop serves, during the summer months, as a space for locals and visitors to come together and enjoy a warm brew. During the residency, artists have the option to use Simbahöllin as a workspace. I cosied up on an olive-green sofa with a cup of coffee, opened up my laptop and stared at the blank page. After a frustrating hour of writing one sentence and deleting it, I decided to get some fresh air.
A panorama of splendour
Snowflakes fell around me softly as I walked towards the ocean, a gray fog curtaining fjords from my view. I stopped just before the gentle waves could swallow my feet and took a deep inhale and exhale. Suddenly, I was overcome with joy and burst into tears. I spun myself in a circle, a panorama of splendour before me in every direction. In this moment of solitude, overtaken by the healing power of nature, I felt both cleansed and in awe. I snapped some photos with my mirrorless Sony camera and skipped back to Simbahöllin.
Back at my computer, words flowed from my fingertips onto the screen. Within hours, I had written 1,500 words, more than the previous several months combined. In the days to come, I'd double my daily word count, making it to 15,000 words, or 20 per cent of my memoir. I pulled nightmares from my memories, transcripts and police records and turned them into beautiful, harrowing, immersive scenes, ones I previously never thought would see the light of day. Before, whenever I attempted to sculpt together a narrative, I was left inconsolable, retraumatised and unable to move forward. But here, in the remote Westfjords, I found peace.
Late one evening, I saw a message in our WhatsApp group saying that the northern lights were visible. I immediately jumped out of bed, threw on my warm winter clothes and ran outside into the frigid cold. I jogged away from the village lights towards a darker spot by the water, where two other artists stood. The moon, full and silver, was reflected on the ocean. The shadowy silhouettes of fjords stood ominous in the distance. Stars twinkled in between blue-green ribbons dancing across the night sky. Breathless, I looked up at the aurora borealis for the first time.
Deidre Olsen is an award-nominated writer living in Berlin. Have writer's block? Need inspiration? Visit www.westfjordsresidency.com for more information.
Subscribe to Our Newsletter
Receive our monthly newsletter by email