Anja Pärson & Filippa Rådin: Ski slopes, catwalks, and a simple family life
Text: Linnea Dunne | Photos: Press photos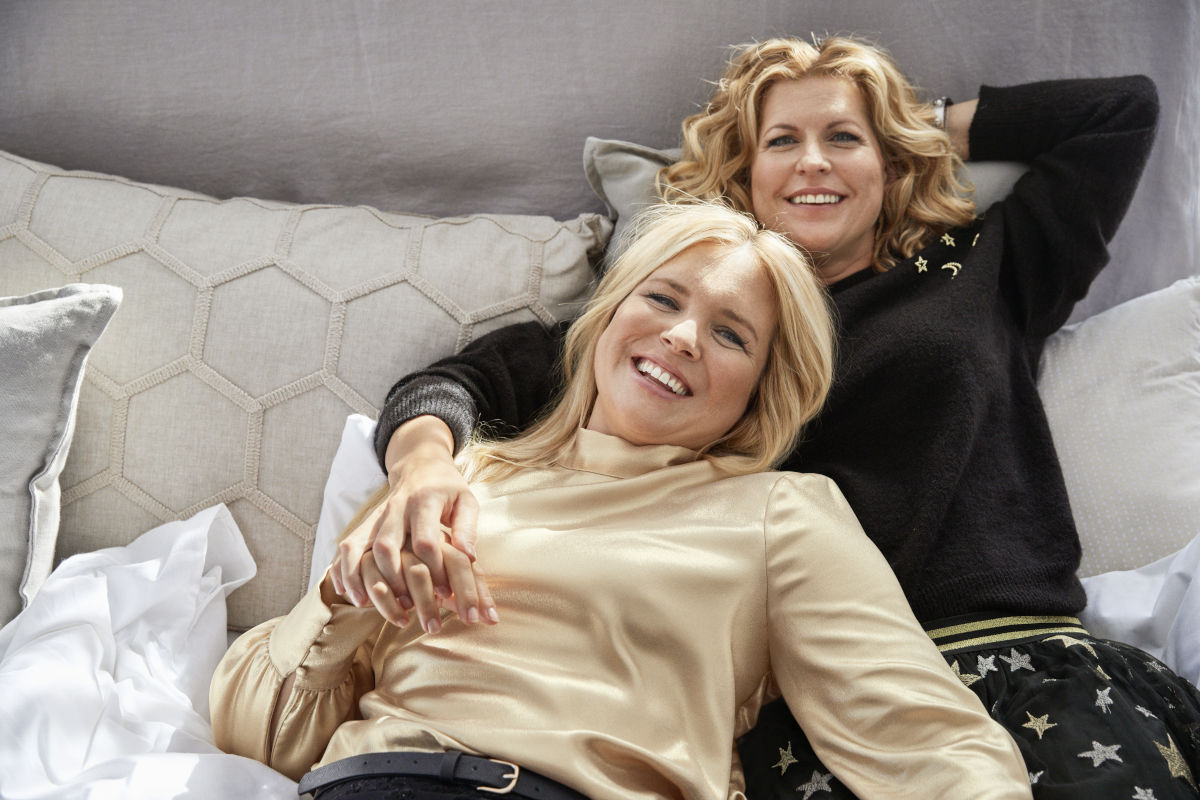 One is a former world-class Alpine skier, a national heroine with 25 Olympic and World Championship medals to her name; the other, a celebrated fashion designer and boutique owner. Together, they make one of Sweden's best-known couples. Scan Magazine spoke to Anja Pärson and Filippa Rådin about working together, being role models, and their exciting new ELLOS collaboration.
"We're actually sitting at our kitchen table right now. It's not ideal – it can be hard to draw the line between work and time off… but we're going to create an office in the New Year, and the plan is to never bring the laptop out of there!" says Anja Pärson. Her wife, Filippa Rådin, laughs: "We're pretty prestigeless in everything we do. We want to give each other the time and space to take on different projects, and we want to support each other to make the most of our strengths. We have different skills and complement each other well."
Pärson continues: "Right now, Filippa is at a stage where she's in a bit of a, shall we call it a creative bubble, and then she doesn't have a lot of structure…" They both laugh again. "Then I can step in and say that maybe it's not a good idea to do everything all in one day. Whereas for me, I'm giving a talk tomorrow, and I'm doing everything but preparing for the talk. Then Filippa can force me to sit down and give me a schedule to study for the presentation."
Becoming role models
They talk around each other in a way that sounds so natural you can almost tell they are at the kitchen table in their home in the north of Sweden. They are not bickering, but certainly able to laugh with each other – perhaps like any couple that knows each other well. Except, of course, they were not always just any couple. Back in June 2012, when Pärson hosted the prestigious Sommar i P1 radio show, they were just Anja Pärson, world-renowned alpine skier and national sports icon, and Filippa Rådin, fashionista and boutique owner – or at least that is all most people knew.
"We met in her clothes shop. She always had clothes that fitted me. Tops and jumpers which were really me, but which I'd never before dared to put on," Pärson started, on the show that had an entire nation hold its breath. She went on to describe that crash: how she fell, her legs giving way underneath her; how she was so scared that her entire body was shaking. And everyone in Sweden and many more beyond had seen it, watched it live on their TV screens from the 2010 Winter Olympics – but no, Pärson was not talking about that crash. She was talking about falling in love with a woman. And on the legendary Swedish radio show, she was coming out.
"I wanted to own my own life," she reflects now. "It was big news back then, but I felt it wasn't right that people would use my life and take advantage of it. At this point, we're proud HBTQIA+ role models, we gave the Euro Pride inauguration speech, and just by living publicly the way we do, we help to make other people feel safe – but it's important that we're allowed to do it our way. At this stage, the whole fame thing is so normal for the kids, because they grew up with it, that they don't even think about it." She laughs. "To our youngest, fame isn't something special and positive – he just wonders why mummy is on the cover of a magazine. He doesn't know I was the world's best Alpine skier!"
An all-women fashion project
The couple may have been adamant to own their story, and to keep it a secret until they were sure they were ready to talk about it – but they are equally clear and confident when now, years later, they go about running a company together and bringing their kids along. Right now, they are seen as the faces and co-creators of a new ELLOS collection, with a range of sparkling festive wear that has gone down a storm with the Swedish fashion crowd. "It was an honour for us to be asked to do this, but ELLOS said from the get-go that they wanted the entire family on board, and of course that was something we had to think about," says Rådin. "But it's been an incredible thing to be a part of – for all of us, together, even if I'm the one with the fashion qualifications."
Indeed, the kids did not let their wishes go unheard. 12-year-old Emmi picked her own prints, six-year-old Elvis demanded soft, comfortable tracksuit bottoms, and little Maximilian wanted sequins and a tulle skirt similar to one his big sister picked out. Some of these made the party collection, while others are part of the new, luxurious loungewear collection, which has just hit the shelves.
"We weren't quite sure what to expect when we went in for that first meeting," says Pärson. "Filippa had created some mood boards and everyone had ideas, but I guess you never know when you step into a big company like this what your role will be, how hands-on you'll be able to be. But it turned out there was a shared vision right from the start. And even if I don't know all the fashion terminology, I've felt very involved – it's pretty much been a case of 20 power ladies having the time of our lives!" Rådin interjects, tongue in cheek: "There was one poor lad who got to come in there at the very end, but other than that it was all women."
While the party collection caters to everything from staff Christmas parties to the festivities themselves as well as the most glamorous of New Year's Eve parties, presenting glitter and gold and elegant fabrics, the loungewear range suits everything from a relaxed brunch gathering to a chilled-out Friday on the couch. "It's functional, but also luxurious and feminine," says Rådin. "It really does what it sets out to do: it looks good, and it feels good."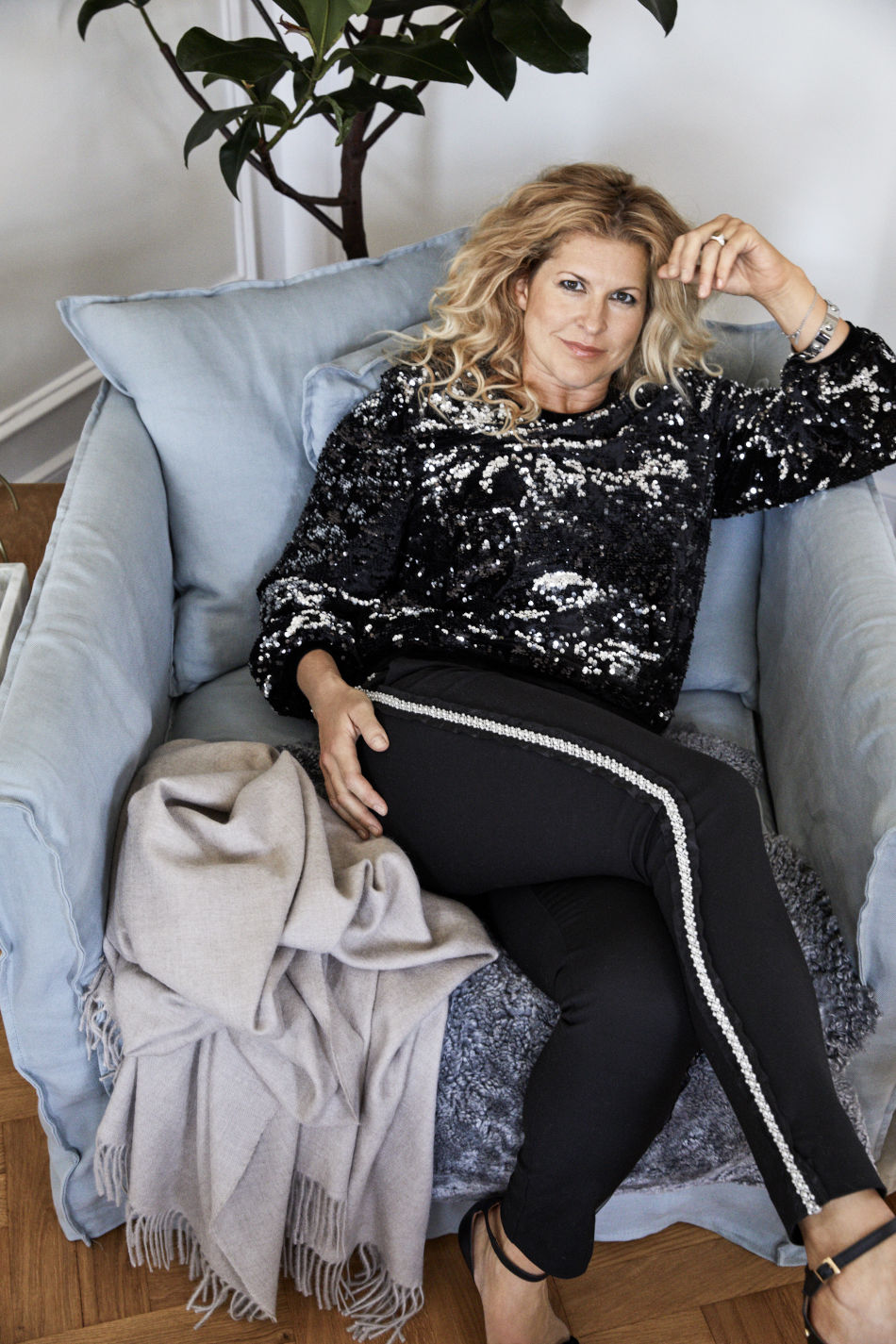 Real-life lessons
The collection press photos feature the whole family, oozing joy and what looks like an uncomplicated sort of love, at last. It is this honest, simple way of life, believes Rådin, that has made them relatable, and perhaps especially meaningful in HBTQIA+ circles. Pärson, a competitive spirit by nature, talks about a tireless determination to improve, to become a better speaker and improve the talks she gives; yet she admits that "real life", as she calls it, came as a bit of a sucker punch. "When I decided to quit skiing, I thought I had all these great ideas, which I could bring with me and talk about – but I've learnt a lot by living a normal life with three kids when it's rainy and miserable and you're not on an Alpine peak in the sunshine but your three-year-old keeps waking up in the middle of the night," she says dryly, yet without a trace of regret in her voice. "Meanwhile, Filippa is in this creative process right now where, if there's a funnel, well that narrow opening at the bottom doesn't even exist yet…" And yet again, her wife laughs: "Well, yes, I do get giddy… I'm at the most enjoyable, most awful stage of the process right now – so I guess it can be a bit of a laugh to sit and work next to me."
Home office or no home office – it seems safe to say that the couple will manage just fine. If you can survive a free fall, land on your feet, and walk away with both love and pride intact – despite an entire nation watching – you might just be able for anything.
Subscribe to Our Newsletter
Receive our monthly newsletter by email