Astrid S: Norway's new pop noir sensation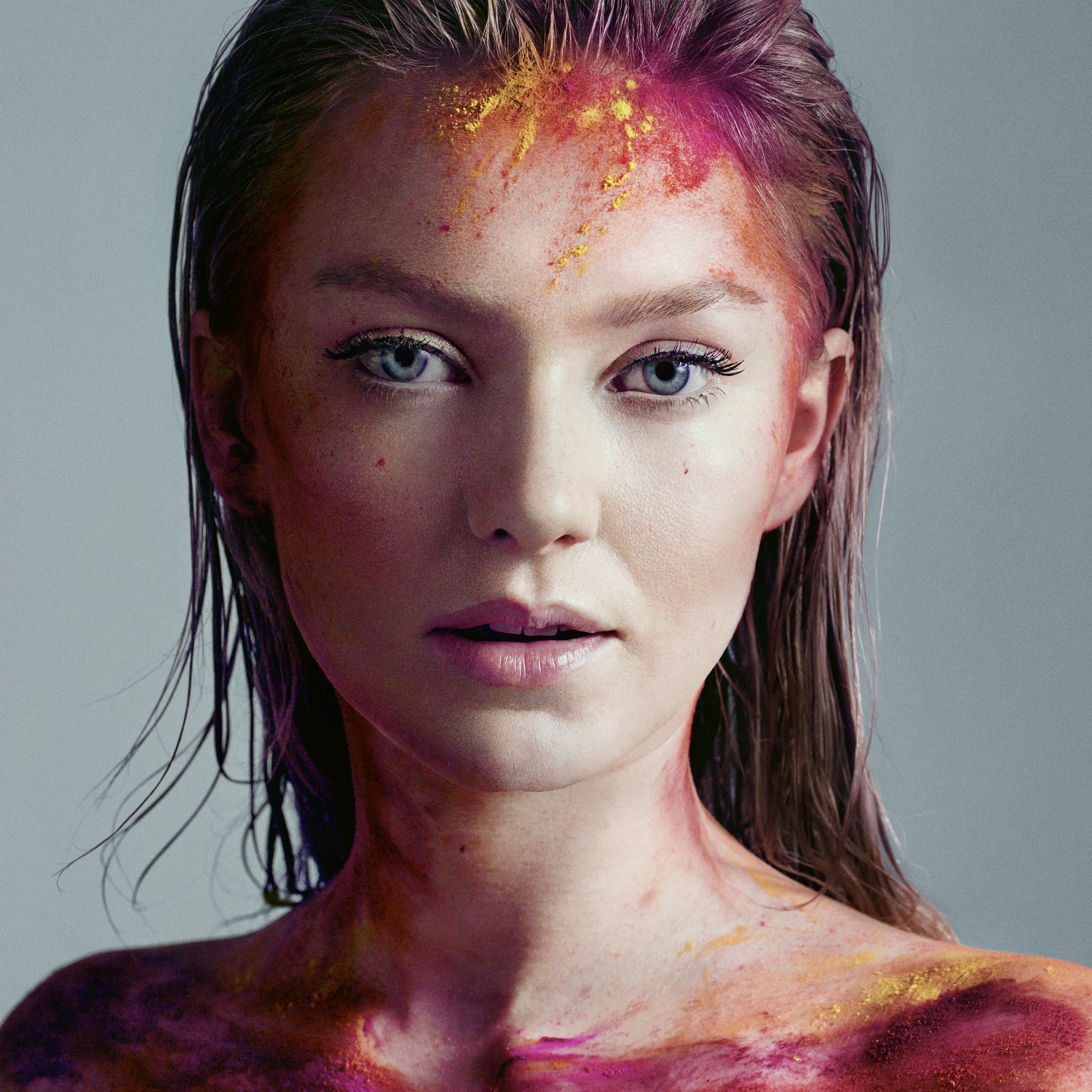 With the cool confidence of a stage veteran and the pure voice of a pop music producer's dreams, she wowed Norwegian audiences only months after buying a guitar and went on to top the charts shortly after. Astrid S may be young, but she knows what she wants: to write songs she can really get behind and perform them to a global audience.
Astrid Smeplass' first audition for Norway's Idol back in 2013 was one of those unforgettable moments. With a
guitar in her hand and an unassuming expression on her face, she walked in, sat down and gave the jury her very
own rendition of her then favourite band Keane's Somewhere Only We Know, and the jury members' faces went from confused to curious to stunned. By her second audition, where she performed Dolly Parton's Jolene, the air was already charged with expectation.
Three years on, Astrid S talks with the same chirpy innocence but performs on stage like a seasoned pro. With studio videos that paint her as artistically and confidently cool as fellow Scandinavian songstress Lykke Li and singles providing the background music in the hippest fashion boutiques throughout Europe, she certainly deserves the monikers 'Norway's next great pop export' and 'Spotify Nordic Spotlight Artist for 2016'.
'This is what I'm born to do' 
"I kind of quit music when I was 12 or 13," says the Berkåk native, whose parents insisted on her taking piano and vocal lessons and joining a marching band. "I hated it. People just tell you how to play and how to sing. But then I went to sports high school and got to know all these people who went to study music, and I saw how much fun they were having, playing in bands and everything. They introduced me to John Mayer and I decided to buy a guitar." Just a few months later, she stepped into the Idol studio and performed to hundreds of thousands of Norwegian viewers. "It was only when I realised that I was able for it, that I could handle the pressure, that I knew: this is what I'm born to do."
It was also on the Idol stage that Astrid S unveiled the first song she had ever composed herself, Shattered, to the public. It became an instant hit and the singer immediately went into the studio. The finished track went straight to number one. "It wasn't what I expected at all, but it was important for me to release it and perform it, and the fact that it was so well-received made me realise even more that I could do this and that I could really write songs," she says.
It would be easy to write Astrid S off as young and naïve, her happy-go-lucky outlook almost simplistic, bordering on gullible. Yet despite her light-hearted tone there is a calm about her, a feet-onthe-ground sort of quality that suggests that she will not be led astray that easily. On writing her own material, she adds: "I'm sure a lot of people think that other people write my songs, but I hope that you can tell by the way I perform and sing my songs that they're mine. When I see an artist live, it's very clear to me if they've written the song themselves or not. I don't really mind, but it's important for me to write my own material so that I can really convey something and get the message across."
The idea of the music industry as a tough and scary place for a 19-year-old woman from the remote parts of northern Norway is not one she is interested in entertaining. "It's an extreme sport in a lot of ways, to put yourself out there in front of people and express your feelings. It's very uncomfortable, but in the best way possible," she says. "But the most important thing for me is who I work with. I surround myself with the best team I can get. They respect me as a young female artist and trust me to do my job, write the songs I want, and have my opinion – and that's important to me. I care about them and they care about me."
While she is full of superlatives when highlighting how lucky she has been with timing and meeting the right people, it is talking about the creative process and the art of performing that really gets her going. "Do I sound Norwegian? I don't know, maybe my accent? You can probably tell by the melodies; songwriters and people in the industry will probably know, and I know I can always tell by the melodies when a songwriter is Scandinavian," she ponders. "Melodies come very easily to me. I grew up listening to American artists, and because I didn't understand the lyrics the melodies became that bit more important. Scandinavians definitely have a melodical sensibility. When I heard Adele's Send My Love (To Your New Lover) I knew Max Martin or some other Swedish songwriter was probably behind it." When told that one of her recent singles has a bit of a Sami ring to it, she laughs. "What, Hurts So Good? I know, it wasn't intentional though! It was just what felt good to sing. I've had people message me to ask what the lyrics are, because they wouldn't be used to 'hey na na na'. Other people will go 'oooh' and 'aaaah' for those parts, but I went with 'hey na na na'."
Debut EP and crossing the Atlantic
Hurts So Good is the lead single from Astrid S's self-titled debut EP, which was out earlier this year on Virgin EMI. Producers and songwriters such as Robert Habolin, who regularly works with Zara Larsson, have contributed to the creation of the five tracks which have been showered with praise. The EP has been dubbed "catchy as hell", "outstanding", and "10-out-of-10 stunner" and the singer rated as "one of the best new popstars in the world right now" and "a pop noir sensation". While previous releases such as 2AM and Hyde helped her reach and surpass 100 million Spotify streams globally and a 5 x Platinum certification for the former, she has also been heard on Avicii's Waiting For Love and in a duet with producer Matoma on super hit Running Out. More recently, Hurts So Good has been remixed by an impressive number of respected DJs, while Astrid S herself is back in the studio.
"I never have long breaks from the studio, which I think is important," she says. "Now, with some experience, I know what I like; I'm very open to everything, but if there's something I don't like I'll remember that and I won't waste time on it again. I'm always going to be the person who has to perform the songs and live with them for the rest of my life." And there will be plenty of performing indeed. 2016 has already been a big year for the young Norwegian, with a support slot on Troye Sivan's European tour and her first headline gig in London, which sold out. Next month she crosses the Atlantic for a series of shows across the States, again along with the Australian singer/songwriter. "His fans are crazy and amazing!" she says. But it does not end there. "The best thing is that I'm having my own first European tour this winter!"
She was a breath of fresh air when she stepped into that Idol studio in 2013, and she is still refreshingly open and fearless as her fan base grows and the music industry holds its breath to see what Norway's most exciting new pop star will do next. In addition to a cool and catchy musical experience, it is a lesson in faith. "I remember when I was ten or so and I looked at this Hannah Montana poster I had on my wall, and I was almost crying because I could never be like her," she recalls. "It's cool to look back and think that you can actually become an artist if you work hard enough. It doesn't matter where you're from or how old you are; you can be absolutely anything you want."
TEXT: Linnea Dunne
PHOTO: Ole Marius Fossen
Subscribe to Our Newsletter
Receive our monthly newsletter by email