Bo Bech: The honest kitchen alchemist
Text: Linnea Dunne | Photos: Press photos, www.chefbobech.com
Having worked at renowned restaurants all over Europe and with cuisines taking him around the globe, Amager-born Bo Bech became a celebrated face of the esteemed Danish culinary scene through a stint as a TV chef and with an award-winning restaurant of his own. Then he went from ten covers to more than 150, and today, he is all about honest transactions. Scan Magazine spoke to the legendary Dane about passion, dogma, and finding your groove.
'The feeling of standing barefoot on a dock in the middle of a metropolis. Running towards the edge, jumping, taking off. That feeling before breaking the surface of the water: tension, anxiety, joy. Climbing back up, catching your breath, drying your face and seeing the silhouette of Copenhagen. It is like a rebirth.'
Bo Bech does go swimming in the mornings, at Skuespilhuset in central Copenhagen. But his words in his latest book, In My Blood, are very clearly about more than just swimming. Indeed, he concludes the same page in the book thus:
'I opened GEIST, because I was tired of being the guy wielding a scalpel at an ego-driven gastronomic operation. I was tired of dissecting and autopsying. I missed life. […] GEIST is joy of living, night life, unrestraint, focus, tempo, togetherness, and team spirit. The feeling of standing barefoot on a dock in the middle of a metropolis. Running towards the edge, jumping, taking off. This is GEIST. In the heart of the heart of Copenhagen.'
Finding passion
On the phone from Copenhagen, he describes the 24-year-old who, like a sponge, conquered the vocation of cooking, and that fire inside that spurred him on. "When you begin cooking at 24, everyone asks you why; you're 28 by the time you're qualified – and back then, that's when most people would leave the kitchen," he says. "I felt stupid in school, I wasn't the clever kid. And then I came into the kitchen aged 24, and my fellow students were 16, and I just understood everything. I went from everything feeling like Arabic to suddenly understanding the language – and that creates an energy, and I pushed and pushed and suddenly found myself in the situation where I'd been a successful head chef at a very successful Danish restaurant for four years, and I had to ask myself: what's next?"
So why not start sooner? "I had no idea this world called passion existed," he says. "I had no idea a job could be fun." The story goes that it was during a peacekeeping mission in former Yugoslavia that he came upon an old Danish cookbook, almost like a housewives' handbook about basic things like how to boil potatoes and make a good bechamel. Part of a group of seven soldiers, Bech started applying a few of the tricks when cooking for the others – and he noticed a shift in energy. "It wasn't high science or anything, something just as simple as adding salt to the potatoes – but this shift was so clear, and I stumbled into this world called passion," he says. "It tickled me so much, and I thought, maybe I should try cooking. And I did."
The first original Bo Bech restaurant, Paustian, became a success story very quickly, boasting White Guide listings and Michelin stars. It was the kind of fine-dining journey that makes a name, and it did: Bech became one of the big names on the Danish culinary scene, dubbed 'The Alchemist' for his inventive quality dishes, with Paustian just as coveted – until it was time, yet again, for rebirth, that is. The listed building that housed his restaurant baby had its limitations, and Bech started questioning the relentless pumping of funds into something so restricted. Moreover, he found himself at a creative crossroads of sorts. "There were white tablecloths, ten tables, no music; when you arrived, the glass would appear, and the cutlery would appear – but I slowly realised that, while we were trying to make things less complicated and less intimidating, we were pushing people away," Bech explains. "This all made me think, so when two partners came and said that they had a space for another venture, it gave me the opportunity to attempt to build a large-scale restaurant where I could still serve really good food. Back then, it was either an amazing, fine-dining meal and a boring night, or a huge, fun restaurant with boring food."
The name, GEIST, came from the Danish word for 'excited' – 'begejstret' – which was what Bech and his team wanted to create, and also a sort of invitation and encouragement in terms of how they were hoping that people would approach them. "It's a transaction between the customers and the crew," he explains. "If either is disinterested, it becomes a monologue. You need to invest in this thing, and everyone needs to deliver. It's an honest transaction – food free from fuss and fussiness." If Paustian was all about making the best possible food, GEIST became all about the people, the most challenging part – because they already had the food thing nailed. "I loved it, I still love it," the chef enthuses, before interrupting himself: "That said, not a day goes by that I don't miss fine dining."
Themes and concepts
It seems apt that the man whose journey to the top of the Nordic food scene started with a book, would go on to give back to the world of inspiring cookbooks. Following on from the critically acclaimed What Does Memory Taste Like?, his book about the food and journey of Paustian, Bech last year published In My Blood, a beautifully illustrated, unusually artistic literary depiction of the journey from an idea to the flourishing food establishment GEIST. Featuring everything from personal reflections and recipes to watercolour paintings and early sketches of what would eventually become the interiors of GEIST, it gives foodies and entrepreneurs a fascinating insight into the driving forces and motivating factors behind success and happiness, divided into chapters called The Rage, The Tribute and so on.
In My Blood could perhaps be described as a concept book, yet one where the concept is hard to pin down or put into words. Funny that, as Bech, on the subject of the New Nordic Cuisine trend, admits to having felt a tad cynical and tired of dogmas back when it all kicked off. "I was working with geographic creativity, travelling extensively to Rio, to Istanbul, Madrid, New Delhi, then opening up the restaurant where I was head chef and adding that specific gastronomic tradition to the food for a season – so when the New Nordic manifesto came, I was fed up with having a theme. I just wanted no rules," he asserts. "Today, of course, I've learnt that if you have any success at all, you are working with some sort of dogma – otherwise, who are you? If you're blabbering all over loose ends, you won't catch anyone."
Catch people, Bech certainly does – and while he is definitely keen on talking, it is far from loose blabbering. If In My Blood is a manifesto, it is one of honesty and passion. "I don't manage people, I inspire them," he says about the extensive team at GEIST – and perhaps that hits the nail on the head. In time, there will be another Bech restaurant baby, he promises – but first, he wants to focus on improving and rebuilding GEIST. Rebirthing. More unrestraint, focus, tempo, togetherness and team spirit. Like that feeling of standing barefoot on a dock in the middle of a metropolis. Running towards the edge…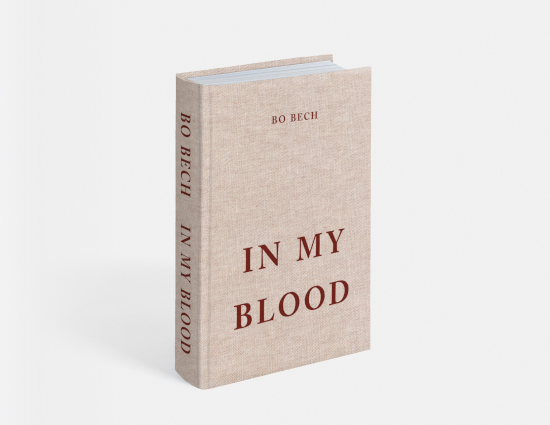 'In My Blood' by Bo Bech is available from: Web: chefbobech.com
Subscribe to Our Newsletter
Receive our monthly newsletter by email