Comby: Local commitment, local strength
Text: Signe Hansen | Photos: Comby A/S
When distances and travel times are as long as they are in Greenland, flexible and reliable IT solutions are absolutely essential. This is one of the reasons why Comby A/S, a local provider of IT solutions and services, has made reliability and honesty its trademark. Scan Magazine talks to founder Brian Torp about the specific challenges for Greenland's IT industry, and how his company works to solve them.
Founded on a vision of providing clients with better, faster, and more reliable IT services, Nuuk-based Comby A/S has grown rapidly since its beginning in 2000. Today, founder Brian Torp has 22 colleagues, including co-owner Michael Collin. This is despite the fact that, when Torp set out, he had no business plan other than a desire to do things better. "The thought was to create a business that had service at its core and with which we could build long-lasting client relationships. That was the founding idea, and then things just took off really quickly," explains Torp. "One of our clients is the Municipality of Sermersooq, which expands from the east to the west coast of Greenland — an area the same size as France — and that means that we have to sail or fly to get to a site. Some of the most remote villages can take us two weeks to get to! That's why we have to be one 100 per cent sure that when we provide a solution, it is reliable and can be serviced and manned remotely. Of course, that's a focus for companies across the world, but here it's based on extreme necessity."
Torp's experience and new approach to service quickly gained him major clients and, just a year after starting, his business, which at that time was just himself and a part-time employee, had a turnover of about 14 million DKK (around 1.67 million GBP).
Expanding and planning ahead
In 2001, Comby A/S merged with A-team Greenland, a local division of a large Danish provider of consultancy services and training. With the merger, the company gained nine new employees giving Torp and Collin, Torp's new co-owner from the A-team, a bit of time and space to look at the company's strengths and future prospects. "Up until then, we hadn't had the time — we'd been too focused on delivering what we promised our clients," Torp explains. "After the merger, however, we sat down and created a full strategy and business plan. What was important to us was that all the products and services we offered were things on which that we could offer expert service and knowledge."
This, amongst other things, led to a decrease in the selection of hardware products sold by Comby A/S, as Torp and Collin chose to focus exclusively on HP products. "Sharing the management between us has really been a strength, because we have very different approaches. I've had my focus on the client part, sales, and services, and Collin is the one who, on a more practical level, makes sure that we can deliver what I promise," says Torp.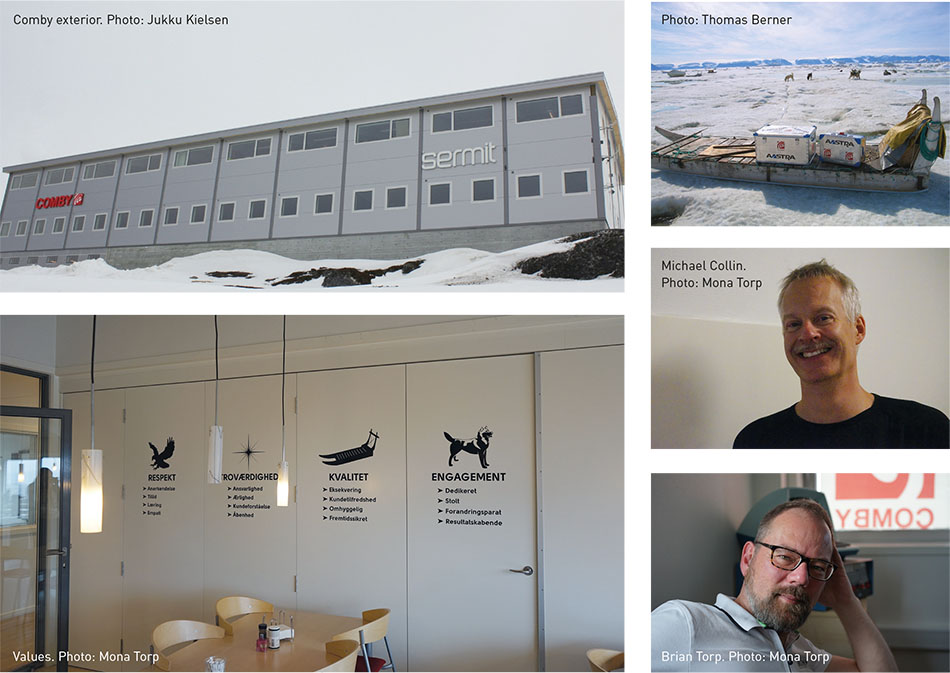 Managed services
Through the years, Comby A/S has continued to continuously increase and sharpen the quality of its services. In 2006, it expanded by acquiring Sermit A/S — a previously publicly owned IT specialist with proven expertise within process management and internal quality control. Adding these strengths and tools to the internal structure of Comby A/S meant that the company could continue to grow and expand services securely and efficiently. Today, the company offers a full range of hosting, consultancy and managed services, as well as internet, phone and hardware solutions. It continues to build on its strengths, especially within managed services such as backup, compliance, traffic management and mobile device management. "We've been refining our managed services since 2011, and, today, we deliver all our managed services in clearly defined packages, making it very clear what's included and what's not," explains Torp. "By combining different packages, our clients can have an all-inclusive IT package, where we take care of everything within the service. That's an area where we really stand out today — our service packages and the way in which we deliver them."
Local strength and commitment
New flight connections and an expanding mining industry have meant continued growth in Greenland's IT market. But competition is also strong — the country has more IT companies per client than Denmark, for example. In comparison with the competing companies, many of which are newer to the market or Danish-owned, Comby A/S's strength is not just its intricate knowledge of the challenges and needs of the local market, but equally its strong local roots and focus on employing and training local technicians and consultants.
"We've always focused on training our employees and ensuring that they can develop both personally and professionally. We spend a large share of our surplus on training our local employees rather than hiring in experts from other parts of the world," Torp notes. "There are many reasons why that makes sense — it's my conviction that our local employees will stay with us for longer if they feel that they keep growing in their job, and long-term employees are obviously better for our business. So it's not just CSR, but also good business sense."
Web: www.comby.gl
Subscribe to Our Newsletter
Receive our monthly newsletter by email