Dorthe Herup: Timeless tales on hand-woven tapestry
By Andri Papanicolas
The working class life at sea, and friendship are just some of the topics the tapestry artist Dorthe Herup touches on in her latest work.
The Norway-based Danish tapestry artist Dorthe Herup is well known for creating beautiful woven portraits of her family lineage. She has a unique way of bringing history to life by looking at old photographs for inspiration and shining a new light on them.
In the latest project Møtesteder (Meeting points), Herup continues to explore not only her own history but the history of the working-class people in Denmark and Norway. "My hand-woven portraits present history with a focus on social relations, politics and individual stories. My tapestries are often linked to a specific time and place, but they also represent broader areas in Norway and Denmark," she says.
Herup takes you on a journey back in time by telling the stories of both the struggles and the joys of our ancestors, illustrating the hardship and the social reality they faced – a reality we can all recognise and even take part in.
Life at sea
One story worth telling is that of the fisherman Andreas Berg. This 160 by 145-centimetre hand-woven portrait presents the face of a man whose whole life was spent at sea, providing for his family in the 1800s. This man was Herup's great grandfather and the medal on his chest was given to him after he risked his life saving a crew from drowning during a bad storm in the North Sea in 1893.
"It was tough work. The days were long and filled with hard physical labor. There was no harbor where they lived at Bovbjerg in the northwest part of Jylland in Denmark. They had to carry the boats on shore after the day was over," she says. Andreas Berg lived a long life, fishing right up until his death at almost 90 years old.
Meeting points
Normally the sailors would return home for retirement after a long career at sea. "When they weren't sailing anymore and it was often hard for them to find their footing on land. They could go fishing, or watch the traffic and the boats going in and out of the harbor. They'd meet up with other sailors," she says.
This is what inspired Herup to have a closer look at the town's meeting points in Marstal, Ærø, Denmark, and what it was that gathered people together. A bench was a space for them to meet up, tell tales, and exchange stories from all around the world. "This was life. They spent 50 years working hard on the boat to come home and do nothing. All of their friends were either at sea or sitting next to them on the bench," Herup says.
Even though life at sea was harsh and meant being away from their family, to some men, it was the life they could only dream of. In the artwork Vennskap (Friendship), Herup portrays two men who never got the opportunity to explore the far corners of the world. Not fit to become seamen, they instead spent their days watching the sea.
"These two have never worked as sailors and they spent all their lives at home. Many hours were spent watching the sea and fantasising about all the adventures they were not a part of. At least they had each other's company and friendship," Herup says. "In Benken, you can see them sitting a little away from the retired sailors, listening to all the exciting stories," she adds.
Another important meeting point in the city of Holmestrand, Norway was the taxi rank. This came about because one of the most indispensable tools of that time – the landline telephone – was placed there. This meant that a taxi driver had to be present at all times to answer the phone, and resulted in the taxi rank becoming a social meeting point in town. In the image Drosjebua you can see a mix of taxi drivers and other locals having a good chat.
Dorthe Herup has been a weaver all her life. All of her artworks are hand-woven and many are exhibited all around the world.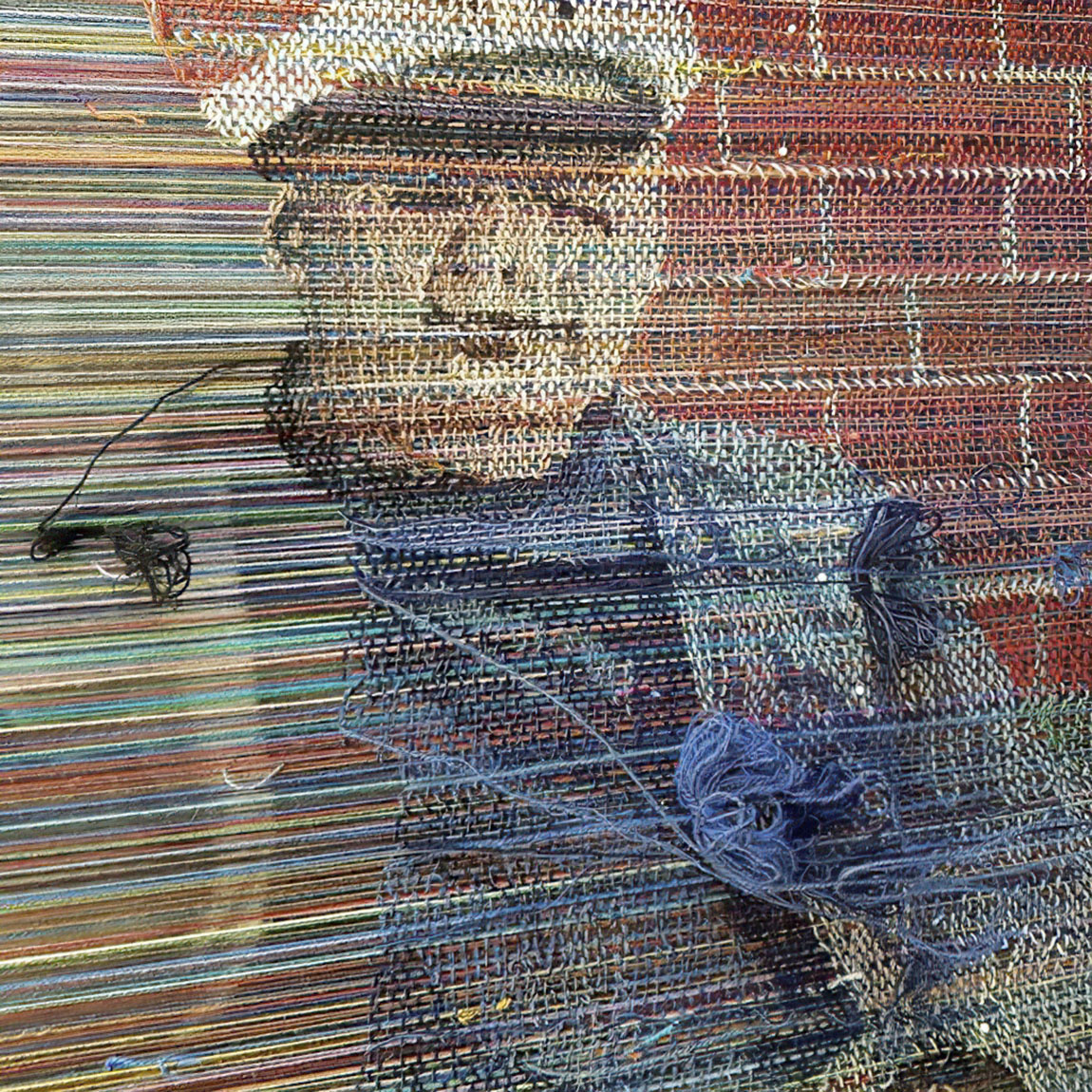 Web: www.dortheherup.com
Subscribe to Our Newsletter
Receive our monthly newsletter by email