E.C Dahls Brewery – For the love of beer
Text: Ingrid Opstad | Photos © Anne Reisch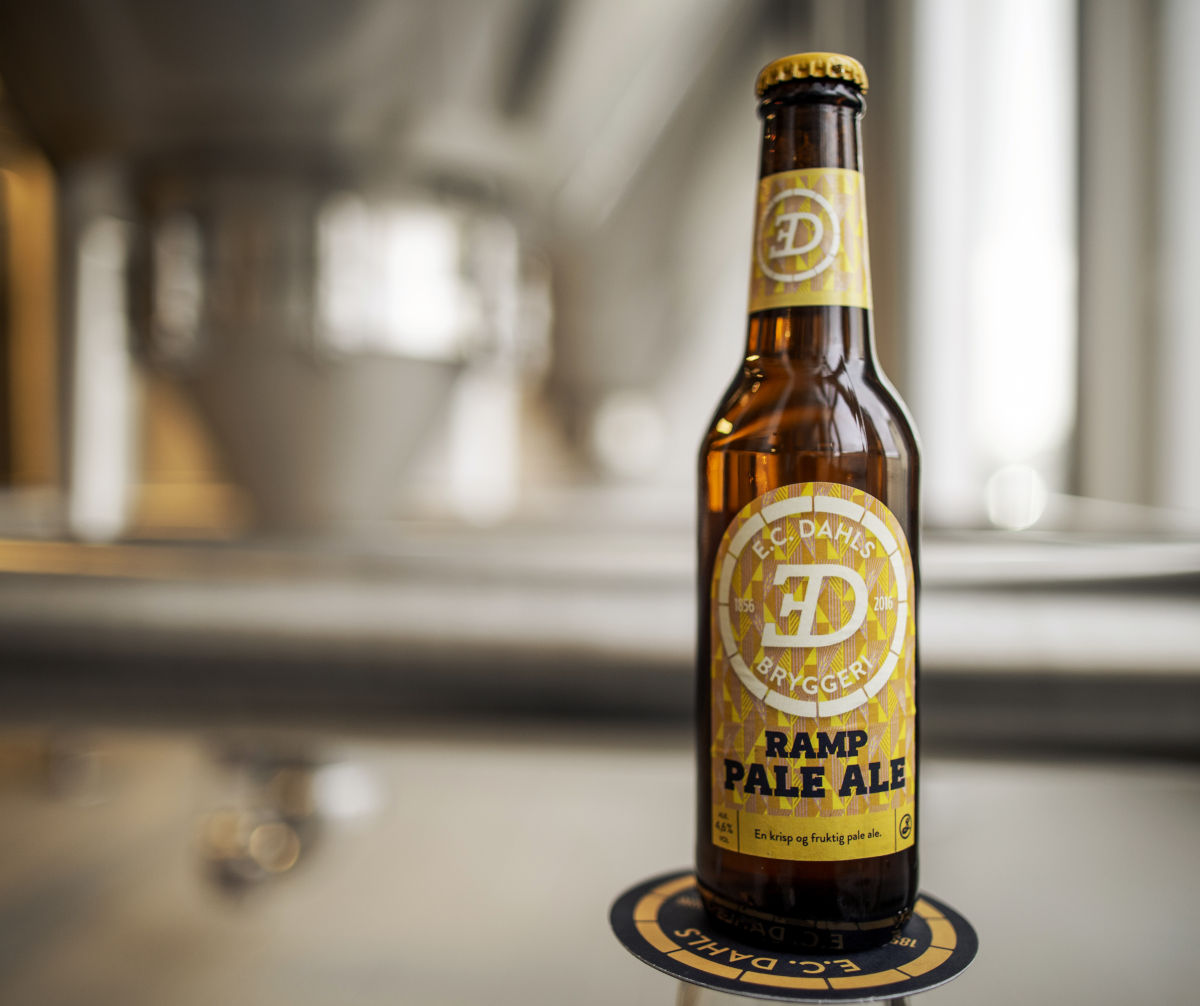 E.C Dahls Brewery is a brewery with a long history, extensive knowledge, and great passion. Founded in 1856, it still to this day remains the pride of Trondheim. Stop by for a guided tour, to taste the extensive selection of craft beers found in the pub, or to eat a delicious meal in the restaurant the next time you are in town, and see for yourself how much they know about, and love, beer.
Beer has been brewed and enjoyed in Norway for centuries, so it is no surprise that Norwegians have a big fondness for it. After quenching the thirst of beer lovers for the last 163 years and beyond, E.C Dahls Brewery sure knows a thing or two about this beloved beverage. "We have long brewing traditions, and after re-launching the brewery in 2016, we have taken the history along with us, but also taken a step into modern times with new techniques and additions to our portfolio of products," says brewery ambassador Kristian Berger.
Erich Christian Dahl – an important figure in Trondheim
When it comes to history, Berger cannot go without talking about the man behind the brand, namely Erich Christian Dahl. "Dahl was known for his generosity to his staff as well as his city; he was an important and visible figure in Trondheim," he explains. The businessman was very involved in the local community, and as well as brewing, he started enterprises in insurance, banking and spirits to further enrich his hometown. His aim was to promote and improve the brewing environment by allowing other brewers to learn, but also sharing his yeast to help.
"It's a heritage we have taken with us. Firstly, we share our yeast with home brewers and, secondly, our brewmaster Wolfgang Lindell arranges technical conferences to help give something back to the brewery community. We also have a laboratory for brewers who can't afford their own facilities to utilise," says Berger.
Welcome to the brewery
Today, Dahl's legacy is known as Norway's second-oldest brewery and the largest brewery in the region. Located in Lademoen, situated about two kilometres east of the city centre of Trondheim, the historic brewery welcomes visitors curious to learn more. "You can stop by the brewery anytime, with or without booking in advance. We have new and exciting events happening both in the brewery and in our own renowned dining area, E.C. Dahls Pub and Kitchen, which is a low-key and homely place," says Berger.
The open brewery offers guided tours, beer courses and tastings, as well as beer dinners: a popular option for a get-together with a delicious four-course meal, where each dish is accompanied by a different beer. "Spreading knowledge and love for beer is an important part of what we do," Berger smiles.
From Trondheim to Brooklyn
With a growing selection available on tap and also bottled, the popular brewery is proud to offer high-quality beer not only to the Norwegian beer market but also in Sweden, Switzerland, London and New York – the latter, a place with strong connections to E.C Dahls. "We have a running partnership with Brooklyn Brewery, and Gullvåg is a beer we created in collaboration with them as a tribute to one of Norway's most recognised artists, Håkon Gullvåg. It all started after an enjoyable meeting between the artist, the brewmaster from Brooklyn Brewery, and our brewmaster Lindell," says Berger. The unique blend is characterised as dark, dry and strong, with a hot and rich scent of coffee, dark chocolate and dried fruits such as figs and dates – perfect paired with red meat such as roast beef or bonfire grilled entrecote.
"Our flagship beer, the crisp and fruity Ramp Pale Ale, is brewed as our tribute to the Lademoen neighbourhood, which, after having a somewhat frayed reputation, is today seen as a creative, hard-working and pleasant place," he says. This light brew can be enjoyed on its own, but also thrives very well alongside tacos, pizza or burgers. "I have to also mention our classic, Dahls Pils, which is among Norway's oldest pilsners. With a fruity flavour and low bitterness, it has been brewed on the same yeast strain that has been used here for over 70 years and is to this day still our best-seller," the brewery ambassador says.
Facts:
Founded by Erich Christian Dahl in 1856. Rebuilt in 2016, and has brewed close to 50 different types of beer since then.
Retains its own dining area, E.C. Dahls Puband Kitchen. The most famous brews are Ramp Pale Ale, Bolt IPA, Kyotoand Dahls Pils. Owned by Carlsberg and Brooklyn Brewery.
Facebook: ecdahlsbryggeri Instagram: @ecdahlsbryggeri ecdahls.no
Subscribe to Our Newsletter
Receive our monthly newsletter by email