EcoCocon: the voice of change in the construction sector
By Lena Hunter | Photos: EcoCocon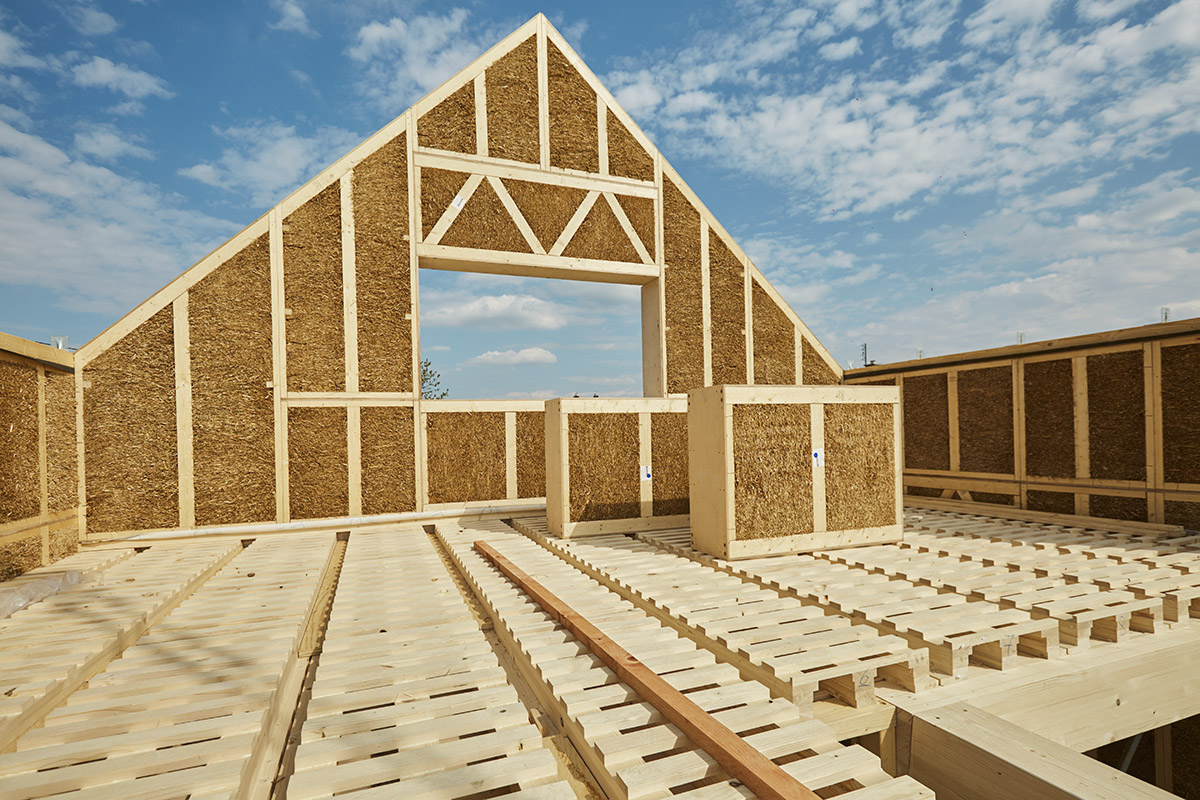 EcoCocon is on a mission to change the way we build. Its modular, straw-based construction system offers a healthy, energy-efficient and climate-neutral alternative to conventional building materials. Whether you're an architect, developer, builder or private homeowner, EcoCocon can make your dream project a reality in as little as a few days.
When EcoCocon was founded in Lithuania in 2008, the demand for straw and bio-based houses was already growing fast. "Straw-bale buildings are incredibly energy-efficient, comfortable and resilient – but also very time consuming to erect. They are not an obvious choice for most people," explains Paul Lynch, director of EcoCocon Nordic.
"The CEO Bjørn Kierulf is an architect and Passive House expert with decades of experience. His idea was to make straw go mainstream with a prefab modular system that simplifies the process and meets all the highest quality standards and certifications." Fast forward to today: EcoCocon's unique straw-panel construction system makes creating healthy and sustainable buildings easier than ever before.
Designed by nature
EcoCocon's green credentials are impressive: the panels comprise on average 89 per cent straw – a by-product of local wheat production – and just ten per cent FSC-certified wood. In the face of resource scarcity, straw is an ideal construction material. It's rapidly renewable, largely available, and mostly has no other use.
"According to research, the amount of straw that's produced here in Finland every year could build 400,000 three-bedroom homes," says Lynch. In fact, even accounting for delivery and logistics, the construction of EcoCocon homes is largely carbon negative thanks to the CO2 absorbed during the growth of the straw. To date, more than 38,000 square-metres of EcoCocon walls have sequestered over 3,700 metric tonnes of CO2.
"Building with EcoCocon impacts not only the health of the building and the environment, but the health of the inhabitants," continues Lynch. "Indoor air quality is hugely affected by conventional building materials like acrylic paint, plastics and other synthetics that release volatile organic compounds. Using natural materials such as straw and clay is not only healthier, but regulates indoor air-moisture levels, heat and acoustics, for a safer and more comfortable living environment."
Indeed, the panels insulate sound levels of up to 54 decibels – far exceeding the standard requirements. An airtight membrane on the outside of the panels minimises heat loss and draughts. In addition, the system is surprisingly fire-resistant: together with an interior clay plaster, the system is certified to withstand intense fire for 120 minutes. As such, straw buildings are made to last. Though an entire EcoCocon building can be erected, with the roof on, in just two or three days, its life expectancy can be measured in centuries, and requires no special maintenance.
"We can build houses very quickly because of the modular system. You simply place the panels according to the panel project and screw them in place. The builders call it big boys' Lego," says Paul. But this breed of Lego is remarkably strong, able to build up to six storeys load-bearing. "Now, we have designs for hotels and conference centres. Here in Finland, we're working on five-storey buildings."
Making Passive Houses easy
EcoCocon's modular construction system makes it easy for architects to design projects that attain Passive House standard – a blessing in today's fast-evolving energy crisis. The energy-efficiency standard results in ultra-low energy buildings that require next to no energy for heating or cooling. The EcoCocon system has been certified by the Passive House Institute since 2016.
"Passive Houses are created via intelligent design: the house is south facing, catches the sun in the winter and has good eaves to block the sun in the summer, has fewer windows at the back of the house, and uses thicker, better insulated walls," explains Lynch. "The temperature and moisture levels in the house remain constant. It reduces the risk of mould and other health problems in the building, resulting in a comfortable, energy-efficient home, and a beautiful living environment."
"Energy savings aren't hundreds of Euros a year, but thousands upon thousands a year," he continues. The first Passive Houses were built in Germany in the 1990s. Other European countries caught on in the 2000s, and the first US Passive House was constructed in 2003. Commercial, industrial and healthcare projects around the world, built to Passive House standard, followed in the 2010s. Passive Houses were initially made from concrete, but EcoCocon is producing the first Passive Houses made from 100 per cent natural materials.
Simplified planning process with qualified support
So how does it work in practice? For developers at the project-planning stage, EcoCocon can calculate the external wall surface and offer a detailed price estimate, including all materials and accessories. The panels are made to measure allowing for almost any kind of architectural design.
Once delivered, the modular system offers unrivalled speed of construction, accelerating projects and saving costs. Panels are colour-coded and numbered, and installation can be done as quickly as 22 minutes per square-metre, per person. Three carpenters with standard tools can build 60 square-metres of wall per day – or double with a crane on-site. "Using these materials is not difficult. Any carpenter can do it. Building companies' feedback is usually very positive: it's not only simple, but inspiring to do things differently," says Lynch. For architects, EcoCocon offers guidance in the form of detailed, technical panel projects by qualified engineers, as well as professional technical advice.
27 countries, three continents and counting
To date, EcoCocon buildings can be found in 27 countries on three continents and its portfolio ranges from private homes to sports halls and even entire eco-villages. In 2020, they collaborated with the prestigious Danish architecture firm Henning Larsen on an entirely bio-based school extension: an EcoCocon project outside Aarhus, Denmark.
"There are a few big projects evolving in Europe now. Switzerland and the Netherlands have some fabulous projects coming up, and there's a beautiful hotel planned for Portugal. Here in the Nordics we're building smart villages. In Finland, we're building 34 EcoCocon houses next year – all designed to be off-grid Passive Houses," says Lynch. "We've built all the way from Kazakhstan to Canada."
EcoCocon's goal is to gradually set up local production in every market "to be as close to our clients as possible, support the local economy and minimise transport-related emissions," says Lynch. This will start with the new automated production facility due to open in Slovakia next year, with future production planned for Scandinavia, France, the British Isles, the US and other strategic areas.
EcoCocon's focus is on business-to-business growth, but a key goal is to raise awareness. "We need to familiarise the world with bio-based materials if we want to work collectively to achieve a more sustainable world. People still don't know about these things – but there are other materials out there, and they work. They've always worked," says Lynch. "We shouldn't be afraid of them. They're available, cost-effective, sustainable and incredibly easy to work with."
Web: www.ecococon.eu Instagram: @eco.cocon
Subscribe to Our Newsletter
Receive our monthly newsletter by email