Ejendomstorvet.dk – Creating transparency through the use of data
Text: Nicolai Lisberg | Photos © Ejendomstorvet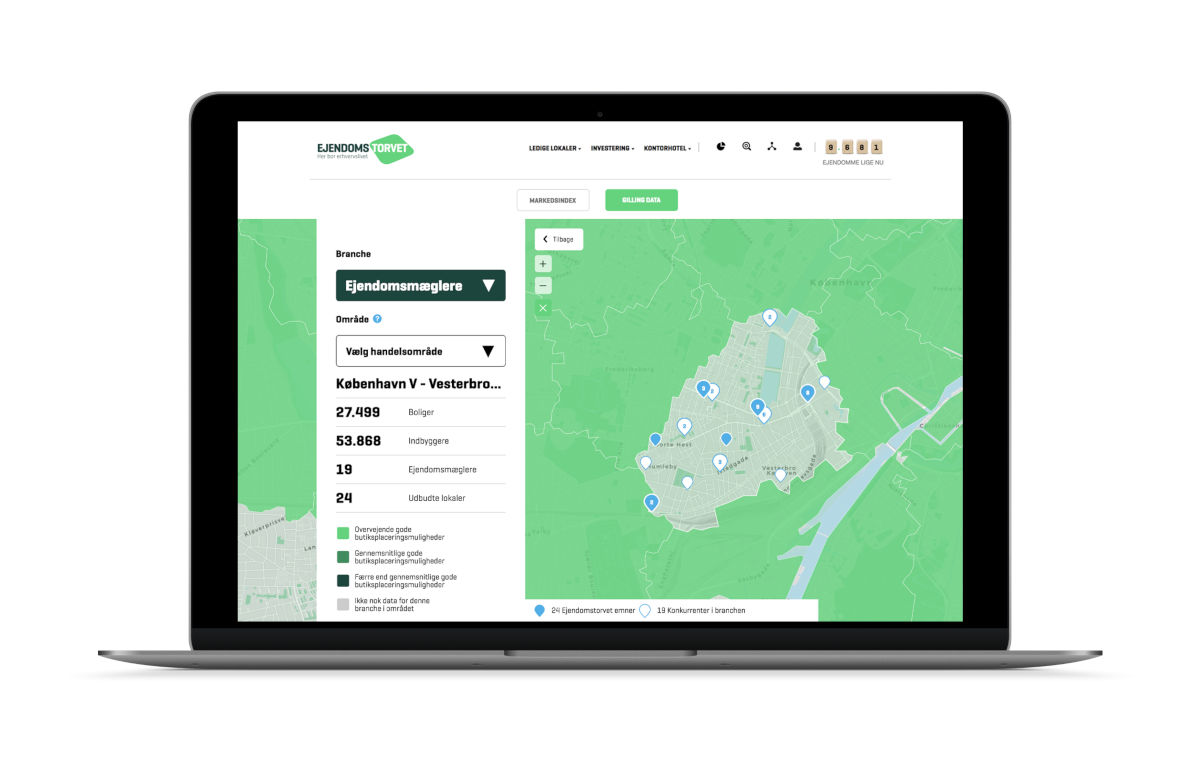 Ejendomstorvet.dk uses its enormous amount of data to create intelligent solutions and deliver an overview when looking for your next commercial real estate.
The way of searching for commercial real estate has changed radically in the last few years. It used to be rather complicated to find the necessary information, until Ejendomstorvet.dk created a portal that gathers all information and instantly gives you a unique overview. "We've come up with a solution where we've created transparency by collecting all information on brokers and estate owners on one platform. You won't have to search anywhere else for commercial real estate, as you can find information on everything on our portal and choose only what's relevant for you. It's free and everything is shown in a comparable way that quickly allows you to get a complete overview of what's on the market," says Simon Birch Skou, director at Ejendomstorvet.dk. The portal has about 10,000 commercial properties on its webpage, and the amount of users has doubled within the last two years.
Data is key
Besides delivering a portal for free, Ejendomstorvet.dk has gathered a significant amount of data, providing an in-depth knowledge that ultimately benefits the users. "We are able to see trends in the market, what the price level is in a specific geographical area, how many shops in the same business as you there are in the area, traffic patterns and so on. We are experiencing a demand from our users to get more knowledge to base their decisions on, and that is what we are providing them with through our data," says Birch Skou.
Ejendomstorvet.dk is collaborating with Gilling ApS when it comes to gathering and using the data, and according to Birch Skou, they are planning on using more data in the future to help their customers make a more informed decision when it comes to buying commercial real estate. "We are experiencing an increased interest in property investment, and we aim to help our clients with information on what yield to expect in certain geographical areas, based on the data we have available. It's all about making it as transparent as possible in order to give our users the best chance of success."
Ejendomstorvet.dk is Denmark's leading business portal for commercial real estate, offices and investment property.
It was founded in 1999 and was formerly known as Oline.dk.
Ejendomstorvet.dk is run by the organisation Foreningen Erhvervsmæglerbasen (F.M.B.A), which consists of 225+ real estate brokers.
In 2016, they changed name to Ejendomstorvet.dk and re-launched their new portal.
In parallel, Ejendomstorvet.dk is running a valuable database with supply and revenue data for rental and transaction, including space, prices, yield, geographical information, category and more.
Subscribe to Our Newsletter
Receive our monthly newsletter by email