Fab Lounge: Everyday luxury for everyone
By Sunniva Moen | Photos: Fab Lounge
In recent years, Scandinavians have embraced everyday luxury. Stavanger's Fab Lounge MediSpa, offering a range of advanced beauty treatments, provides that luxury with something for everyone. Entering Fab Lounge, the first impression is of opulence and professionalism, and discretion and anonymity are at the heart of the business. From the welcoming receptionist to the highly qualified therapists and beauticians, visitors are in for a wow-factor experience.
Owner and CEO Mariann Edland is proud of what she has created: high quality guaranteed, and tailored to anyone. She has stayed true to her vision, and Fab Lounge exudes a warm and welcoming atmosphere. You'll find no other clinic like it in Norway, perhaps not anywhere in Scandinavia, she maintains, and as a result, people travel from all over to visit Fab Lounge.
With more than 300 different treatments on offer, this is a wellness universe, a place of positivity and optimism. "Customers leave feeling so much better than when they arrived," says Edland, adding: "Parking is free for all customers!"
A wide range of treatments
Many of Fab Lounge's specialities are treatments within the medical and cosmetic fields. Injections, such as fillers and Botox, shape facial features and minimise wrinkles and lines, as well as being used to treat gummy smiles, unwanted perspiration, jaw tension and headaches. Permanent make-up, such as microblading, can enhance your natural brows or provide natural-looking brows where there are none. Permanent lip liner is a semi-permanent type of tattoo that enhances your natural lip contour, while permanent eyeliner makes your lashes appear thicker and darker, providing a more alert appearance with minimal make-up.
Fab Lounge also offers laser treatments for hair removal and skin conditions such as rosacea, visible blood vessels and hyperpigmentation. Peeling treatments, including Medical Light Peel, Green Peel and Crystal Peel, promote skin rejuvenation and lessen lines, wrinkles, open pores and hyperpigmentation.
All Fab Lounge treatments are performed by certified nurses and therapists, all of whom are direct employees of the company. In addition to the medical and cosmetic field, Fab Lounge has professional stylists working with hair, make-up, lashes and nails, massage therapists and a wide range of other beauty and wellness treatments.
Fab Lounge uses and sells only exclusive products from renowned brands. Skincare products like Babor, Dr. Schrammek, Skin Better Science, Environ, Elixir and Ekseption, and hair care products from Oribe, Miriam Quevedo and Goldwell, are just a few of the many offered at the clinic.
A changing market
The clinic is a member of NFVB (a member organisation for the Norwegian hair and wellness industry), ensuring compliance with quality control as well as health and safety. "NFVB is promoting healthy development in the beauty industry," says Edland. "It is essential that Fab Lounge is a part of this community, which provides safety and security for both clients and employees."
The quality and luxury on offer have not gone unnoticed. Fab Lounge has quickly become Norway's largest beauty clinic, and several of its treatments are fully booked weeks or even months in advance. Treatments that were previously inaccessible and unaffordable, and therefore reserved only for the few, have become mainstream and are regarded as an everyday luxury. Lash extensions, brow lamination, and hair and nail treatments have become very common and a normal part of many people's beauty regime. Skincare, laser and cosmetic injections are rapidly growing too, as people become accustomed to the products and treatments on offer.
"People have become better at self-care," says Edland. "Little things like shaping and colouring lashes and brows, lash lifts, extensions and brow lamination have all become trendy treatments. Men are also increasingly taking more time to care for themselves, and regularly come in for treatments."
She adds: "The Norwegian beauty market has been transformed since I started out, from initially being something enjoyed by the privileged few, to now being available and used by the masses."
More than a feeling
"At Fab Lounge, we believe that your hair and skin are part of what makes you the person you are," says Edland. "That is why we pride ourselves on customising the latest trends in hair design and skincare to suit your image. We don't think you should ever leave our salon feeling like a different person, but instead like an amplified version of you."
For over 13 years, Fab Lounge has been delivering sophisticated hairstyling and professional skin and body treatments to delight and rejuvenate its customers. Edland's philosophy and values are founded on the firm belief that beautiful hair and toned skin make both a powerful statement and an empowered customer. Hair and skincare consultations are offered to professionally assess the most appropriate products for each individual client. Just as no two people have the same fingerprint, neither will any two customers have identical hair and skin requirements. It is this philosophy that drives the Fab Lounge operations and results in a customer experience that is so much more than just an appointment.
This focus on ensuring the best customer experience is reflected in Fab Lounge's unique environment, which has been designed specifically for the hair and body care treatments being applied. Combining an elegant and refined ambience with innovative use of the latest techniques and beauty technologies ensures that each customer is provided with the ultimate care. Individual solutions include wellness and beauty days, beauty arrangements for couples, get-back-into-shape treatments and hair and nail enhancements. Fab Lounge provides relaxation for the mind, the body and the soul.
"I've always lived for this profession," concludes Edland, "I've always loved and respected it completely. Hair and skincare are often regarded as less important than, for example, music, architecture and art. However, at Fab Lounge, we value and appreciate the beauty of the person as highly as any other art form."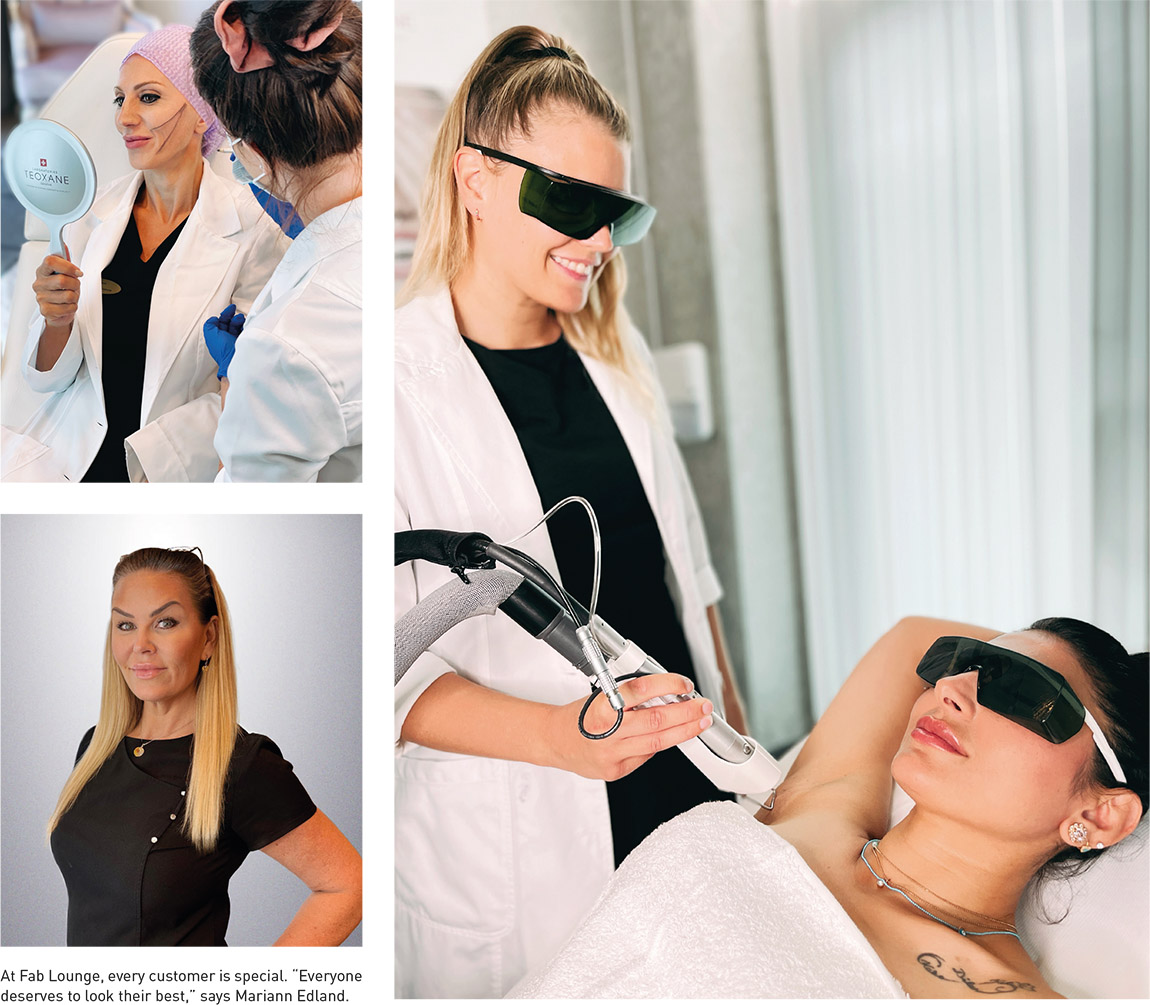 Appointments can be booked online and over the phone. Fab Lounge opening hours: Monday to Friday: 9am to 8pm Saturday: 9am to 5pm Address: Langflåtveien 32, 4018 Stavanger Phone: +47 51 88 44 50 Web: www.fablounge.no Facebook: fab.lounge Instagram: @fab.lounge
Subscribe to Our Newsletter
Receive our monthly newsletter by email