Felix Sandman – a forever entertainer with big dreams
Text: Linnea Dunne | Photo: Rikard Lilja; Styling: Gorjan Lauseger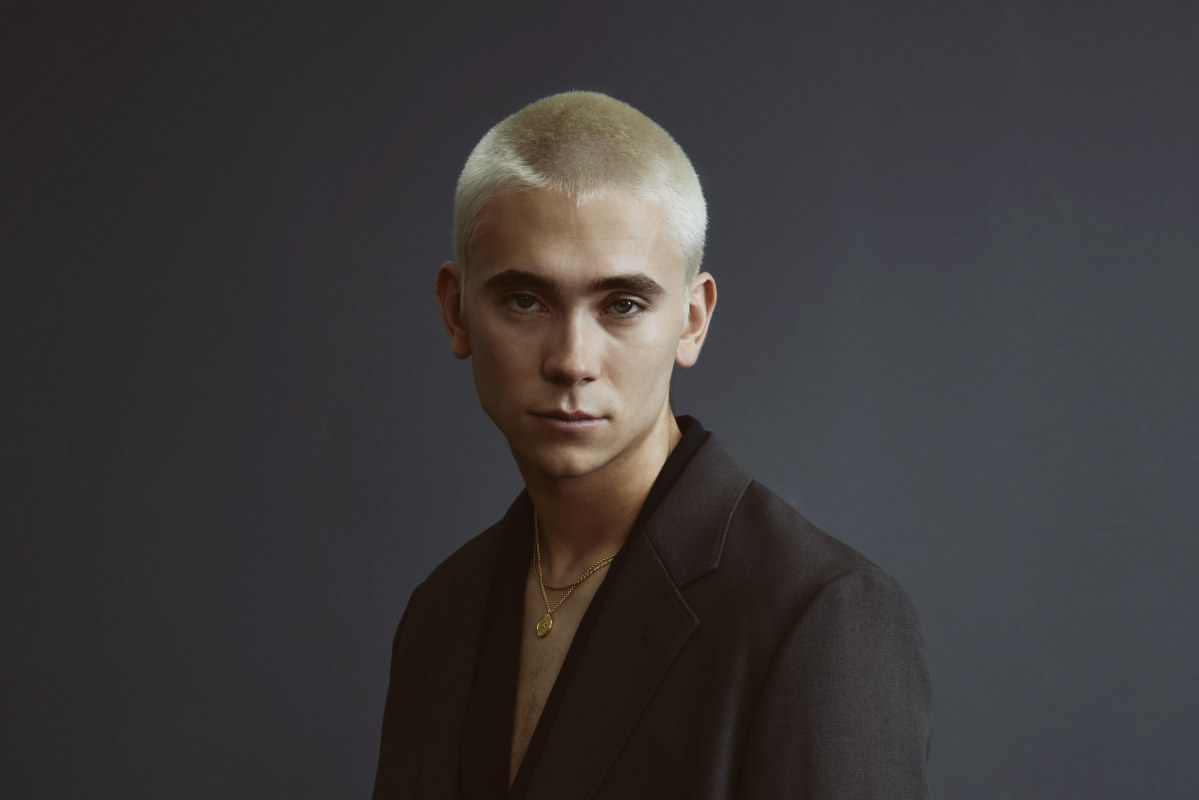 Over the past few years, Felix Sandman has made his debut at Melodifestivalen – Sweden's Eurovision qualifier – and opened for acts such as Justin Bieber and One Direction. Now, many million Spotify streams and chart-topping hits later, he is ready to take on the world. Scan Magazine spoke to the Swedish rising star about featuring in Netflix show Quicksand, being a voice for gender equality, and knowing who you are.
"I guess enjoying a bit of attention helps if you're going to be on stage entertaining people," Sandman laughs. "But seriously, fame isn't something I've been striving for – I knew it comes with the package, but all I've ever wanted is to perform and entertain people."
He started taking dance lessons at the age of four and drama classes a few years later, but even before then he would regularly be found performing at home; he had a mini drum kit, a guitar, a piano and a microphone. You could say that his career was an obvious choice. "I've been busy," he laughs. "I love music, I love dancing, I love theatre – in some ways, subconsciously, it's been obvious, yes. But what's great is that, over the years, I've learnt so much. I've had the chance to adapt to the attention, to being in the public eye – and now I can handle it, I know myself and who I want to be when people stop me in the street."
Finding the right path
Being watched in the street is nothing new to the singer, whose first proper band, FO&O (previously The Fooo), started out as a street-performance dance group. When Justin Bieber's manager spotted one of their YouTube videos and asked the group to open for the global pop star in Stockholm's Globen, the success was a fact, and they released numerous charting singles and EPs before announcing, at the Melodifestivalen Eurovision-qualifier competition in 2017, that they were going their separate ways. "There's a life-long friendship and love between us," says Sandman about the boy band, "and we've got so many incredible memories together. But it was the right decision – we all felt very good and confident about that."
Going solo has, insists the singer, furthered the learning and solidified the sense that he is on the right path. "The years with The Fooo, from the age of 14, were like this really important school of life. When we started out, I didn't know what I wanted to do, what I was all about – but now I've figured myself out and know what I want to say with my music, who I want to be," he says, adding that continuous learning is and always should be a part of life. That he embraces every lesson with plenty of consciousness is clear, and he keeps returning to the subject of an awareness of values and messages. "Ever since I was a kid, I've really admired people who make an impact, who change society for the better, and it's been my dream to make history, to leave my mark," he explains. "I've thought a lot about equality and feminism and how I can contribute and make a difference. I'm hoping I can inspire people and get them to talk about their feelings. We have to ask ourselves what's wrong with boys and men; it's a man's world, so that's where we've got to start – and maybe that's something I can do, stand at the front and shout."

Starring on Netflix
Last year, the artist inspired many thousands of people around the world as he was seen as the male lead in the Swedish Netflix production Quicksand (originally Störst av Allt), which very much made a mark in feminist circles. At the time of auditioning for the role, however, he was not yet aware just how intense the series would be. "All credit goes to casting agent Maggie Widstrand, whom I hadn't been in touch with for years but who called my mother and said there was this thing I should audition for," he recalls. "My mother said I was busy, but Maggie didn't give up; she texted and texted, and eventually I read the script and thought she might be right. I auditioned at the last minute, got the role two days later, and started filming a week after that."
The resulting series, which deals with psychological abuse and the darkest aspects of love and family relationships, became a huge conversation starter, and Sandman admits that it was hard going at times. Still, he's thrilled to have played a part in it, and his next Netflix performance – a Norwegian romantic-comedy drama with a festive touch – is altogether lighter. "I'm playing a much nicer guy this time, which is nice!" says Sandman about the role of 19-year-old Jonas from Sweden, who starts dating the main character, Norwegian Johanne. Home for Christmas (Hem till jul) is out now.
Charts and awards
A great deal of Sandman's focus recently has, however, been on music. In 2018, his debut single, Every Single Day, which he also competed in Melodifestivalen with, ending in second place, spent four weeks at number one in the Swedish charts, and after releasing another two singles he was awarded a Rockbjörnen music award for Breakthrough of the Year. When his debut album, Emotions, dropped later last year, it was to great critical acclaim, and he went on tour with superstar Benjamin Ingrosso. "I try to remember what it felt like when Every Single Day came out and went to number one, but I can't really remember – you just go for it," he says. "I've always got my eyes on the prize, well into the future. I've got great international ambitions; I want to tour the world and travel widely with my music and acting."
With infectious pop tunes, an enviable openness and velvety vocals, there's no reason to think that he wouldn't succeed. Add a CV of chart-toppers, millions of Spotify streams and a shockingly young age (Sandman just turned 21), and it's a no-brainer. "I'm just back from a songwriting camp in Finland and am touring a lot, and I also do a lot of writing in LA," he says, "and that's it – I just want to keep gigging and releasing music. And maybe at some point I should try to get some sleep."
For updates about live shows, releases and news, keep an eye on: Facebook:Felix Sandman Instagram: @felixsandman Twitter: @felixsandman YouTube: Felix Sandman
Subscribe to Our Newsletter
Receive our monthly newsletter by email