Find creative flow at Viktoria Ceramic Studio's stunning hidden shop and atelier
By Lena Hunter | Press photos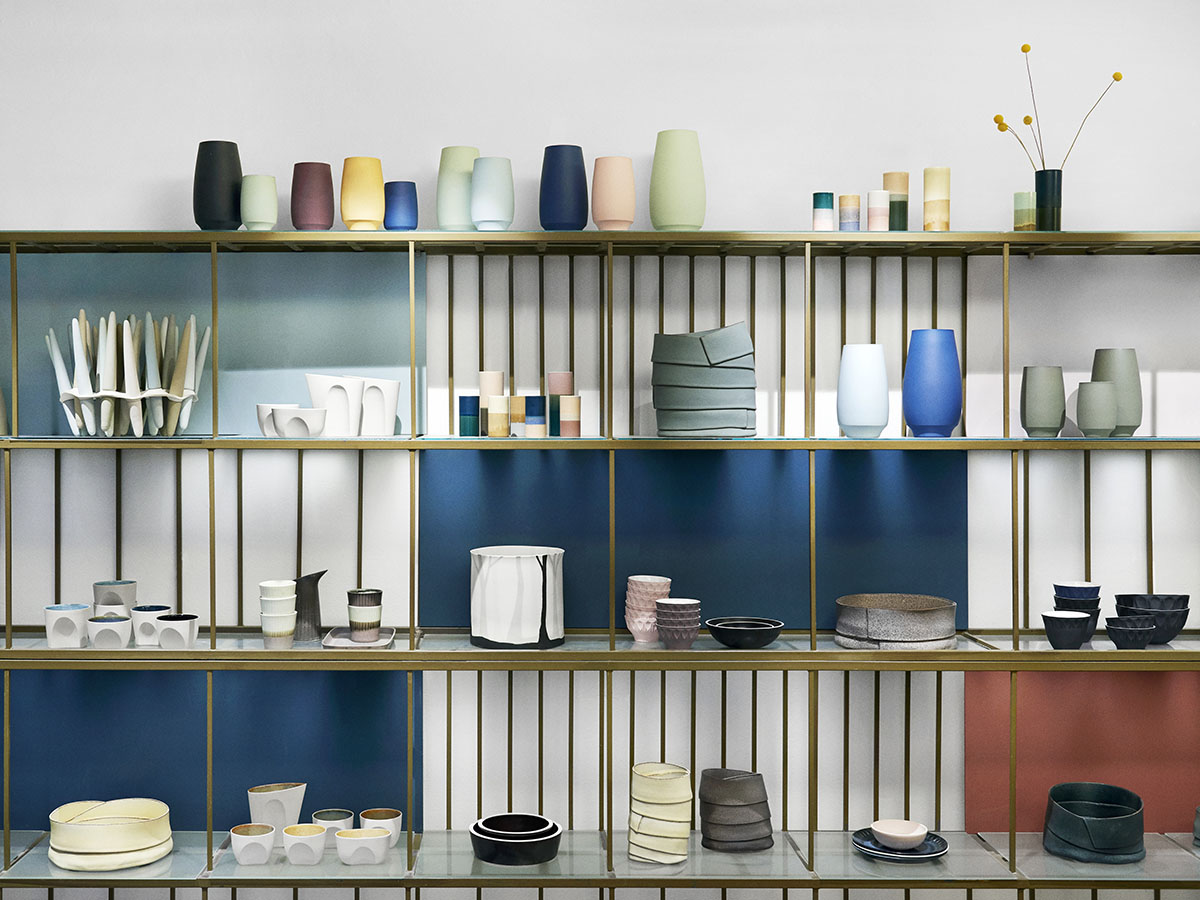 Located just 400 metres from Copenhagen Central Station, Viktoria Ceramic Studio is right in the Scandinavian capital's sweet spot – or 'smørhul', as they say there.
Despite the location, the ceramic shop, workshop and school is by no means obvious to the average passer-by. The sculpture-adorned doorway, hidden in a cobbled backyard, requires a little help from Google Maps.
"Tourists love it," says Signe Bailey, one of five resident artists at Viktoria Ceramic Studio. "They think they're coming to Denmark to see something authentic, and they end up on Strøget – the main shopping street – which could be in any major city. But when they come to this back alley, past the rabble of Danish bikes, down into this basement workshop, they feel they've found what they were hoping for."
The 400-square-metre atelier sells everything from quality cupboard handicrafts to exclusive clay art and jewellery. Each piece is handmade on-site, and each has a story – and, as the artists run the shop themselves, they always have time to tell it.
Five creative universes, one secret basement
The ceramicists that make up the Viktoria collective are Pia Lund, Signe Bailey, Mark Lauberg, Helle Hansen and, under the moniker Clib Klap, Claire Maria Lehmann and Iben Harboe.
Downstairs from the shop, the five workshops are separated by high dividers offering just enough privacy for the spaces to resemble mini creative universes. Muddles of shelves hold casts, half-finished clay ornaments and polished displays alike, assorted photographs and an arsenal of tools and craft materials.
Art in sync
"Our products don't melt together," says Signe, "but neither are they far from each other," finishes Pia. "We each have our own inspirations, though we share techniques."
Signe explains: "We all went to design school and we're standing on the shoulders of Danish design tradition."
Functionality that eschews excess or flourish is the Danish heritage she describes. So, it's with a nod to this aesthetic inheritance that the Viktoria five toy with design boundaries in their own work.
"Our work is always explorative and exciting – but never overdone," says Signe, and Pia is quick to agree: "The detail is in the quality. We're deeply grounded in the material – we know what it can do, and what it can't. We respect the craft, and that shines through."
A feast for eyes and hands
It's easy to fall in love with the beautiful products for sale at Viktoria Ceramic Studio. Everything begs to be touched, turned in the hands and explained.
In fact, the ménage of sculptures, ornaments, jewel-bright coffee cups and crazy fruit-bowls, earrings, lamps and creative candleholders exhibited in the little, white-walled shop is only a fraction of the artists' creative output.
"In our small studio, we can focus on what excites us and pass that on to students and visitors. It's a privilege to be able to work so creatively, so we must utilise it," says Signe.
Learn the craft yourself
"Having the shop and the workshop together is a joy because people often feel that, even when they find something they love, there's something intangible that they can't take away – so we offer courses in ceramics too," says Signe.
In the autumn, a programme of classes is slated to begin. "You can easily arrange a four- or five-day trip to Copenhagen and use a couple of evenings on a course," says Signe. "The weekend courses are everything from pottery-wheel weekends to 'whatever-you-like ceramics', where we introduce you to casting, plate techniques, building and a little bit of turning, to sculpture."
For those seduced by the idea of glazing, there are 12-week courses through which to deepen your practice. "There are so many processes, and it's very slow and measured. Glazing is the final stage of ceramic. So, if you want a bit of everything, I'd recommend a longer course," says Pia.
'The mind finds peace'
The joy of ceramics is that it's so accessible and the courses suit both beginners and veterans. "It's not a discipline like blowing glass, where there's a high technical bar for entry – anyone can have a lump of clay in their hands and feel that its drying or falling apart, or that you can squeeze it," says Signe.
"It's very physical and immediate, so you can never be underqualified to make ceramic," she continues. "Everyone experiences a slow-down in tempo. You have to be in your hands – you can't be up in your head. The mind finds peace. When you begin to peel back the barriers to creativity, new things happen."
"It's addictive," agrees Pia. "We travel the world, to south sea islands, to crystalline waters to look for inner peace. Here, you can come down to Vesterbro and find that presence of mind. Sometimes we need a frame for a pause. That's what ceramics can do."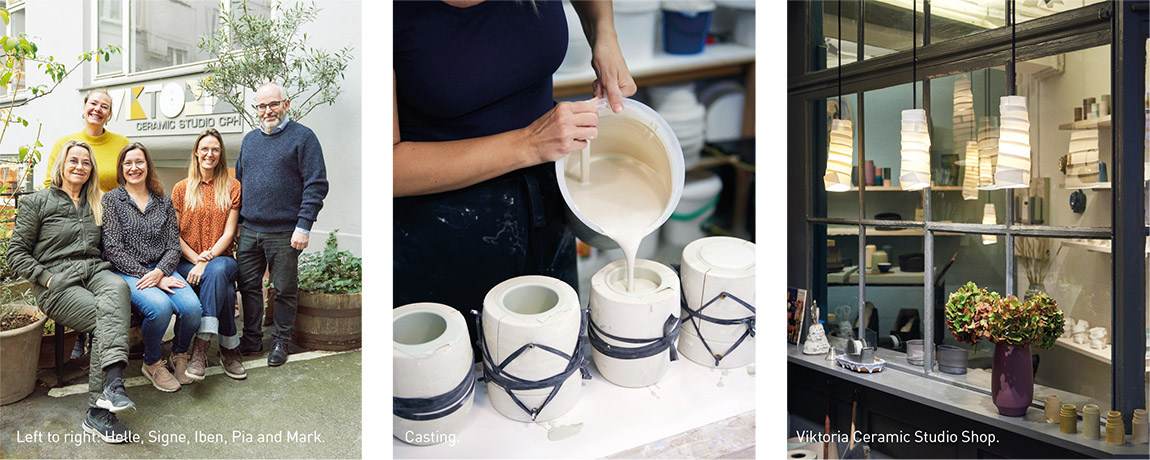 Web: www.viktoriaceramicstudio.dk Facebook: viktoriaceramicstudio Instagram: @viktoriaceramicstudiocph See more from the five resident artists: Claire Maria Lehmann & Iben Harboe: www.clibklap.dk / @clib_klap Helle Hansen: www.helle-hansen.dk / @hellehansenceramics Pia Lund: www.pialundceramics.com / @pialundceramics Signe Bailey: www.clayform.dk / @clayform_dk Mark Lauberg: @marklauberg
Subscribe to Our Newsletter
Receive our monthly newsletter by email