Galleri Kladden: A quirky gallery bringing art to the people
Text: Ingrid Opstad | Photos: Galleri Kladden
With the idea that art should be accessible to everyone, a new and different gallery has opened in Enebakkveien 20 at Galgeberg in Oslo. Galleri Kladden is a low-threshold, artist-run gallery with an inclusive attitude. Focusing on interaction and information, and on promoting new and unknown artists from Norway and beyond, it is a place to discover art, get inspired and have fun along the way.
Are you tired of galleries and museums that feel sterile and impersonal? Then we suggest visiting Galleri Kladden in Oslo for quite a different experience. "We are a new and unique gallery with the aim to showcase new and unknown artists from around the world," says Øyunn Iversen, who started the gallery in partnership with Brahim Sandli and Kjersti Austdal. "We wanted to create a place for young and unestablished artists. A place run by artists for artists."
Creating non-traditional art spaces
The artist and art enthusiast further explains that she has been producing so-called non-traditional art spaces since 2013, focusing on creating happenings out of the ordinary. "I have, among other things, run art-themed rave parties combining electronic music with artwork. I also worked for several years as an art agent and, as a result, created an art bar at the Sommerøya festival in Norway, and also developed an art and wine concept where we paired these two elements together," she says.
After a somewhat restless life, Iversen decided to open a cultural centre in Brugata in Oslo, where Kladden Gallery originated. It was after the cultural house went bankrupt that she decided to invest fully in the gallery and her love of art.
Maximalism and experimental art
Opened in August this year, Galleri Kladden allows visitors to explore everything from maximalism to experimental art with a big focus on interaction. You can touch it, listen to it, sometimes even taste it. "We have created a less strict environment to experience the art in," Iversen smiles.
"We have worked a lot with the sense of taste, which has resulted in mixing mocktails made from plants we find in the Norwegian wilderness. We have also hosted something we call taboo night, which is very physical. Here, you can get your art tattooed on your body if you want, and experience a sensory room where you can feel and touch absolutely everything." Iversen believes that art should be accessible to everyone, which is a big driving force behind the newly established gallery.
Inclusive attitude
At Galleri Kladden, everyone is invited to apply to be exhibited, no matter what style or background. This inclusive attitude makes the young gallery stand out from the crowd. "We focus on maximalism, which pretty much includes all types of art. Our inclusive view has two reasons behind it. One is simply a social responsibility; there are no other exhibition places in Norway where one can exhibit for free. It can be difficult for a young artist to get started, so we want to give everyone a chance. The second is a slightly more anarchist approach, where everyone should be allowed to try to be an artist," Iversen explains.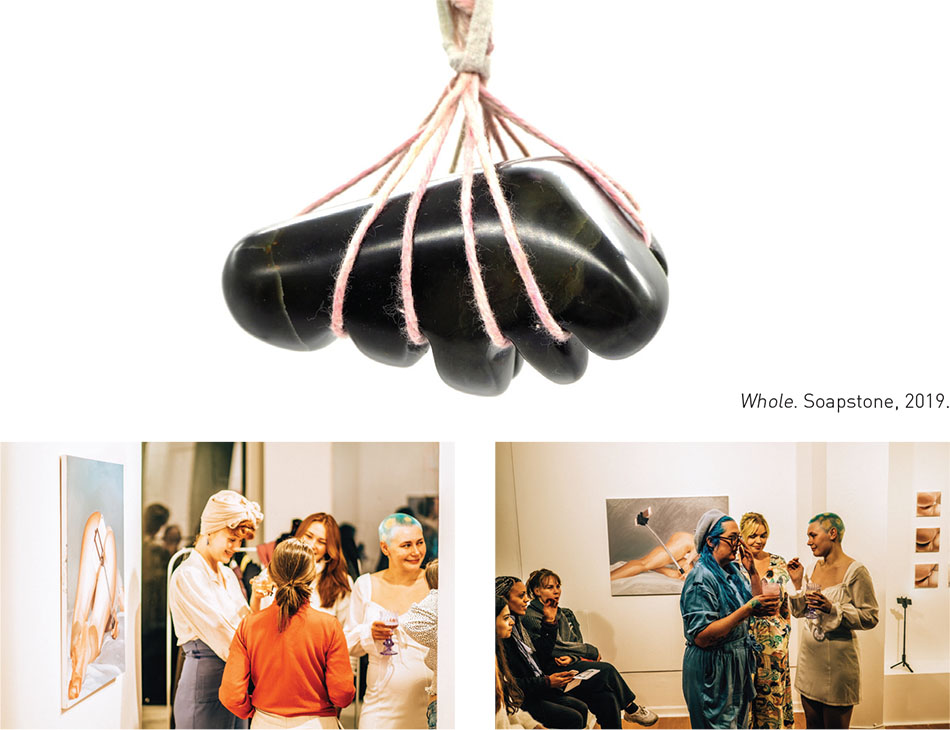 A fun way to get together
Drawing people without clothes on can be interesting, challenging and, most of all, fun. Galleri Kladden offers evening and weekend courses in figure drawing to suit both beginners and those who regularly draw.
"Both me and my partner, Eirik Sætre Bjoland, who is one of the artists behind Galleri Kladden, love to draw, so we run these courses to spread this joy further," says Iversen.
The gallery also offers a daytime or evening class as an activity for bachelor and bachelorette parties. This can take place in the gallery or in your own home. The course is professional but very informal, and with great entertainment value. "We provide models and the drawing equipment needed, and it's really a fun way to get together," says Iversen. "We also provide degradable glitter so that everyone can sparkle while they draw."
Festive market
Every Sunday during the build-up to Christmas, the gallery hosts a rather untraditional Christmas market. "We serve vegan 'julegrøt', a traditional Norwegian porridge eaten at Christmas, and will sell art, clothing and prints from various artists. Everything is produced in Norway – a great way to buy sustainable Christmas gifts from a local artist this year," Iversen ends.
The art is available to purchase through the website or on Instagram. Web: www.gallerikladden.com Facebook: gallerikladden Instagram: @gallerikladden
Subscribe to Our Newsletter
Receive our monthly newsletter by email