Gustaf Hammarsten: unassuming and always punching up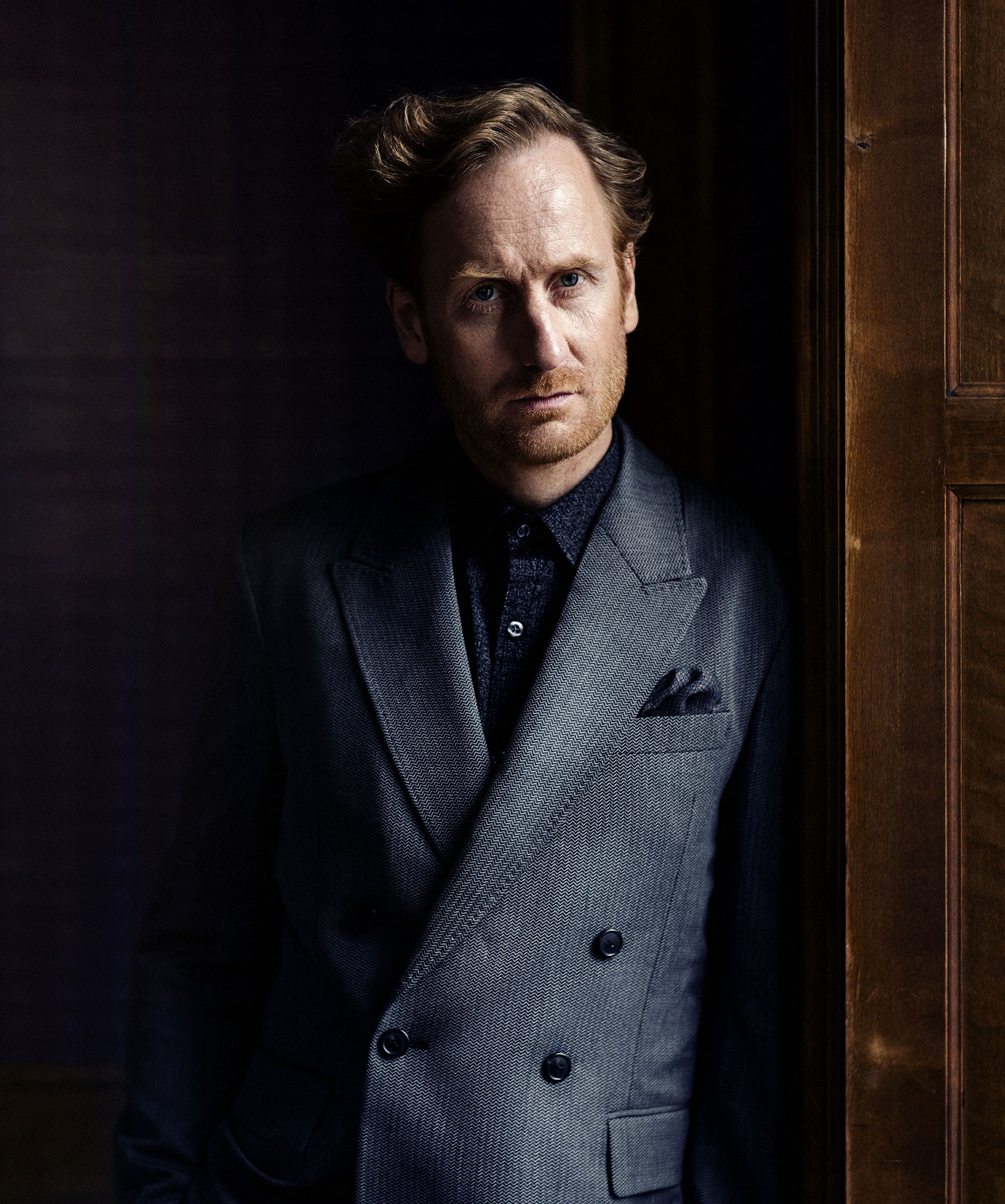 Known to most Swedes as Göran in the film Together (Tillsammans) and to international audiences as Brüno's gay assistant Lutz, Gustaf Hammarsten has succeeded with the mean feat of avoiding being put in a box. Scan Magazine spoke to the Swedish actor about the new drama Midnight Sun (Midnattssol), the rawness of Nordic Noir, and always punching up.
By Linnea Dunne | Photos: Morgan Norman
"I was in drama school in New York at one point when I was younger, and I remember many of the teachers saying that Scandinavian actors had a different depth, like we could do anxiety more naturally," says Gustaf Hammarsten. He plays the male lead, prosecutor Anders Harnesk, in the latest crime drama to come out of Sweden, Midnight Sun (Midnattssol). While the production is visually stunning, it is angst-ridden indeed, investigating a series of murders in the north of Sweden to a backdrop of past and present cultural tensions between the now mainstream Swedish society and the indigenous Sami people.
"They could've made just a straightforward thriller drama, but they didn't – and I like that they decided to put a spotlight on these issues," Hammarsten says about Måns Mårlind and Björn Stein's work. "The Sami people are an indigenous people, they've dealt with the horrors of measuring skulls and all that, just like everywhere else in the world. It's the same structure as colonialism everywhere, but something I, as a Swede, hadn't reflected on; I'd read about native Americans but not the Samis, and that's a form of racism in itself. They've lived with the shame – there's something humanistically relatable about this story."
The series, which also features Leïla Bekhti as the female lead and Sami singer and activist Maxida Märak, is set in the mining town of Kiruna and shot to a great extent, as the name suggests, in the midnight sun. "The entire town of Kiruna is being moved because of the mine. That thing about money always controlling people, I think that's one of the qualities of Midnight Sun," says Hammarsten and links the rawness of the natural setting with the typical expression of Nordic Noir. "Scandinavian dramas are not exactly glamorous, it's not Paris or New York. There's something simple but also almost brutal out there amongst the red wooden cottages. I think all good films and series have in common that they're punching up, but it's possible that Scandinavians are one step ahead there. Look at the recent hits with all the strong female leads, and the same with Midnight Sun – they all have strong portraits of women. You could hope that's a hallmark."
Punching up rather than down seems to be important to the Swedish actor. He has been known to talk about it before, particularly in response to some criticism of Sasha Baron Cohen's Brüno, which he played a major role in. "When I was younger I was quite egotistical and just wanted good, big roles, but I feel more and more that the story we're telling, the message of the work is important; there's so much stuff out there, so if you're going to create something I think you should think about what it says," he ponders. "That's not to say that it has to have a happy ending. I love when it's all dark, Ken Loach style, when everything goes to shit and you get to deal with the real stuff, think about our time, our future – none of this 'makey-uppy' entertainment nonsense. I can't quite relate to that."
From advertising to L.A.
Hammarsten insists that his path to the stage was very much staked out by his mother, who brought the then advertising industry junior an advert, a "little treasure trove" as he calls it, for Calle Flygare Theatre School. The rest, as they say, is pretty much history. He got his first screen job in Bille August's renowned The Best Intentions (Den Goda Viljan) and has starred in countless Swedish films and stage productions since. In 2000, he became a true household name in the Swedish world of drama as he appeared as Göran in Lukas Moodysson's Together (Tillsammans). "It was a bit nerve-wracking, actually," he recalls. "Lukas had just done Fucking Åmål [Show Me Love], which became such a huge success, so when people heard about this new film set in the '70s they were all 'right, how's that going to pan out?' – and that's the thing with the big second gig, isn't it? To manage to follow up on a huge success. But of course he did, and it went amazingly well. It was really great, that whole period." Indeed, it went swimmingly: Together became another Moodysson classic, Göran another legendary Moodysson character – so much so that Hammarsten ended up occasionally being mistaken for the character in real life. "I had people come up to me and ask how I was doing, and I thought I didn't know them and then realised I'd never met them before, that they took me for Göran. Then suddenly it hits them that it's a film character, that it's not actually me," he says. You could forgive people for getting the actor mixed up with the amiable lefty commune resident, who suffers in silence as his open relationship turns unhealthier by the day. Hammarsten, like Göran, has a decency about him, a kindness in his voice and a reluctance to exaggerate – just perhaps not to the extent where he is about to explode the way Göran eventually does. "Still today, it happens that people just forget and call me Göran."
It was thanks to the role of Göran that Sasha Baron Cohen discovered Hammarsten, resulting in an email to his agent asking if he spoke German. "So I thought maybe they wanted me to play some Nazi guy who was shot after a minute, but after some auditions the adventure took off and I was over in LA, walking around amongst real, blissfully unknowing people kamikaze filming," he says. Far from a Nazi guy, Hammarsten ended up playing Lutz, Brüno's geeky gay assistant, complete with scenes of him chained to a bed wearing a leather harness and with a toilet brush in his mouth. He laughs. "I think I've put that memory in a secret chamber somewhere to someday pick it up and work through it in a therapy session; it really was an adventure."
A realist
If Hammarsten shares his likeability with Göran, what he does not take after the character is a complicated love life. He lives in Stockholm with actress Jessica Liedberg and their three children. When asked how they juggle it all he sounds almost surprised, as if this issue has never occurred to him. "I'm not the kind of person who works to get away; it's never been an option to leave her stuck," he says. "We're both actors, so we both know what it means when someone's away for a premiere – it's crazy for a period, then there's a break. We both get the bigger picture."
The matter-of-fact attitude means that he is reluctant to dream big – "the older I get, the more of a realist I become; I sometimes wonder if I've lost that geist, but you just can't plan things" – but it also seems to have made him unafraid, embracing what life throws at him. He talks about exploring writing and directing, completely without pressure, just to get a sense for what it is like to be at the other end. Being at the end of the chain, fed a near-finished product, can be a cause of anxiety, he infers. "Måns and Björn had had me in mind from the start when they were writing Midnattssol, which is incredibly flattering and made me really happy, but what made me even happier was reading the script and realising how brilliant it was. When someone says they've thought of you, there's that sense of 'oh, I hope it's good or else this'll be awkward'."
Hammarsten was happy, and so were the critics. Midnight Sun is now up for a Golden Nymph Award, while Hammarsten is nominated for the Outstanding Actor award and Bekhti for Outstanding Actress. "It's great, it'll be nice to head to Monaco and have some cocktails!" he laughs. "The series has sold to a large number of countries across different continents already; I think the themes of colonialism and the tensions between civilisations are striking a chord in many places. But we'll see, you never know," says the unassuming actor. "What will be will be."
Subscribe to Our Newsletter
Receive our monthly newsletter by email