Hans Rosenfeldt: Back to The Bridge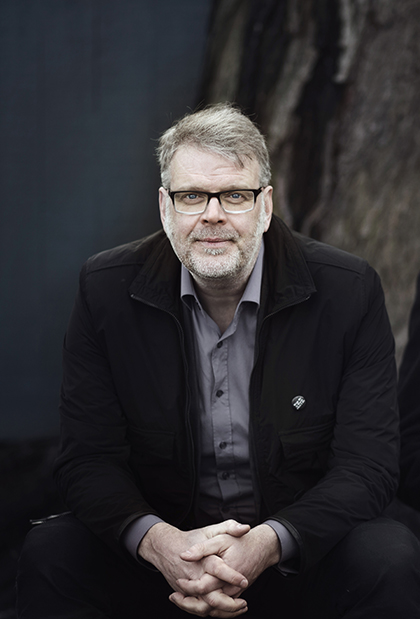 An award-winning author, well-known TV presenter and scriptwriter behind many of Sweden's biggest shows, Hans Rosenfeldt does not need much of an introduction in his home country. To those beyond, mentioning Saga Norén, his perhaps most-loved character to date, might suffice. Scan Magazine spoke to the multi-gifted Swede about writing for ITV, the success of Nordic Noir, and how he ended up creating such powerful female leads.
"Sofia was in a league of her own," says Hans Rosenfeldt without as much as a trace of a doubt. He is talking about the casting for the role of Saga Norén in Bron (The Bridge), now a much-loved Nordic Noir legend and somewhat of a feminist icon. That she would have quite that much of an impact came as a bit of a surprise to the screenwriter, but he is convinced that Sofia Helin's portrayal of the police investigator played a huge role.
The voice of a generation
Rosenfeldt's CV reads almost like a Who's Who of the Swedish media world, or perhaps more of a What's What. Having tried out acting at a young age – something he insists he quickly realised that he was terrible at – he started working in radio and was eventually picked up as a writer for two of the biggest Swedish soap operas of the '90s, Rederiet and Tre Kronor. "Swedish was always my strongest subject in school. I've always been good at writing," he says. "But it wasn't until I actually started writing scripts that I realised it was something I could really be good at."
From there on in, his career seemed to almost get a life of its own. Having contributed as a writer to popular Swedish shows such as Radioskugga, Aspiranterna, Reuter & Skoog as well as two series of the public television broadcaster SVT's annual children's Advent calendar, you could say that he became a voice of Sweden's Generation X – and eventually he became a face of it too, among other things as presenter of the hit panel show Parlamentet. He has since been seen and heard widely across a range of media including TV and radio and had huge international success as one half of author duo Hjorth & Rosenfeldt, creators of the bestselling series about psychological profiler Sebastian Bergman. Moreover, between 2003 and 2005 he did a stint as head of entertainment at SVT.
The Bridge, however, took things to a whole new level. "Absolutely – it's without doubt the most successful thing I've ever worked on," he agrees. "I couldn't really feel it when I was writing the scripts; I didn't know that it would do so well. When I saw the first few takes, I realised that it would be really good – but I could've never dreamt of the level of success it's had."
Global success with human characters
The series came about as a result of Rosenfeldt being hired by Filmlance International in 2006 to produce a crime series set across both Sweden and Denmark. Five years on, the success was undeniable; the show has now been broadcast in 170 countries and been turned into two adaptations, based around the American-Mexican and the British-French borders. Now back on SVT with a much-anticipated fourth and final season, The Bridge zones in on the characters we have come to know and love. "Previously, we've always left it a bit open as we never knew whether there might be another season, but now that we know that this is the last one, we're working towards an end – we're tying up the loose ends," says Rosenfeldt. "Viewers can expect more of the relationships. We've always had personal narratives running through the show, often with one person's story in focus – but now we're focusing on both Saga and Henrik, following up on Henrik's lost children and the story with Saga's mother." Saga and Henrik – so no Martin? "No, no Martin! I might as well be honest so that people aren't sitting there waiting for him to pop up – because he won't."
A close-up on characters and strong character development is, the writer believes, one of the strengths of Scandinavian crime thrillers and possibly one of many reasons behind the success of the Nordic Noir genre. "We have a long tradition of crime writing, ever since Sjöwall/ Wahlöö. Success breeds success – plus, the more people who do it, the more people are likely to do well; the more people who are discovered, the more writers are translated. That's always been the case with the crime scene here," he says. "But I think there's been a realisation over the past, I don't know, ten to 15 years that we're good at this – we're really good at characters and people. A lot of foreign stuff is very plot driven, with simpler characters. We're not afraid of making both investigators and perpetrators quite three-dimensional and very human. I'm convinced that's a big part of the success."
This certainly seems to ring true in terms of the success of Nordic Noir generally – who did not fall head over heels for prime minister Birgitte Nyborg in Borgen? – and The Bridge specifically. "Yes, you watch because you want to know what happens and guess who did it – but that's not why you want to watch another season," Rosenfeldt reflects. "You want to meet Saga and Henrik again – we're good at creating characters you want to spend more time with."
From Saga to Marcella
Whether Rosenfeldt will ever create another hit like The Bridge again remains to be seen, but the next big thing certainly gave him a change of scenery and new experiences at the very least. Commissioned by ITV as a sort of British Nordic Noir set in London, Marcella is a crime noir series about a former detective who revisits an old case while trying to save her marriage. "I was glad to get the chance to work abroad, get a bit of a change and see if the industry was different over there to the one back home that I knew so well," he says before bursting out laughing: "But it wasn't! It was almost exactly the same! The same meetings, the same process…" The first season of Marcella did really well both on ITV and on Netflix, and the second season is out early this year.
"It was great," says Rosenfeldt, "they supported me with translations and getting to know London better, and they kind of wanted me to write just as if I'd been writing for Sweden. It was a character thing; if something sounded a bit exotic, that was okay – it was meant to feel like I'd written it." And it certainly does. In Marcella Backland, ITV got itself its very own female lead to fall for, if quite different as a character to Saga Norén. "Saga is quite… incapable, in a lot of ways. Marcella more consciously almost chooses to be a bit hopeless sometimes," says the writer, who has been known to say that he prefers to spend time with women and that they are more interesting to write about. "I don't know if it's that different though," he continues. "Small things, maybe, but overall we write about stuff that's human. Sure, occasionally I might wonder if it's really plausible that a female character would act this or that way, but then again, in a lot of ways Saga doesn't really act like a man or a woman – she acts like Saga."
Rosenfeldt is currently working on the sixth book in the Sebastian Bergman series, to be completed by May. "Writing a book is quite a project compared to a script for the screen," he says. "A lot of words go onto the page of a book, compared to a script; the benefit is that the book is very much mine and Micke's [co-author Michael Hjorth] – there's only us and a publisher and an editor, while a script is just a sketch for a director and producer and commissioner and the actors and all these other people to have opinions on. For better or worse." And then, it is time for something new, after years of working on The Bridge and Marcella. "It's unclear what it'll be just yet, but I'll be writing something to come after The Bridge. And I'm quite happy with life – I'm in a good phase."
TEXT: LINNEA DUNNE
Subscribe to Our Newsletter
Receive our monthly newsletter by email