InnoVern Innovative: high-quality face masks
By Alyssa Nilsen | Photos: Tommy Rasmussen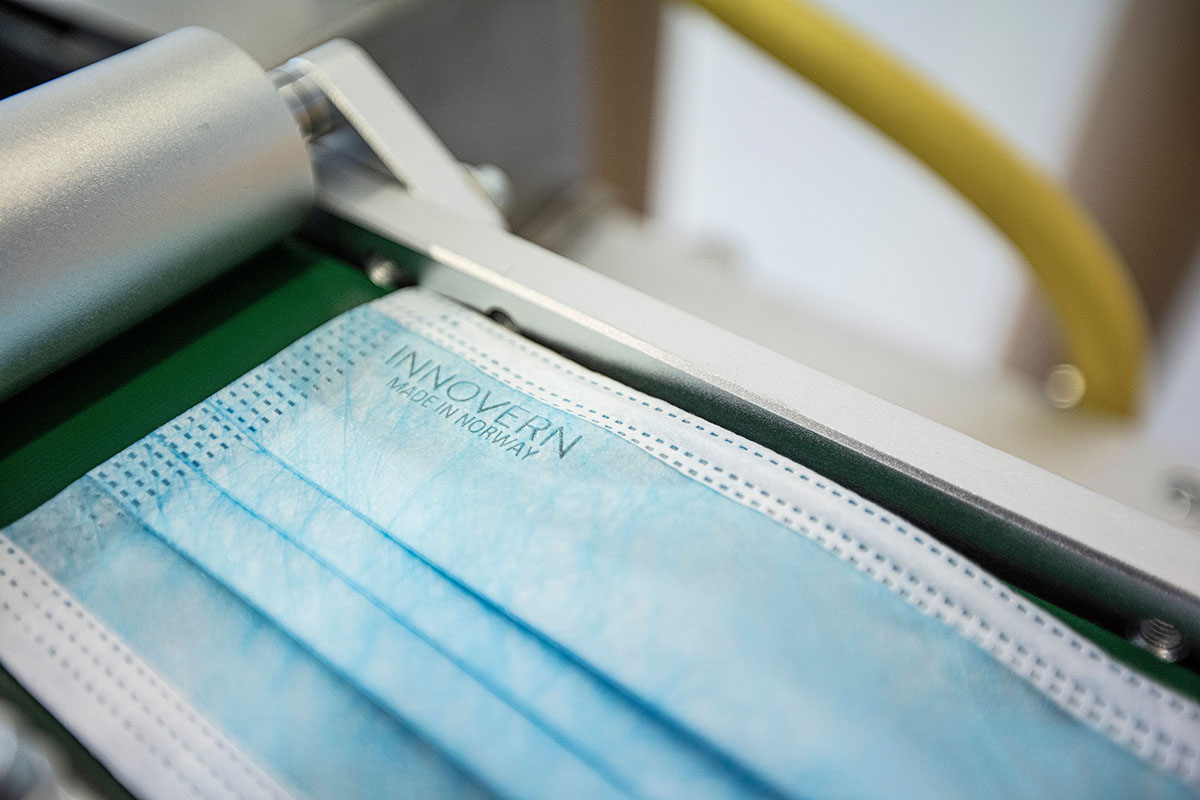 When the first waves of Covid-19 washed over Norway and the country closed down, protective gear was high in demand and short in supply. When the Norwegian government sent out a message asking for help, innovative minds in Sykkylven heeded the call, created the company InnoVern, and immediately started producing high-quality face masks.
The Covid-19 pandemic took the world by surprise as it spread across continents through 2019 and early 2020. Unprepared, with very little stock in terms of protective gear, Norwegian hospitals and health institutions were struggling to provide their staff with the security needed in an unprecedented situation. Import of equipment from other countries was restricted and took too long, and the necessary quality couldn't be ensured.
When the Norwegian government asked for help from domestic companies who might produce equipment locally, Sykkylven-based company InnoVern was founded. "There is a large innovative and creative industry community in Sykkylven," says CEO Grethe Loe. "So when the country locked down and the borders closed, founder Lars Einar Riksheim gathered the necessary people and in a matter of weeks hired staff, assembled suppliers and production equipment and started the production of surgery-grade face masks."
20 million face masks for Norwegian hospitals
InnoVern, becoming Norway's first specialised factory producing surgical face masks, was officially opened in November 2020. The factory was opened by then Prime Minister Erna Solberg, who stated: "InnoVern is doing a very important job, and deserves heartfelt thanks and a big applause."
The company's first order was for 20 million face masks for use in Norwegian hospitals – but InnoVern's work won't stop once the pandemic ends. A national health preparedness plan aims to make sure that Norway will never be as unprepared again, and InnoVern, which today has 14 employees, is looking towards the future, in terms of both production and the actual product. Its goal: developing surgical face masks as safe and comfortable as possible.

Developing innovative and sustainable high-quality masks
Surgical-grade face masks typically come in two different grades. Type II is less secure but easier to breathe through. Type IIR, the splash-resistant and most secure type, is harder to breathe in due to its density and material. Now InnoVern has managed to combine the level of security of Type IIR with the breathability of Type II, ensuring that the wearer gets enough oxygen and comfort throughout the day. The new face mask, named InnoVern Duo, has already been tested and CE-approved as both Type II and Type IIR. This, in turn, eliminates errors that can occur when users are confused by the Type II and Type IIR labelling – confusion that can increase the risk of infection for the wearer.
Another aspect of producing face masks locally as opposed to importing them is sustainability. Producing the goods locally using Norwegian and European suppliers reduces emissions and improves stability in terms of delivery. Automating the production process to the fullest extent effectively cuts down material waste, and InnoVern continually cooperates with suppliers on developing more sustainable raw materials. In addition, InnoVern is an inclusive company, hiring and training immigrants and offering language courses for its employees. Emphasising diversity, it's also gender-conscious and aims to have a workforce of both old and young employees.
But not only hospitals and health institutions need face masks. Athletes are among those who will continue to wear infection protection in the future and need face masks that are secure and easy to breathe in. InnoVern was recently announced as the official supplier of face masks to Olympiatoppen, an organisation that is part of the Norwegian Olympic and Paralympic Committee and Confederation of Sports, responsible for training Norwegian elite athletes. This contract not only ensures a continuous flow of products to Olympiatoppen, but also deliveries earmarked for the Olympic Games. This means that the Norwegian athletes will be using face masks from InnoVern during the 2022 Beijing Olympics, the 2024 Paris Olympics, the Paralympics, and several Youth Olympics Games.
Web: www.innovern.no
Subscribe to Our Newsletter
Receive our monthly newsletter by email