Julia Mordvinova Gilje: The artist's book
Norway-based artist Julia Mordvinova Gilje is known for alternating between different techniques to explore the world of dreams, the inner self and identity. With the project Gold-en Myths of Ancient Greece, she is blurring the lines between visual arts and traditional craftsmanship with rather intriguing results.
By Bianca Wessel | Photos: Julia Mordvinova Gilje | Main Photo: Golden Myths of Ancient Greece
Julia Mordvinova Gilje was born in Russia and studied for her Master of Arts degree in St. Petersburg, before moving to Norway in 2003. Her work alternates between graphics and painting, inspired by theatre, music and literature as well as visual arts.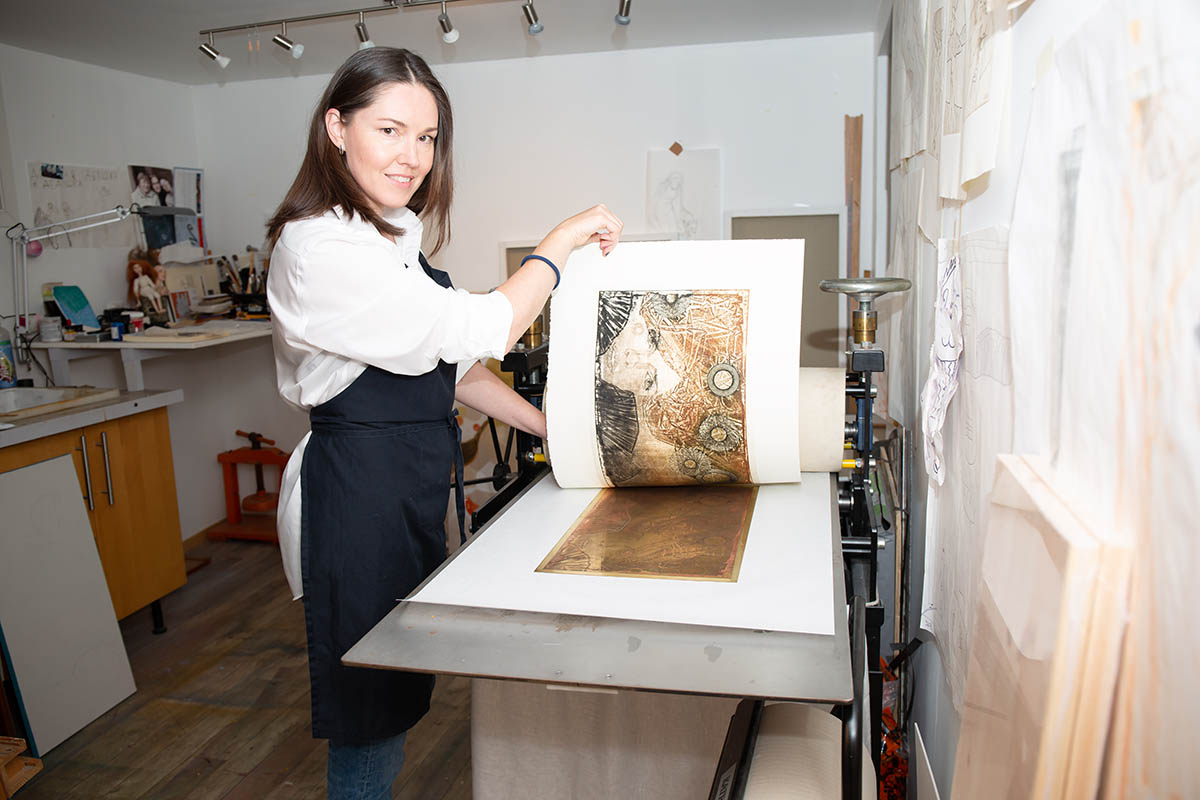 Julia Mordvinova Gilje.
The artist finds herself fascinated by the complexity of common human feelings such as strength and weakness, fear and longing. These feelings are often kept private and even suppressed. Through her psychological portraits, the artist uses her work to create a space to explore what lies deep within.
"Emotions, dreams, the inner world and identity of humans intrigue me," Julia explains. As part of her upbringing and studies, she would often find herself drawn towards the powerful stories; the fables told by the ancient Greeks to explain the existence of the world. Julia found these stories to be deeply captivating and inspiring.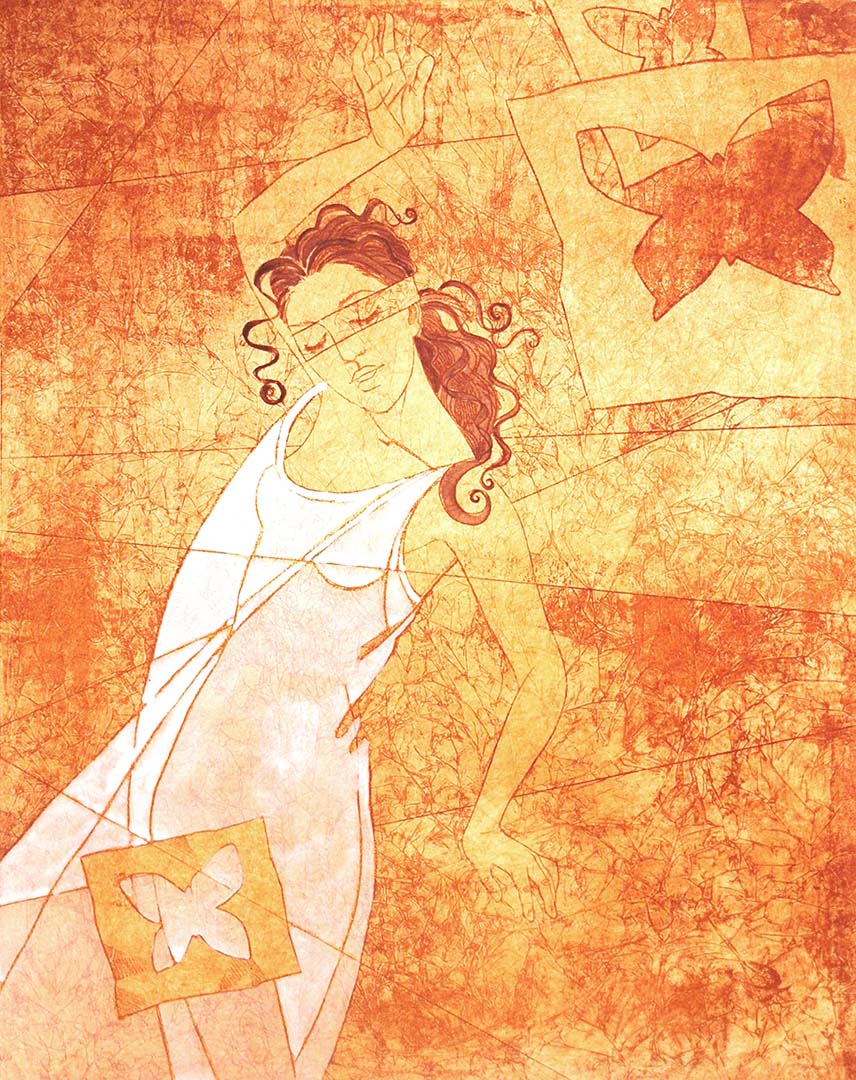 Psychological portrait.
Golden Myths of Ancient Greece
From Narcissus, who fell in love with himself, to Aphrodite's never-ending allure, Greek mythology has a continued presence in contemporary art as the characters are highly relatable in terms of their emotions, desires and struggles. This inspired Julia to dive into the project Golden Myths of Ancient Greece.
With great respect for the craft of the artwork, and with idea and implementation given equal importance, the visual art has been blended with the ancient fine craft of bookbinding. The artist's book, Golden Myths of Ancient Greece, is a uniquely expressive piece of work, arguably reaching far beyond traditional work on canvas.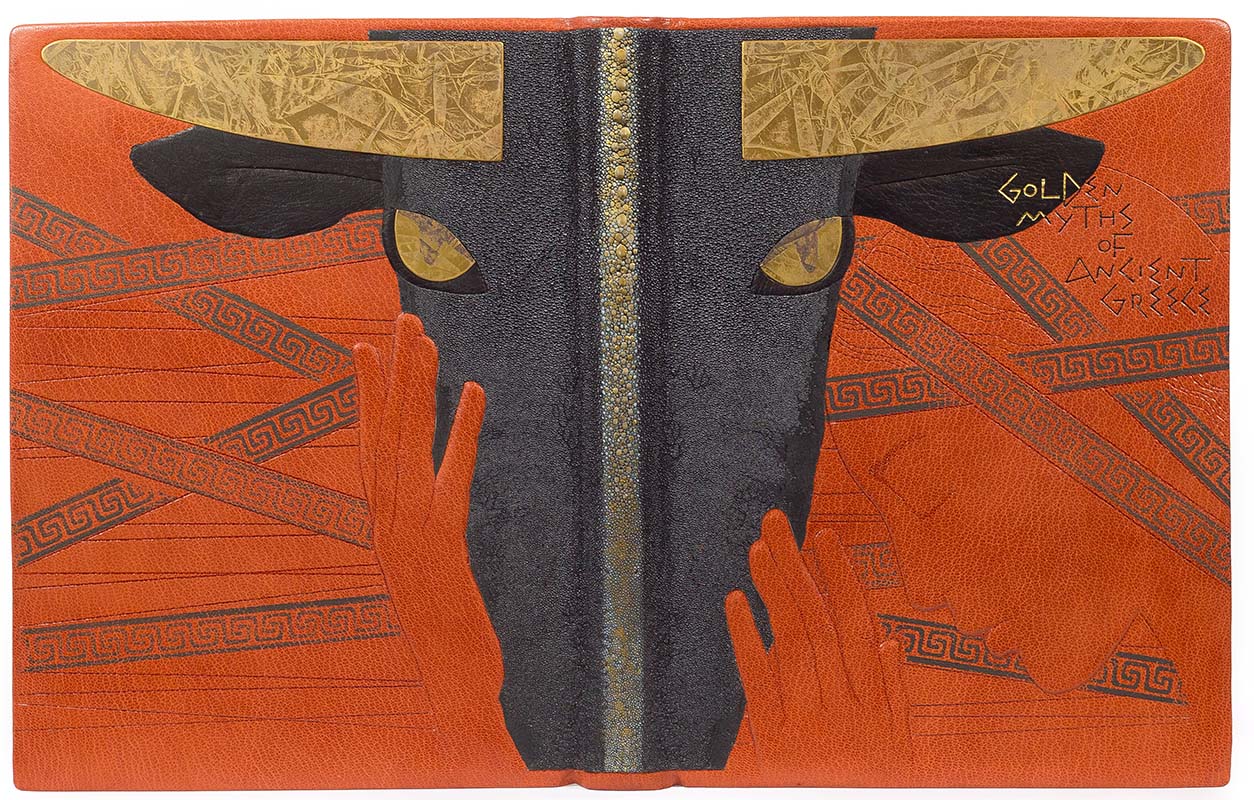 Golden Myths of Ancient Greece book cover.
Slowing down
Julia decided early on that there would be no shortcuts in the process. Everything in the finished work of Golden Myths of Ancient Greece was to be handmade and crafted by the artist herself. The finished work has 20 myths included in total, all carefully applied with meticulous attention to detail. From start to finish, the artist spent anywhere from three to four months on each.
Julia believes the slowness of the process is a vital part of the piece: "You can feel it when someone's put a lot of work into something. There's an extra depth and warmth to the work, encouraging the audience to take their time in experiencing the artwork and the creative process," she reflects.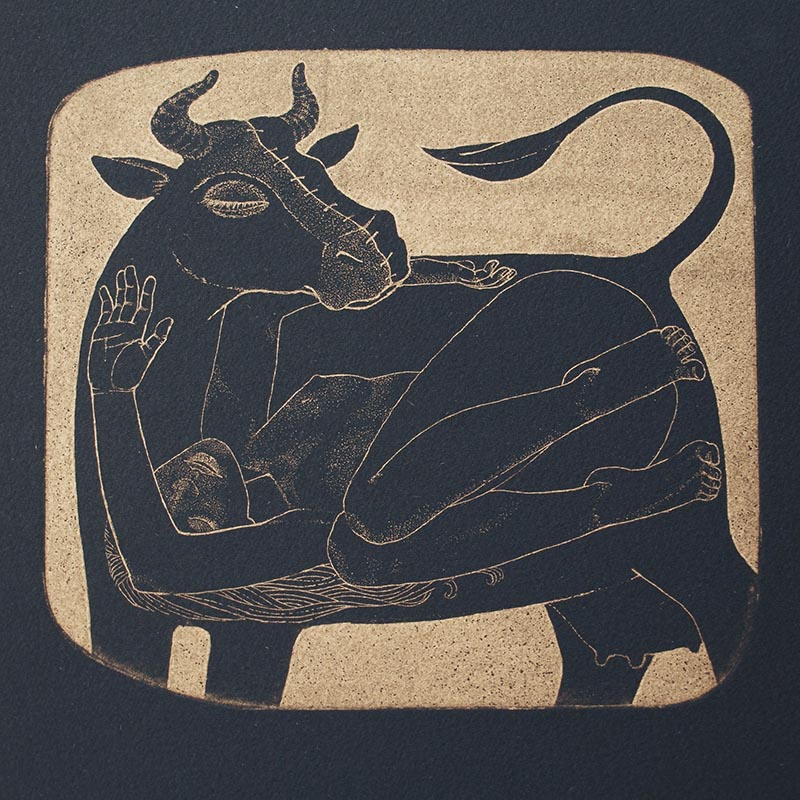 Everything is exclusively handmade: the hand-written stories and the illustrated etchings, interlaid with Japanese silk paper, building the book by a complex and time-consuming process, sewing the leaves together with linen thread, and covering the whole artwork with a combination of leathers – soft, radiant goat, and exotic, sparkling stingray. To complete the cover, the artist recreated an illustration from within the book, etched in luxurious, patinated brass and fastened to the front cover.
Golden Myths of Ancient Greece is not only a splendid showpiece, but truly a coming together and celebration of Julia's artistic craftsmanship and her love for working with various techniques. "A lot of different techniques and craft skills have gone into this, many of which are hidden within the piece," Julia smiles.
In the process, the artist has also experimented in creating other variations. In a more contemporary direction, almost like origami, this also makes a powerful display. "The artistic process in itself makes me happy. I feel fortunate to be able to work with something I love and feel so passionate about. I also like the thought that my books might have a lasting legacy, as they will still be around in a couple of hundred years' time," Julia concludes.
Julia Mordvinova Gilje, born on 28 January 1978, is a Russian artist living in Stavanger, Norway. She has an MA in graphics and book illustration from the Institute of Design, Applied Arts and Humanities, St. Petersburg, and a professional grade as artist/art pedagogue in visual arts from St. Petersburg, N. Roerich's Art College.
Golden Myths of Ancient Greece has been completed in a total of four copies, in Norwegian, Russian and English. The work has been exhibited worldwide, at the International Grafikk Triennale, St. Petersburg; as part of Heroic Works, showcasing entries from Designer Bookbinders 3rd International Bookbinding Competition (2017) in Oxford, Birmingham and London; at the Baltic Art Book Biennale, St. Petersburg (2016); and as part of Hvem bestemmer, Stavanger Kunstmuseet (2014).
Web: www.juliam.no
Instagram: @juliam.no
Subscribe to Our Newsletter
Receive our monthly newsletter by email