Julie Zangenberg: Burning the midnight oil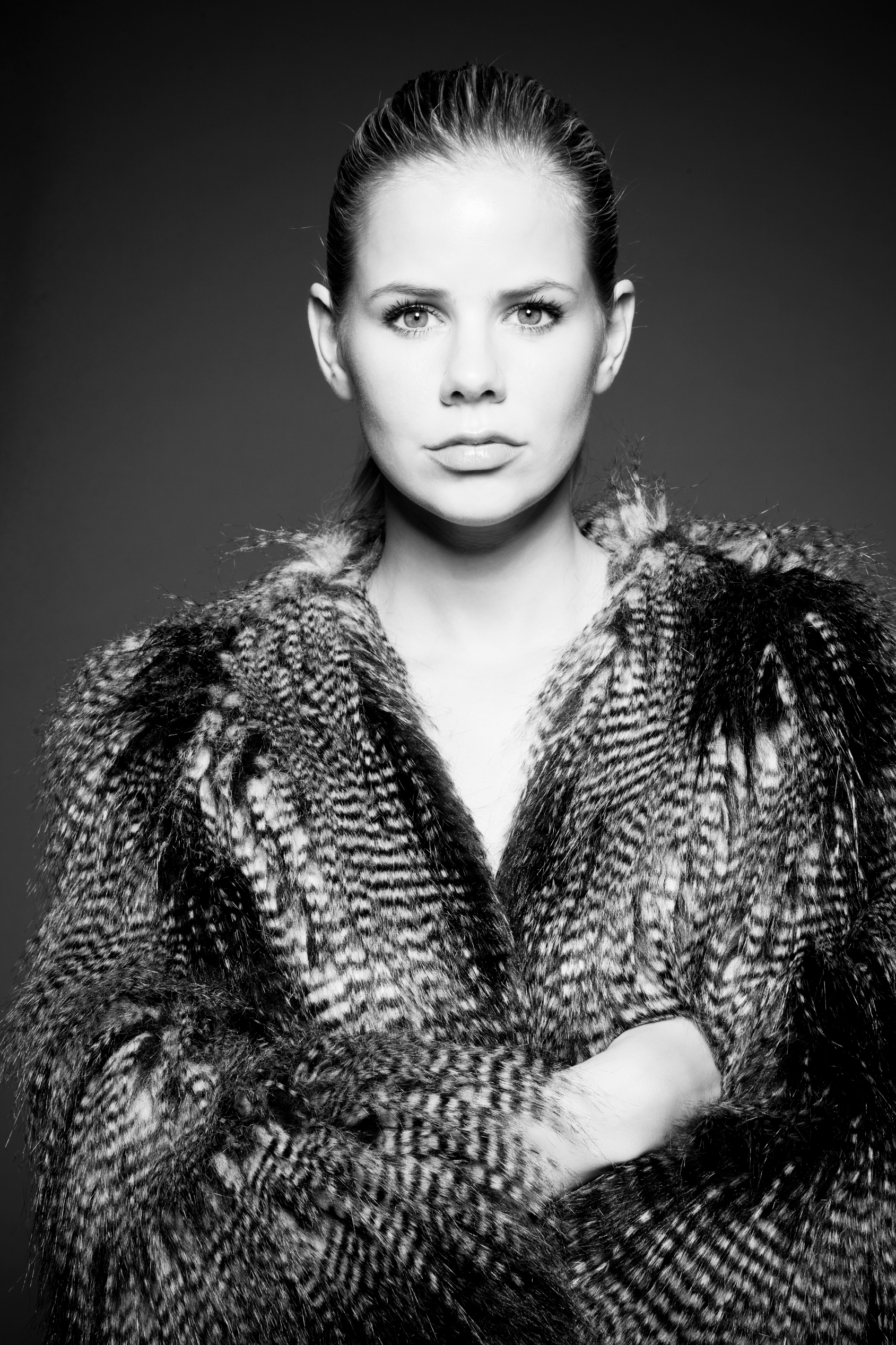 Actress, model, celebrity cook, businesswoman – Julie Zangenberg has done it all. This 
June, however, she will be doing something new: taking time off. 
Scan Magazine
 spoke 
to the Frederiksberg-born all-rounder about being a child star, working 80-hour 
weeks, and how she is finally learning to unwind.
Julie Zangenberg is in the UK to talk about the launch of 
Heartless
 on Channel 4's new foreign 
language showcase, All 4. The supernatural mini-series was created by the writer of 
The 
Bridge
 and the director of 
The Killing
. Set in an elite Danish boarding school, 
Heartless
 blends 
the best elements of Nordic drama with a dark, edgy storyline that has led many to dub it 
'
Twilight
 for grown-ups'. 
Zangenberg and co-star Sebastian Jessen play orphaned twins who are cursed to suck the life 
energy out of others in order to live. Desperate to unravel the mystery of their origins, the 
siblings also have to contend with life at a new school, and the challenges this presents. 
Zangenberg plays Sofie, a woman who is comfortable with who she is and the fact that people 
are her food. All that changes when she falls in love with Emilie (Julie Christiansen), the 
headmaster's daughter, who has secret powers of her own.  "When we first meet Sofie," 
Zangenberg says, "she's come to terms with what she is. She feels like she's an animal – what 
she does, how she lives; she didn't chose it, she just deals with it. She's very tough where as 
her brother, Sebastian, feels guilty. But then, Sofie falls in love and finds out that she can't be 
close to the one she loves because of this curse. That makes her want to change for the better. 
She wants to figure out what their curse is and fix it. So she goes from being very, very tough 
to more soft and human, which is fun for an actress."
Early start
Although Zangenberg has had a successful modelling career – formerly the face of Adidas –
acting has always been her first love. Starting her acting career at 12, the now 27-year-old has 
been acting for over half her life. "I actually started by accident," she explains. "I loved theatre 
and I loved movies but I thought that acting was something that the big grown-ups with all the 
talent were doing. I didn't think it was for me. But I wanted to see movies, up close, so looked 
into being an extra. I just wanted to be the girl walking by in the background with a soda in 
her hand."
Zangenberg then wrote a letter asking if she could be an extra and was called out for a test. "I 
remember thinking that it was a bit weird that I needed to do a test to be the girl drinking the 
soda," she says. "Then, after my third call back, they realised that I didn't understand what 
was going on and they told me that they were casting for the lead in the biggest children's 
movie ever made in Denmark." Zangenberg initially told them she did not think she was right 
for the part, but she got it anyway and the movie won a Crystal Bear at the Berlinale of 2002 
and ended up travelling around the world.
The movie was the children's crime caper 
Klatretøsen (Catch That Girl)
, which made 
Zangenberg into a household name. However, along with the opportunities, fame made it hard 
for her to be an ordinary child. "My school days were two extremes," she says. "At first, I went 
to a normal public school, but I was getting beaten up, stuff like that. Then my parents put me 
in a private school, kind of like a boarding school. So I've tried both and I think that it was 
difficult for me to be in school because I'm a bit of a nerd.
"I love knowledge and I'm very competitive. That part of school worked for me: getting nice 
grades… But the whole environment – you couldn't be creative, you had to do everything in a 
very specific way and that didn't work as well for me. I wanted to be my own boss and acting's 
perfect for that."
The award-winning 
Fakiren fra Bilbao 
(
The Fakir from Bilbao
) followed, with Zangenberg 
playing a young teenager who moves to the country with her twin brother and widowed 
mother. There, the trio discover that their new house may be haunted.
Is she drawn to spooky tales? "I'm not a horror fan," she says, "but I'm definitely a genre fan. I 
love time pieces and everything from 
Twilight
 to 
Harry Potter
. I'm a big 
Harry Potter
 geek! 
When Nicklas [Bendtner, her ex-boyfriend] and I lived in London, near Bushy, we lived in a 
place where they shot some of the 
Harry Potter
 films, which was a really big deal for me. I love 
long-running series, movies, theatre. I'm very geeky about it all."
Late nights
In 2012, Zangenberg took the leap from the world of children's features to adult drama with a 
movie by Danish stage director Katrine Wiedemann called 
A Caretaker's Tale
 (
Viceværten
). 
The film centred around the brutish custodian of a housing complex who discovers a mute, 
naked woman in an empty apartment. Despite the fact that her character was given no name 
and no dialogue, 
Vanity
 magazine praised Zangenberg's performance, writing: "Zangenberg is 
extraordinary and fully exposed in a difficult, wordless role."
Television followed, with the actress demonstrating a natural talent for comedy with 
appearances in shows such as 
Live from Bremen
 and 
Danish Dynamite
. In fact, in the last eight 
years, she has barely paused to catch her breath. "I work, like, 70 to 80 hours a week," she 
smiles, "and it was just recently that I found out that wasn't normal! I was watching the news 
and they spoke about how a normal working week in Denmark is 37 hours and I was like 
'Noooo'!" Despite this, Zangenberg says she knows she is fortunate to be kept so busy with the 
acting and she does not like to complain.
To relax, Zangenberg likes to cook – and has now made that into a business with her first 
cooking show, 
Julies madselskaber 
(
Julie's Dinners)
. "So I've made that something I don't just 
relax with but work with," she says. "I'm also doing 
Hairspray
. A lot of work has gone into that 
because I'm not a singer and I'm not a dancer and this is the largest musical production in 
Denmark ever. So it requires focus."
Does she ever relax? She laughs: "When 
Hairspray
 finishes, for the first time in eight years I'm 
taking a break. We end in June and I'm taking June and July off." However, it is clear that acting
– and the next challenge – is never fully off her mind.
"One night in London," she recalls, "Nicklas took me to see the Billy Elliot musical and it was amazing. But, like Billy says when he's dancing, you can't deny the thirst in you, what makes you electric. And that's the feeling I get when I'm acting. When I saw that, it really struck a chord with me. To be true to yourself and fight for your dreams and what you love – that's the most important thing ever."
For Zangenberg, it seems that burning the midnight oil is not a chore – it is just how she unwinds.
For more information, please visit juliezangenbergblog.dk or follow @juliezangenberg onInstagram or Twitter.
Text by Paula Hammond
Subscribe to Our Newsletter
Receive our monthly newsletter by email