Kaleidoscopic art and architecture at Carl-Henning Pedersen and Else Alfelts Museum
TEXT: LENA HUNTER | PHOTOS: MIKAEL LYKKE MADSEN
The first thing visitors notice at Carl-Henning Pedersen and Else Alfelts Museum, on the outskirts of Herning in western Denmark, is its magical exterior architecture.
Its radiant blue façades – mosaics of abstract ceramic art – lend a psychedelic quality to the cylindrical buildings and geometric land-art walkways. Before even stepping foot inside, you feel you've decoupled from urban reality and entered a fantasy world.
But the architecture is just the aperitif. The pièce de résistance is the museum's staggering collection of works by the seminal Danish abstract expressionist artists, husband and wife Carl-Henning Pedersen and Else Alfelt.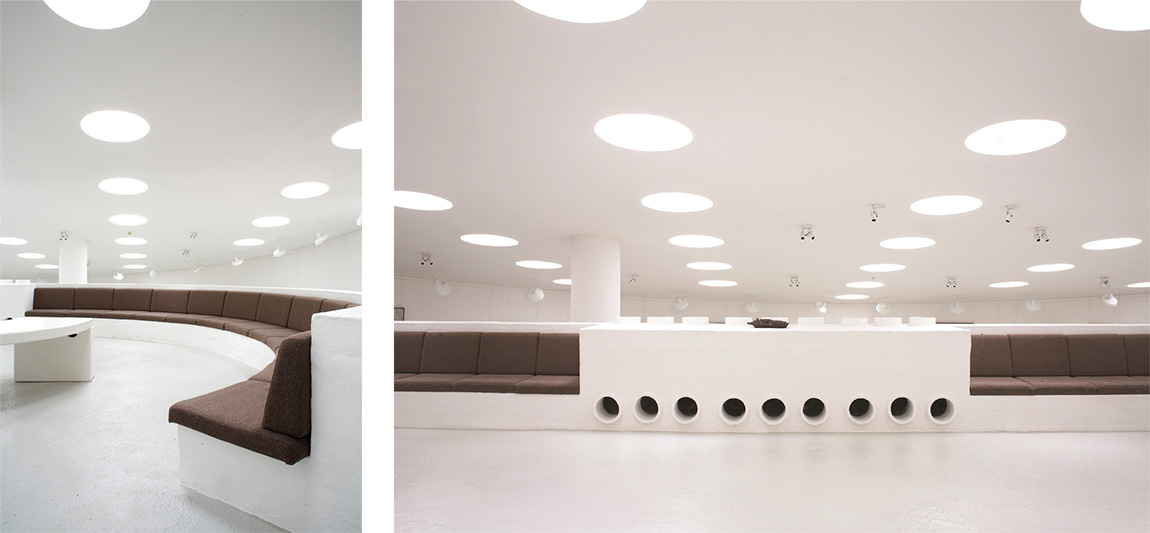 Humble origins
Pedersen and Alfelt were both raised in poverty in Copenhagen. Aged just seven, Alfelt was sent to an orphanage and began painting. She remained self-taught throughout her career, producing work inspired by nature and philosophy that spanned the avant-garde, surrealist, experimental and political.
In 1933, she met Pedersen in Elsinore and encouraged him to paint. The modernist, free form style he adopted butted heads with the conventions of Danish art. Encouraged by the works of Picasso and Matisse he saw in Paris in 1939, he became a pioneer of abstract experimentation in Denmark.
The CoBrA movement
Despite their rich independent careers, Pedersen and Alfelt are best known for their involvement in the 1948-51 free-thinking expressionist art movement, CoBrA – spanning Copenhagen, Brussels and Amsterdam – while Europe was still reeling from the shockwaves of the Second World War.
"CoBrA came about when people began to travel again after the war. Across Europe, artists wanted to express something original and collective that could break down borders and bring people together," says museum director Lotte Korshøj.
CoBrA artworks are grounded in an ideology of freedom and intuition, abstraction and spontaneity. The colours are vivid, the forms are hypnotic, the scale is arresting. "The thought behind it was that if you could create an artwork that was free – rooted in the innermost intuition – then you could extrapolate to create a free community," says Korshøj.
The painting-adorned galleries at Carl-Henning Pedersen and Else Alfelts Museum are a rainbow stroll through Pedersen and Alfelt's minds and artistic careers. Here, the CoBrA movement remains a living, breathing force.
What's on?
Carl-Henning Pedersen and Else Alfelts Museum was established in 1976 and today houses over 6,000 works by the two artists, from three different collections. The 2,000-square-metre museum presents the permanent displays of the artists' essential works, plus special exhibitions that offer fresh takes on CoBrA ideas.
Previous iterations have included Pedersen's lesser-known clay art, A Fabulous Encounter; a joint exhibition of works by Pedersen and Crown Prince Henrik, Mountaintop; Alfelt's mountain-inspired paintings; and The Flower of the Universe – a wall-to-wall, explosively-coloured painting installation inspired by Zen Buddhist philosophy.
Henning and Heerup International
This year, two special exhibitions are in the works. The first, Henning and Heerup International, is based on sculptor Henry Heerup and Pedersen's contributions to the 1962 Venice Biennale, which catapulted them to international fame.
At the time, the leading Danish broadsheet Politiken praised Heerup and Pedersen's "duet that brought a fresh buzz from the Nordics", while the Biennale committee promptly named the two as Denmark's artistic representatives.
The same year, Pedersen went on to win the UNESCO prize. Reviving this unique chapter of cultural history, Pedersen and Heerup's paintings and sculptures will be reunited at the Carl-Henning Pedersen and Else Alfelts Museum until 23 December.
OPHAV
Concurrently, a new sound installation by Danish composer Ditte Rønn, called OPHAV, is running in the incredible Angli space – a historic outdoor gallery comprised of an amphitheatric wall with a 1,000-square-metre interior.
Rønn's immersive musical composition, performed by the Herning Church Boys' Choir, will accompany the Angli space's arresting permanent artwork: Pedersen's monumental 1968 ceramic frieze, Imagination's Play Around the Wheel of Life.
"There are 14 speakers installed on the roof, which are activated by a sensor when you enter. So while you're physically surrounded by this incredible masterpiece, you're also immersed in a chorus of voices, experiencing the art in a new way," explains Korshøj.
More than meets the eye
"The grounds are beautiful. The whole Birk area is full of cultural diversions," says Korshøj. A day trip to the museum can easily include visits to the nearby sculpture park and listed Geometric Garden, both designed by famed Danish architect Carl Theodore Sørensen.
Of the many draws to Carl-Henning Pedersen and Else Alfelts Museum and its home region, art lovers can be assured of this: the museum's unique perspective on a brief, daring and impactful movement in the Danish and broader European art scene is unrivalled.
It's more than a retrospective. By constantly offering new perspectives on the rich collection of Pedersen and Alfelt's work before, during and after CoBrA, Korshøj and her peers have kept the spirit of its creative community alive for a contemporary audience.
Address: Carl-Henning Pedersen & Else Alfelts Museum Birk Centerpark 1, DK-7400 Herning Admission: €10, no booking necessary Guided tours available, info online Opening hours: Tuesday to Sunday, 10am to 4pm Web: chpeamuseum.dk Facebook: Carl-Henning Pedersen & Else Alfelts Museum Instagram: @chpeamuseum
Subscribe to Our Newsletter
Receive our monthly newsletter by email