Kenneth Blom: A life revolving around art
By Ingrid Opstad | Photos: Tommy Normann/Jens Hamran
T he renowned, contemporary Norwegian artist Kenneth Blom has a lifelong fascination with human beings, which he expresses beautifully through his abstract works. Characterised by a blend of architectural and figurative elements, his paintings convey a moody yet gleeful tone, by an artist who has lived a life revolving around art.

Born in the historic city of Roskilde in Denmark, Kenneth Blom spent the first eight years of his life there, before later moving to Norway. Growing up, he was always surrounded by art and design. With his father a designer and jeweller at Georg Jensen and a childhood home filled with Scandinavian design furniture by the likes of Hans J. Wegner, Arne Jacobsen and Fritz Hansen, as well as a drawing board at the centre of the living room, Blom discovered an interest for drawing early on. "Of course, this had a certain impact on me, but I was never particularly gifted at drawing as a child. It was only during high school, due to school fatigue, that I became serious about it and started drawing," the artist recalls.
After high school, Blom began attending the Einar Granum School of Fine Art in Oslo, and after a week there, he was completely engrossed in the world of painting and drawing. "Since that moment, my life has revolved around art," Blom says. His passion for art followed him as he studied further at the Academy of Fine Arts in Oslo, as well as at the Düsseldorf Academy of Fine Arts (1994-1995), and it was during his time at the academy in Oslo that he met Anine Müller, who later became his wife. "She has the absolute knack for composition and provides me with solutions regarding the image process, and generally professional options that are important in the art scene. She is my muse, whom I depend on daily," Blom explains.

Artistic breakthrough
In 1996, Blom had a big breakthrough in his artistic career, when he received a phone call from the Norwegian art historian, art collector and gallerist Haaken Christensen. "He called me after seeing my art at an exhibition at the Oslo City Hall, to offer me a solo show at his gallery, and I remember shouting of joy. As a youngster, I often walked past Gallery Haaken in Lille Frogner Allé but never dared to enter."
Christensen took Blom under his wing and guided him into the professional art world with passion, formation, and business flair. As an international man, well-known within the art community, his knowledge was very educational for the young artist. "As Christensen always told me, 'the art you create must always be exemplary, original and personal, and then I will sell it for you'. He never tried to influence my expression and always believed in me. Not only did he provide me with a free studio in a Frogner apartment, but he also helped to arrange solo exhibitions for me at Henie Onstad Art Center and Sotheby's in London. I have everything to thank him for, and I miss him deeply," Blom reflects.
Moody, abstract brush strokes
Characterised by a blend of architectural and figurative elements, Blom's brush strokes often have a moody expression, but at the same time a gleeful brightness to them. His paintings, which are colourful and vibrant, display solitary figures in modern industrial or simplistic, empty landscapes. With an abstract style, his art offers a surreal insight, which suggests a hidden melancholy.
As an avid reader of art history, Blom is humbled by all the significant art created throughout the past. According to him, the common denominator for many great art pieces is abstraction and figuration. "If you look closely at the gold helmet of Rembrandt, for example, you can notice how abstractly it is painted; or the delicate, light curtains painted by Anna Ancher, which when experienced up close become independent, abstract images – almost like Mark Rotkho. All of this, I try to exaggerate by inserting geometric shapes to tighten up the composition and to give my characters aesthetic resistance in the world I put them into," Blom says.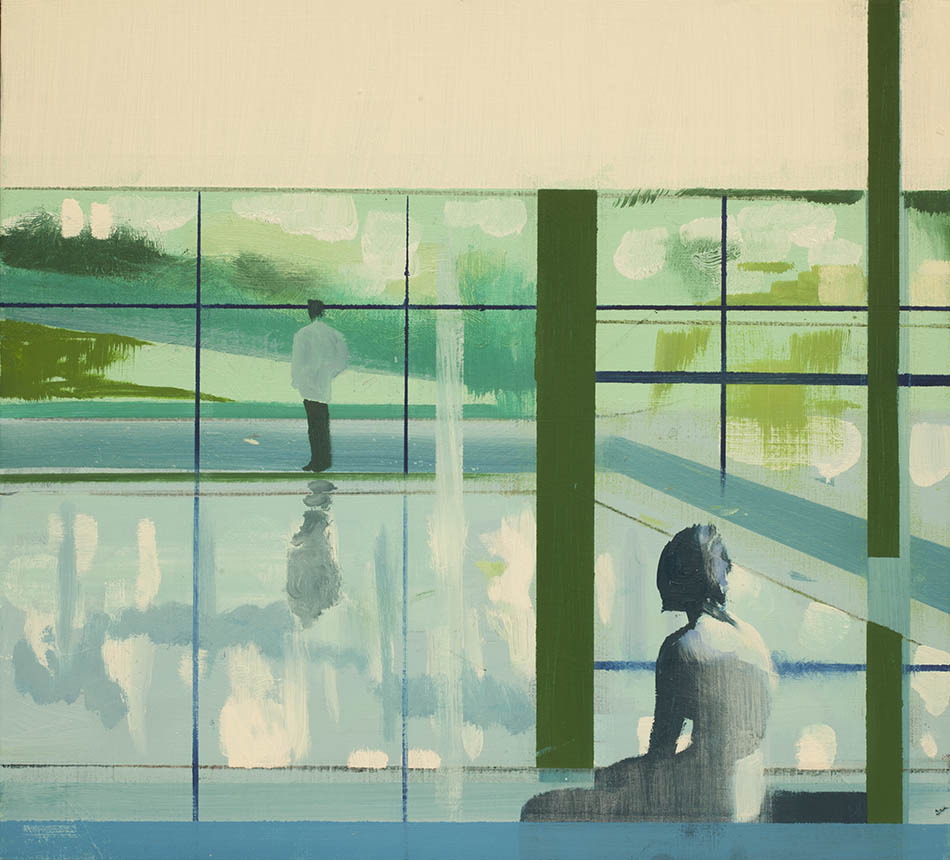 A lifelong fascination with human beings
When it comes to his inspiration, the artist is transparent. "Scrap inspiration – give me a deadline instead. David Hockney says inspiration comes like a thief at night. I agree with that!" Furthermore, Blom says that he has no specific motives for conveying a message through his art. "The world is doing just fine without my paintings," he jokes. "If there were to be a theme, then it has to be my lifelong fascination with human beings, whether seen alone or together with two or three others – people experienced at a distance in a frozen situation. That moment right before they start talking, fighting, killing, loving or whatever else they might be doing."

In Norway and beyond
Having already shown his works extensively around the world, the Norwegian artist is humbled by his far-reaching prominence. "I am so privileged to work internationally alongside so many talented people. This summer, I had my sixth separate exhibition at the Jason McCoy Gallery in New York, followed by Art Basel, represented by my new gallery Luisa Catucci in Berlin, and a solo exhibition later in the year at the same gallery," Blom says.
With his new studio, located in Fornebu, the Oslo-based painter now has even more room to frolic. "The need for more space came because I have several large exhibitions happening both in Norway and abroad. Now I can have a whole exhibition mounted on the wall and have a complete overview all the time," he says, adding: "Fornebu is also an exciting, vibrant place to be right now, full of international art."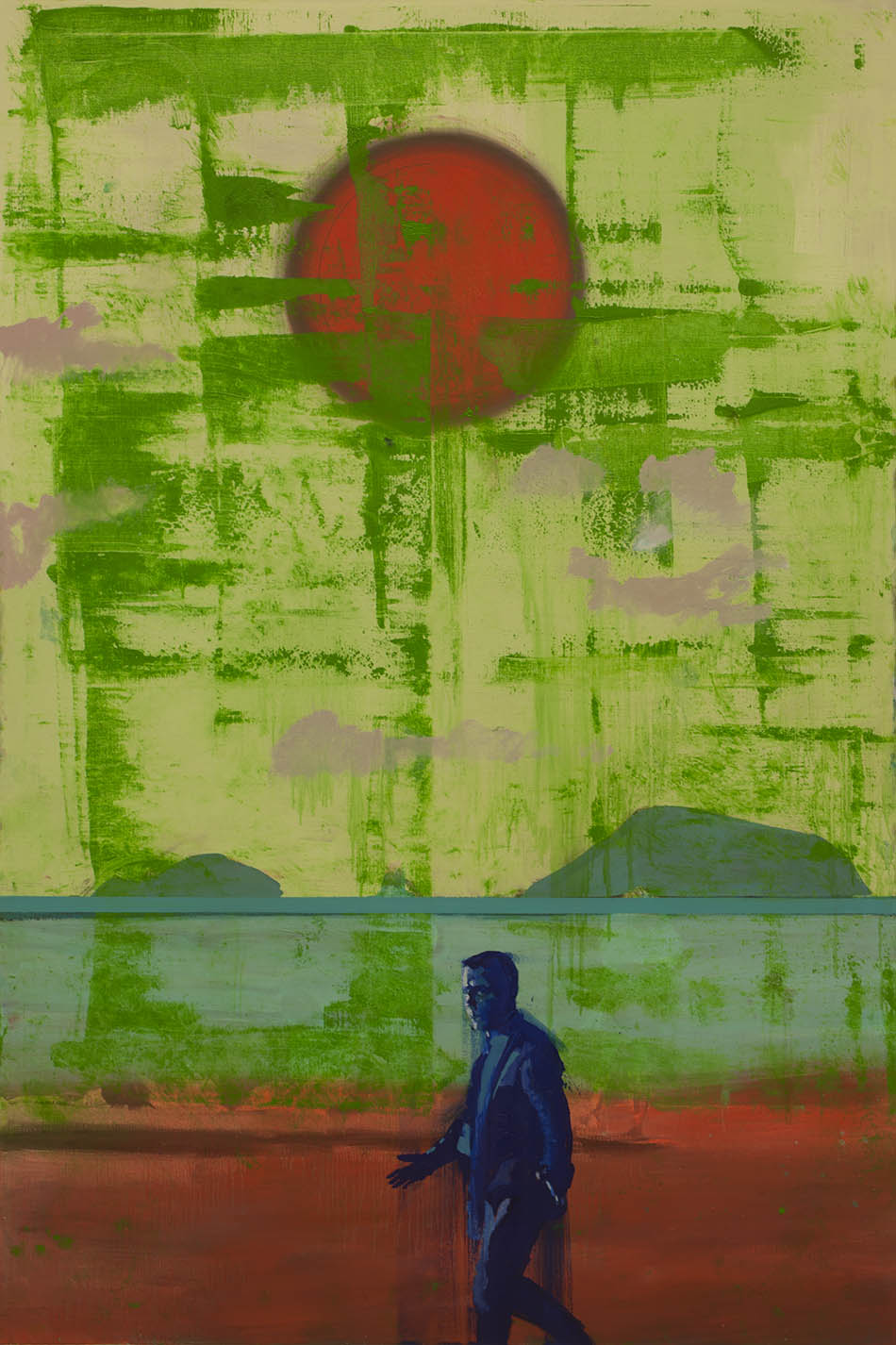 Gallery representation: – Jason McCoy Gallery, New York. – Pekin Fine Arts, Beijing / Hong Kong. – Luisa Catucci Gallery, Berlin. – Lyon Particule Gallery, Lyon. – Gallery Birch, Copenhagen. – Gallery Haaken, Oslo. – Dropsfabrikken Gallery, Trondheim. Upcoming exhibitions in 2020: – Art Herning in Denmark, represented by Gallery Birch in Copenhagen, 23-26 January. – Art Karlsruhe, represented by Luisa Catucci Gallery in Berlin, 14 February. – Solo exhibition at Gallery Birch in Copenhagen, 5 March. – Participating in a charity auction in Vienna, organised by Sotheby's New York, 8 May. – Opening at Gallery Haaken in Oslo, end of May. – Art Basel, 18-21 June. – Solo exhibition in Rosendal at Guddal Gallery, 27 June. Said about Kenneth Blom: "In fact, I think Kenneth Blom's picturesque method, with construction and destruction, is a good image for the basic human. Rather, he engages in reverse archaeology. This means that the essential human being is not something to be revealed, but rather something that has to be developed through repeated machinations. The most important thing is often not to be found by going in-depth, but rather by adding something new." Professor of health sciences, psychiatrist and author Finn Skårderud "Abstract or figurative painting – not necessarily a lifelong decision for an artist. Kenneth Blom is one of those painters who are perfectly able to combine both. With every other serial, he newly balances the relationship between them. The viewer's eye changes between figure and room, narration and expression. And suddenly the horizon is open to delicate, subtle painting." Editor for the arts section of Berlin Tagesspiegel, and art critic, Nicola Kuhn Web: kennethblom.com
Subscribe to Our Newsletter
Receive our monthly newsletter by email