Kristofer Hivju: from Norway to the throne
By Linnea Dunne
As one of the most-loved characters of Game of Thrones and undoubtedly one of the most instantly recognisable faces on screens around the world right now, Kristofer Hivju brings a little bit of Norway to global audiences. Scan Magazine spoke to the actor from Oslo about cultivating a beard, following in the footsteps of his parents, and embracing the muck and darkness of Belfast.
"I didn't want to get into acting at all – I wanted to be a rock star," says Hivju, whose parents were both actors, as was his grandmother. "I grew up watching them and never connected with it, so I played the guitar and went to music school. But then to study music you had to do a year of music, drama and dance before you could choose, so I went in and they cast me as Hamlet," he laughs. "Anyway, turns out that watching other people do it and acting yourself are completely different things, and I loved the connection with the audience. So straight after the last performance I ran through the school corridors to tell the teacher I wanted to change."
Playing Hamlet made Hivju realise that his talent for acting was greater than his talent for music. With hindsight that is hardly surprising, considering the Norwegian actor has since played leading roles on stage at the Trøndelag Theatre, featured alongside Stellan Skarsgård in In Order of Appearance, starred in three episodes of the celebrated Swedish crime series Beck and, for a few years now, explored the wildling lands of Westeros as Tormund Giantsbane in Game of Thrones.
Not that he would not have made a good rock star; his trademark beard alone makes him a standout candidate for any rock 'n' roll outfit. In fact, the actor has made his facial hair into more than just a visual feature, shooting beard tutorials and sharing tips on how to grow the perfect beard on YouTube, top tips including beer and meat consumption and a wait of four months and 16 days. Of course he would know, because he has had to chop it off for parts more than once. "Most recently I was doing some shooting in New York with Will Smith and someone came up to me as said 'alright, we're going to cut your beard off' and I said 'no, I don't think so – this is my trademark!' But they threatened to recast, so off it went," he says.
"The funny thing about the beard is that if the fashion trend was for women to cut their hair short and then someone let their hair grow, then that'd be the big thing," says Hivju. "But I'm the natural thing, I'm the guy who's not doing anything – it's the others who are going through the effort of stopping nature and cutting themselves in the face!" He laughs again. "There's copyright in my beard – owned by HBO."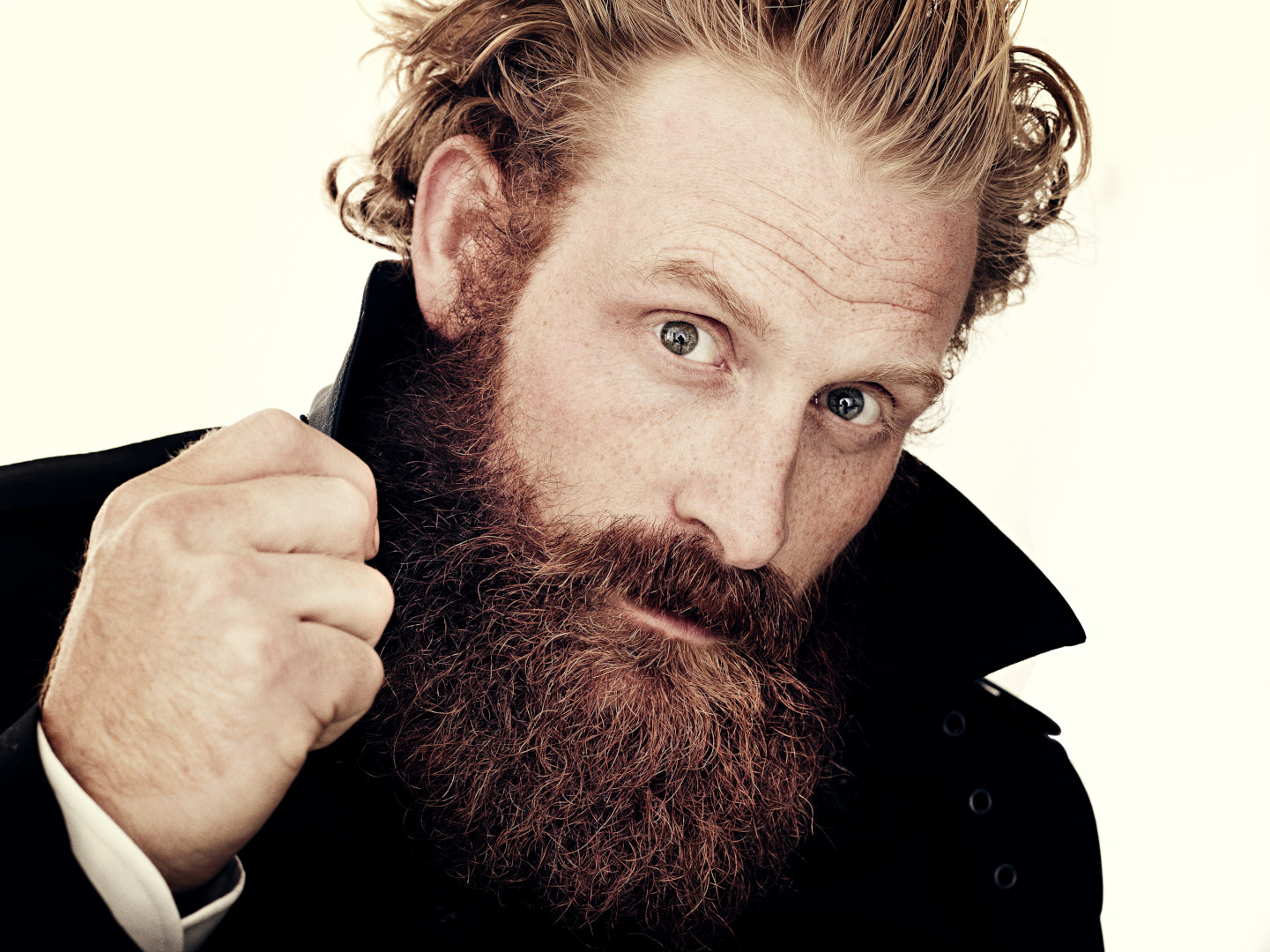 Playing Tormund
Hivju joined HBO's Game of Thrones cast in the third season as the ferocious but charismatic wildling leader, Tormund Giantsbane, a role which he says was fundamentally life changing. "Suddenly people know me wherever I go. I grew up with it because of my parents and my granny, so I had to deal with it early, but you know actors have a gene that says they want attention – you live for attention – so it's great. But then, after maybe 15 months or so, it wears off and it's not that fun anymore. It's just a job you do like any job, and you're an ambassador for whatever project you're working on," he says. "But I enjoy it. The attention is quite a lot more than I'm used to but this kind of thing is stable: it's five months a year, and then I have seven months to do other stuff."
Perhaps the attention really is, as he says, wearing off, or he is not much of a rock star at heart after all; he certainly does not seem all that bothered by HBO big-budget glam anyway. When asked if he ever wishes he would get to shoot on the south side of the wall, in the sunnier locations, he says: "Well I love Belfast. The nice thing is that we only have each other. If we were in LA or London, suddenly we would be out partying and there would be this massive pressure to be everywhere…" he pauses. "Some people's biggest challenge is sun cream, whereas for us it's that we're always sitting in mud, the tent is blowing away and the heater doesn't work; but it's nice, we're sitting there playing Risk in our tent. And you know, even if Tormund ever sees Kingsland it'll be winter, so I'll still be in Belfast!"
He says that he always loved the darkness of the show, even long before he got the part, though he admits it is not for the faint-hearted. "It took me four years to convince my wife to watch the show because it's so heavy," he says. "My mother never did, and if she ever will she'll stop after five minutes." That is also, he thinks, why Tormund's exchanging glances with Brienne made Game of Thrones fans everywhere go haywire. "There's so much darkness, so when you see a glimpse of light… You know, I asked the creators when we were shooting the episode Hardhome and the whole Free Folk population was there, Tormund's referred to his daughters so many times so where's his wife, his woman? They just said he's the bachelor type, but it's interesting anyway to finally get to concentrate on something other than war."
From Nordic Noir to Hollywood
Earlier this spring, Hivju was seen in three Beck episodes, playing Norwegian homicide investigator Steinar Hovland, and he certainly is no stranger to Nordic screens and stages more generally. He also starred in the Swedish production Force Majeure, a performance for which he won a Guldbagge award last year, and recently played the lead in The Last King about the illegitimate son of a Norwegian king. As the name suggests, he figures it is that inclination for darkness that has made Nordic Noir such a global success. "In Scandinavia we don't have that polished look the American shows have. Like The Killing and The Bridge, they all have that darkness," he says. "The same goes for all the bad guys in big action films suddenly being Scandinavians rather than Russians. There's something about the looks, and of course that there are a lot of very good actors from Scandinavia – but there's also that unpolished quality, a non-posing kind of acting style. Also, you can cast a Scandinavian in a bad guy role and you won't defend Russia, or China – it's politically safe."
Up next for Hivju is something completely different, far from the murkiness of Westeros and fully embracing that American polished production. Starring alongside actors including Dwayne Johnson, Nathalie Emmanuel and Charlize Theron, he is currently filming as a supporting role in Fast 8, the eighth instalment of The Fast and the Furious, which is due out in 2017. "I grew up with the franchise and always loved all the films," he says. "It's a funny thing to come into a universe as a fan of the show and then suddenly you're there with all the people you've been watching on screen. It was the same with Game of Thrones and Beck. It's a magical experience."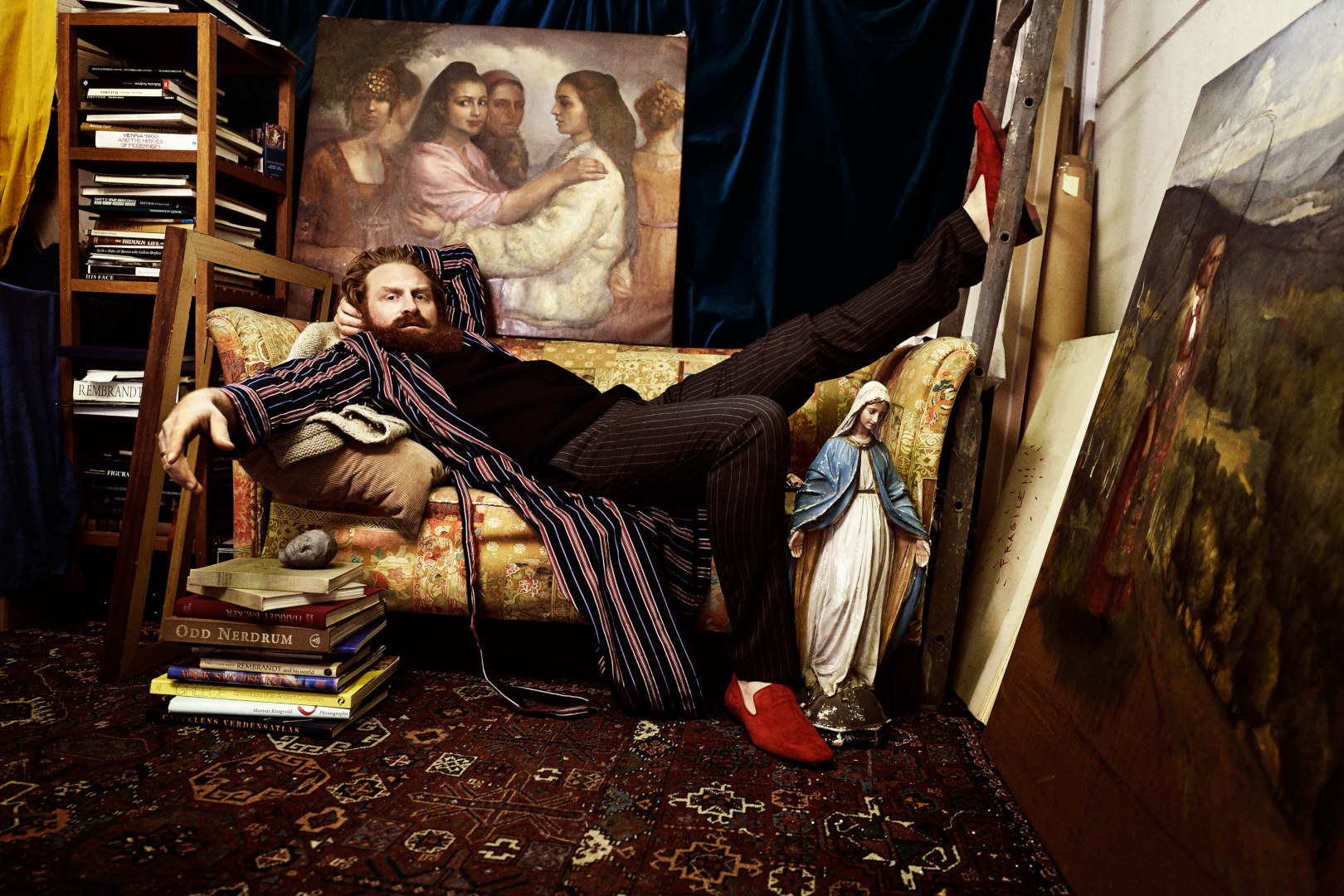 Subscribe to Our Newsletter
Receive our monthly newsletter by email