KUBIK Indretning: Create your dream space
Text : Josefine Older Steffensen | Photos: Kubik Indretning
I f the home truly is where the heart is, then it is very important to make the home a place that satisfies you and your daily needs. Getting help to find the optimal solutions for your budget is one of the best ways to make the most of your space. Kubik Indretning specialises in interior design for kitchens, bathrooms and closets for both private clients and professionals.
Kubik Indretning, based in Herning in Denmark, helps clients to make the most of the interiors of their homes. Whether in the building phase of a home or as a renovation project, the company can help to fulfil any dreams you have for a space. "We have our large showroom in Herning, where people can come in and do their own shopping, but then we also offer an interior design service," explains Dorte Brandt, co-owner of Kubik Indretning.
The company opened its doors in 2010 and has since then been helping people with their kitchens, bathrooms, storage solutions, lighting and everything in between. "We like to find out a lot about our clients, so we usually start with a home visit to understand the room and how it's used. That way, we can make the best initial plan," explains co-owner Karin Grønning Olesen.
High quality and good design
After the initial consultation, Kubik Indretning works to create a visual plan for the space. "We consult with our clients and work out where the best places will be for certain furniture and how the space is going to be used. This can often be difficult to imagine for our clients, so we make it as visual a process as possible and draw on our many years of experience to figure out where to put everything to optimise the space and its utility," says Olesen.
"We're always striving to create something that's a bit different and that actually suits our clients, rather than ordinary, run-of-the-mill solutions for interiors. We want high quality and good design, whether we're helping to furnish one room or an entire house," adds Brandt.
Although a visit to the showroom is not necessary for getting help with interior designing, it can be a very useful way to understand the different materials and how everything will look combined. "We have quite a large showroom that's almost like our inspiration board. It's filled with the designs and styles that we like and use in our projects, so although we can't offer a one-to-one scale of our drawings, we can definitely give an idea of what the finished product will look like," says Brandt.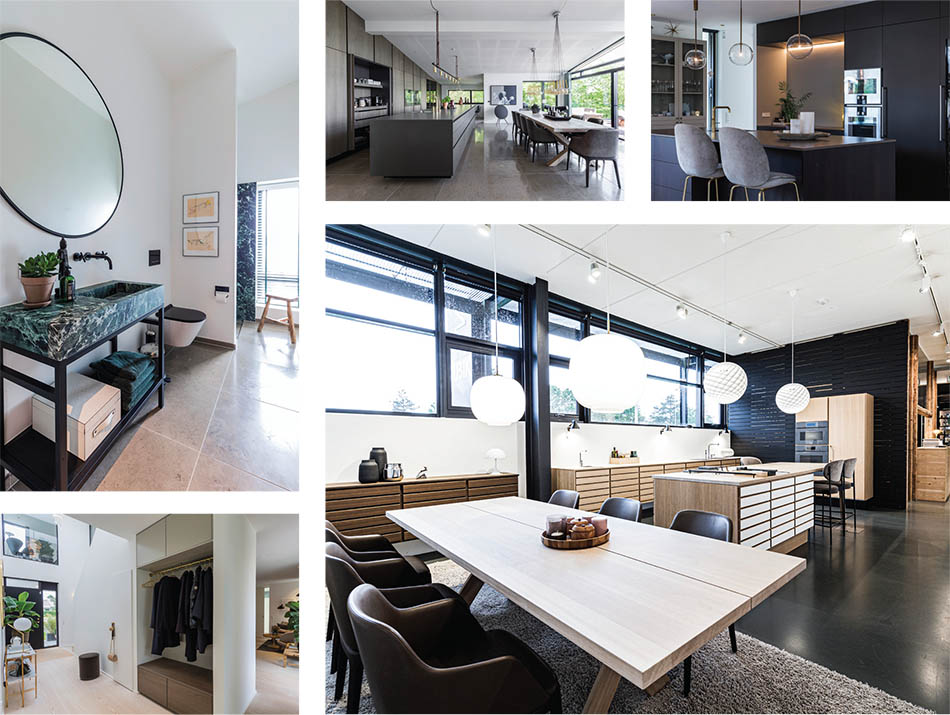 International projects
Kubik Indretning has a strong partnership with Boform, Poliform and Multiform, alongside many other renowned companies providing interiors, lighting and appliances. Its partners never compromise on quality, and they have an excellent variety, which means that there is something to suit all budgets. "We encourage people to mix and match. Often, people think that they have to choose from only one brand to make sure everything fits together, but everything is made to order. We can find an easy solution to the corner cupboard or the awkward space under the stairs – that's never a problem," says Olesen.
Kubik Indretning also works with clients abroad and has completed projects in the US, as well as the UK. Wherever the project might be, Kubik Indretning can help to simply inspire or to act as project managers for the interiors and help with every step.
Light up your home
Alongside the more traditional interiors, Kubik Indretning also specialises in lighting. "Lights are often an afterthought, but they actually help to shape a room. We use three types of lights: general, functional and atmospheric. For every room, we'll consider the daylight and then decide on general lighting to ensure there's always good light in the room. After that, it's the functional lights, which help to optimise the use of the room. The atmospheric lights are there to give the room the small details and to highlight other details, or to just add that extra level of pizzazz," explains Olesen.
Working with Kubik Indretning not only ensures the best-quality products and access to a huge variety of producers but, more importantly, it sees to it that your dreams for your home are realised. It can be difficult to visualise how something is going to work or to plan exactly where your knives are going to be placed in the kitchen, but with 25 years of experience, Kubik Indretning is a reassuring partner to have on any project.
Web: www.kubikindretning.dk Facebook: kubikindretning Instagram: @kubikindretning
Subscribe to Our Newsletter
Receive our monthly newsletter by email