Love and belonging through the nostalgic shimmer of exile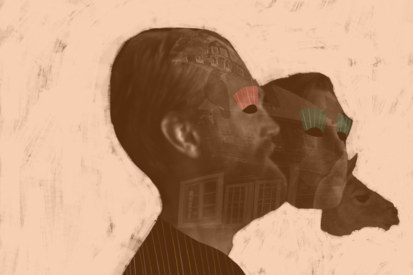 Gabi Froden left Sweden for London in 2006, but she wrote her debut novel in Swedish – and set it her home town, Norrköping. Scan Magazine spoke to the multi-talented artist about escapism, the art of freelance life, and returning to your roots.
"There's something nostalgic about getting to use the language you grew up with, a way of being poetic that I can master in Swedish," says Gabi Frödén about her debut novel, Trädhjärta ('Tree heart'). But her half-Swedish, half-Irish, Glasgow-raised toddler daughter, she admits, favours play dates with English-speaking children. Her Swedish brother, meanwhile, who has a PhD in creative writing and lectures at Glasgow University, insists he couldn't write in Swedish – and neither does Gabi when she writes song lyrics. There certainly is something multi-cultural about her – and she is multi-talented too. While much of her recent focus has been on the book, her professional career has previously consisted mostly of vocal performance gigs and freelance illustration work, the former including an LGBTQ circus show at the Roundhouse and the latter work with charities such as Positive Negatives, telling stories from all over the world about everything from sex trafficking to migration. "It's been such a joy to get to use my skills and my art for something that feels important," she says.
There is little doubt that her inner compass is quite forceful, not only in its capacity to attract paid work that serves to make the world a little more beautiful. "As soon as there's some cleaning to be done, then I'd rather do anything else, so art and writing provide an escape to another reality," she laughs. Drawing was always her favourite pastime as a child, but when talking about that escapist form of survival now, she describes it as somewhat of a curse. "I can try to put something aside, but I'll always be pulled back. It might sound exciting, but if there's something you simply have to do, then you can't just not do it and go do something else, or you'll be miserable. And yet you need to earn a living, which isn't always easy in a world where people don't like to pay for music and art," she says. "It's not always a choice; I can't live in this world and not work like this, and that's a curse. It's complicated."
She has warned in advance that she needs to be told to shut up, because she never stops talking – and it is true that she talks fast, but it comes across as genuine passion more than overbearing anxiety. "At the same time," she continues, "now that I've had a couple of years of being able to live off my art, it's an incredible feeling to think that I can have a decent quality of life and get to draw and write, and then I get this huge wave of gratitude – that I get to do this. My husband, Phil, is a drummer and producer, and this freelance lifestyle can be stressful sometimes – but it's self-inflicted. We could always choose to do something else, which is a huge privilege. Really, only rich people can be artists."
Ironically, perhaps, Gabi veered off the traditional artist path when she held off from going to art college as encouraged by her peers and teachers at a Swedish folk high school. Instead, she took up art teaching before moving to London and meeting her now husband, ending up on the music scene where she found her voice, quite literally. She released some music under the moniker Foreign Slippers and started touring, all while working as a barista at the renowned Monmouth Coffee – but eventually, it all became too much. "I was worn out," she says. "Every holiday, every weekend, it was all gigging – I never got to rest. It wasn't enjoyable anymore, so I called my manager and said 'don't call me until I call you!'. I felt quite lost."
Room to write
Cursed or not, the Gabi that chats away on the phone from her home in Glasgow sounds more contented than she sounds lost. "We can divvy up the days and say Wednesday is your day and Thursday is my day," she says about the perks of the freelance lifestyle when you have small kids. Recently, as she has been busy wrapping up her latest musical project – an album with her old Norrköping friend Gustav Spetz, under the band name Fires of May – she has been making the most of the evenings, too. "We've been sending files back and forth. I like working alone, so it's suited me," she says. "I've been blessed with kids who sleep really well, so I sit in this wardrobe singing at night – we have a small home studio with coats everywhere in our old tenement flat with thick stone walls, so you can't hear a thing from one room to another."
And somewhere along the road, from the streets of north London to the makeshift wardrobe studio in Glasgow, the seeds were sown for her first novel: a piece of young adult fiction that takes the reader back to Gabi's home town, Norrköping, and to the 1970s. There, the young Karin, the tree-loving daughter of a chain-smoking journalist, falls in love with Anja, who comes from a strict, religious home and suddenly disappears. "I think when you live in exile, you recall your childhood and your hometown through some sort of nostalgic shimmer. Plus, I'm really fascinated by that time – I think the '70s feel like a bit of a golden era," she ponders. "But other than listening to a lot of '70s music, I haven't done all that much research. The themes are universal: love and loneliness, belonging and sexual awakening – these are constant human struggles that 16-year-old girls will always be dealing with."
Having spent the first few years of her life as part of a free church in Norrköping, Gabi writes about Anja's reality as well as the geographical environments in the book with ease. "To write about the promenades and the parks, the places we used to sit drinking cans when I was 16… it was nice not to have to think too much," she explains and goes on to talk about the mysticism throughout the book, specifically in relation to Karin's deep connection with trees – another apparent link to Gabi herself, whose illustrations often feature twigs, plants and trees. And perhaps, in a way, between the rekindling of her mother tongue and the opportunity to explore that rose-tinted memory of the Sweden of her youth, Trädhjärta, more than just a story of love and belonging, is a way to come home.
Trädhjärta is out now on Natur & Kultur.
TEXT: LINNEA DUNNE | PHOTO © REBECCA FRÖDÉN | ARTWORK © GABI FRÖDÉN
Subscribe to Our Newsletter
Receive our monthly newsletter by email