Margit Artimaa: Speaking through colours
By Mari Koskinen | Photos: Sara Niskala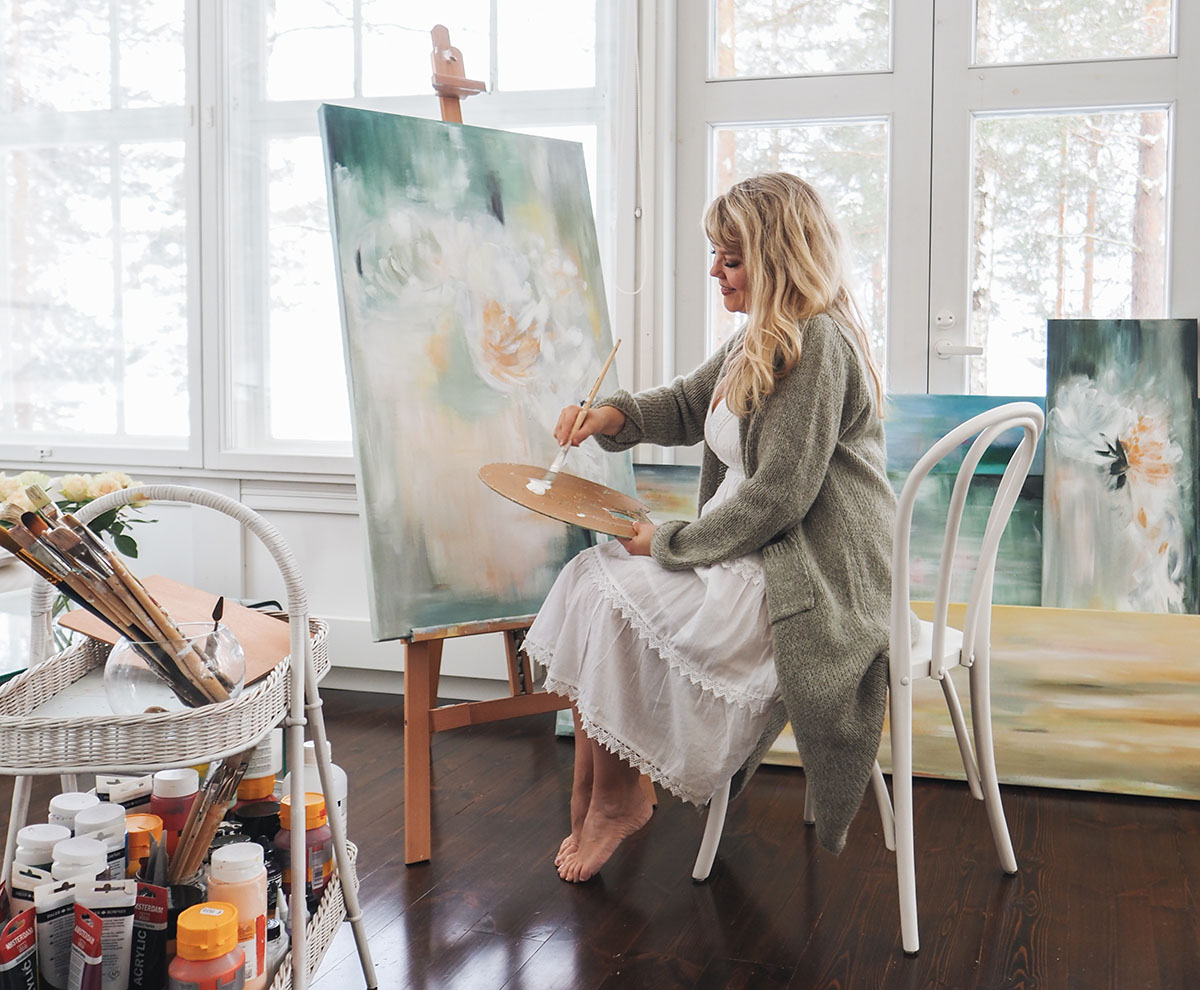 Margit Artimaa is a Finnish artist and interior designer, who combines these skills with an abundant creativity for complex art projects, like the latest one for Boutique Hotel Lillan in Tampere, Finland. There, her paintings are part of the design in each individually decorated room, and together they make up a permanent collection that spreads throughout the hotel.
Art has always been a part of Artimaa's life. She has been teaching art in primary schools for over 20 years, and it has been a great contributor in her life. "I teach students to observe their surroundings and the objects around them," Artimaa explains. "I have also trained other art teachers, and teaching has always given me the opportunity to learn more."
Besides teaching, Artimaa has always had her own business. She has, for example, made illustrations and designed logos for companies as well as her own postcard series. Lately, she has been concentrating on the paintings commissioned for private homes and public places, like in the project for the Boutique Hotel Lillan.
"For me, it's not only about me and my art; it all starts from the client and their needs," she explains. "When a client contacts me, I like to see the space the piece is intended for and see the materials, light and colours there."
She finds it very important how the space communicates with the art, and what kind of feeling and energy the art brings to the place. "In abstract art, it's the spectator who creates the final piece in their mind," Artimaa reflects. "When the client has been able to give their input during the process, the outcome is often very successful."
Interior elements and property advice
One of Artimaa's specialties is acoustic art, which acts as stylish interior elements and softens the soundscape at the same time. "The acoustic panels that I use are made to measure, and painting on them is very much like painting a watercolour; every stroke is final, and it is important that the panel stays breathable and light," she explains. Several panels can be combined as an installation to achieve the best results for the space.
As a multi-talent entrepreneur, Artimaa always looks for new challenges. She has recently started to work as a real estate agent, also. "With my experience in interior design, I am happy to help clients in styling the property before listing it, and also to help the buyers choose art for their new home," she explains.
"On the art front, my dream is to have my own exhibition in a wonderful location – a combination that will create the best aesthetic experience for the visitor," Artimaa reveals. "Often, life takes us towards our dreams step by step, when we keep imagining what we want."
Web: www.artimaa.com LinkedIn: Margit Artimaa Instagram: @margitartimaa
Subscribe to Our Newsletter
Receive our monthly newsletter by email