Maria Manda: Contemporary art without boundaries
By Karin Blak | Photos: María Manda
It's never too late to pursue a passion and María Manda is doing exactly that. Developing her distinctive talent for contemporary art, Manda now has a studio in an old converted dairy farm in Korpúlfsstaðir, a permanent exhibition at the gallery ART67 in Reykjavik, and participates in many group exhibitions.
It takes courage to turn a dream into a reality, but for Manda, her longing for freedom of expression drove her to change direction from a successful career in packaging design, to exploring her lifelong love for painting. Her energy and passion shine through not only in the art she creates, but in every word she uses to describe her development as an artist.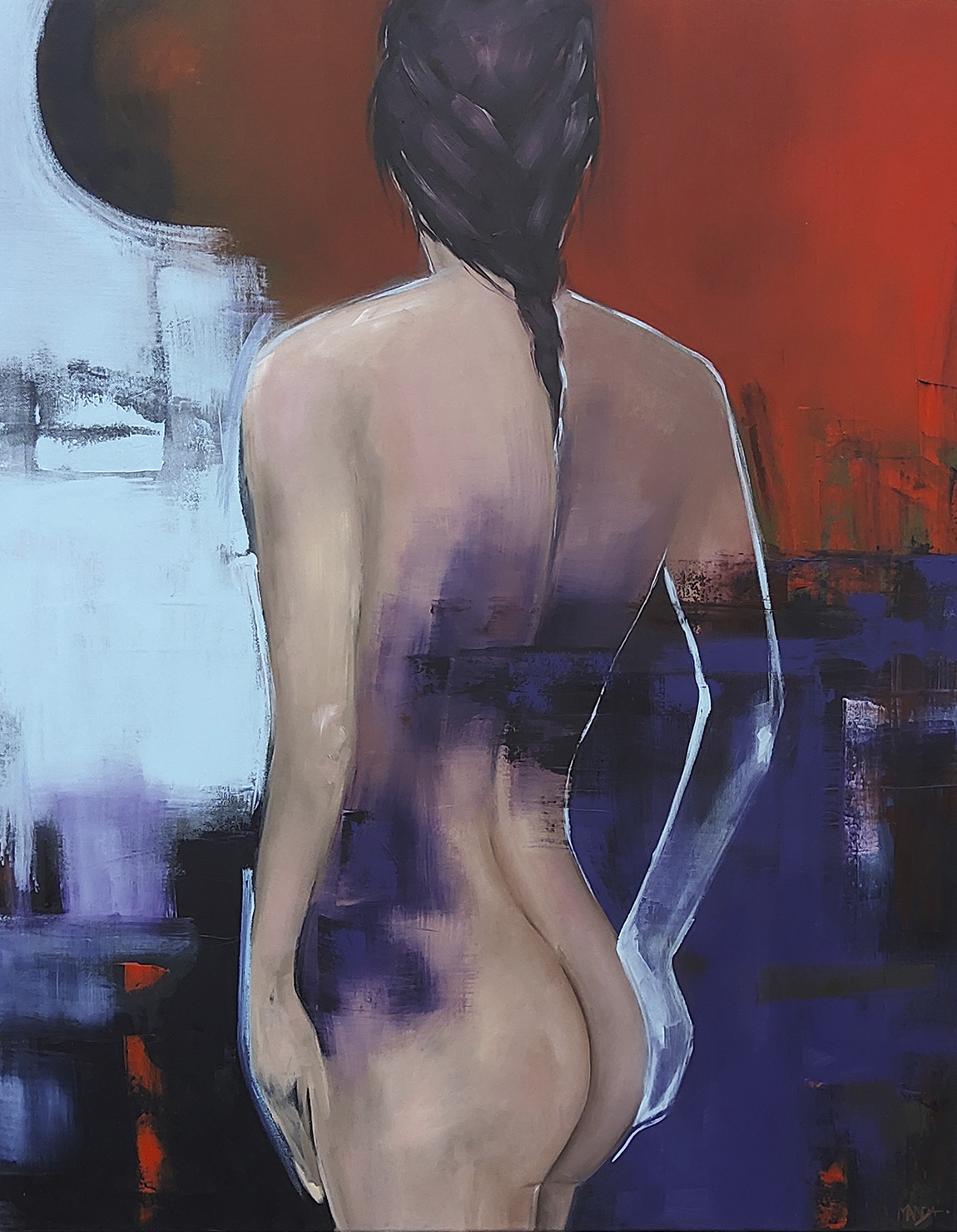 How it all began
After taking a diploma in fashion design, Manda spent many enjoyable years working in fashion. Later, as opportunities presented themselves, a change of direction took her to packaging design. Still, she longed to dedicate time to her passion: contemporary art and figure drawing.
In 2007 Manda seized the opportunity to attend art classes, refreshing her knowledge and skills in oil and watercolour. But painting remained a hobby until COVID-19 hit in 2020 and she dared to step onto her ultimate path of becoming an artist.
The change from designer to artist wasn't easy and she still finds it difficult to talk about herself in this new role, saying "its taken probably more than a year for me to accept that I am an artist, but it's gradually sinking in." She carries on explaining how the two roles, while similar in creativity, have significant differences.
As a packaging designer, the focus was on her clients, what they wanted, and how the design suited the product packaging. As an artist her work becomes personal, exposing a part of her that can be tricky to put into words. She says, "with my art it's just me and the canvas, it comes from my heart, my feelings and thoughts." She then explains, "the only boundary is the edge of the canvas, and the 'canvas' can be a piece of wood, a wall, anything."
The artistic process
Manda combines her past work experience with her art and believes that her paintings of women are crossovers between her experiences as a fashion and costume designer. "There are no rules that have to be followed in art, other professions can overlap or influence the process." This is where she finds freedom of expression.
Describing her artistic process, she gazes into space while searching for words that best articulate the unfolding of her creativity. When she started on this path, she painted the figures without hair, prompting discussions of whether they were male or female.
Manda still begins with a genderless face straight onto the canvas, recounting how the image appears in her imagination, wanting to be painted. As the personality of the image grows, it may cause her to change the characteristics or expressions, adding the details that make her art so unique, such as birds or hats. She has often wondered whether she knows these people, as they somehow seem familiar.
Her contemporary paintings have the potential for deeper meaning, and when asked she very humbly says, "I envy the artist who has something to say, they have an angle, are political or have a purpose with their art. I'm still looking for my voice." When audiences ask about this or the stories behind the art, Manda, instead of imposing her own ideas, hopes to inspire people to assign their own personal meanings to what they observe.
Into the future
Being an artist tends not to offer a monthly salary and "art can be a harsh employer" she says. To allow her artistic life to expand, Manda works as a tour guide travelling around Iceland showing her beautiful country to visitors – but this role supplements her art, which takes centre stage. "My life is very liberating but also challenging. I love challenges and have always pushed myself to learn and experience new situations," she says.
Manda has recently become fascinated by working with clay and creating sculptures, the 3D aspect of which is appealing to her. Developing her skills and exploring the unknown is a top priority for her, allowing her to grow her experience and improve as an artist.
With an open mind and a willingness to learn, María Manda is an artist to watch as her confidence grows, and her work becomes better known. Having a Manda hanging on a wall is a point of interest and encourages discussion. It's a piece of pride to adorn a home or office.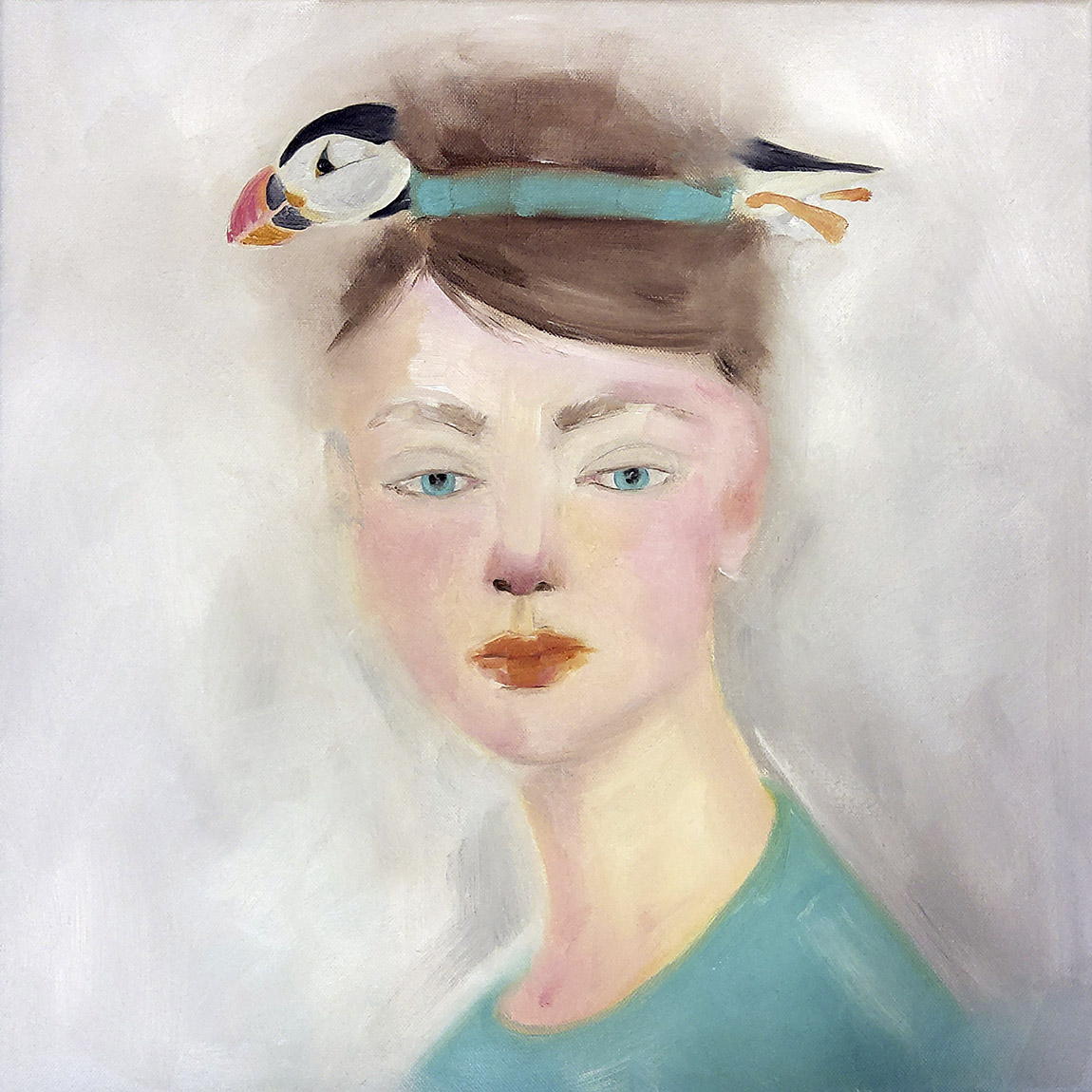 Web: www.mariamanda.com
Gallery: www.art67.is/maria-manda Instagram: @mariamanda_art Facebook: mariamanda_art
Subscribe to Our Newsletter
Receive our monthly newsletter by email