Martin Jensen: Denmark's solo dance rock star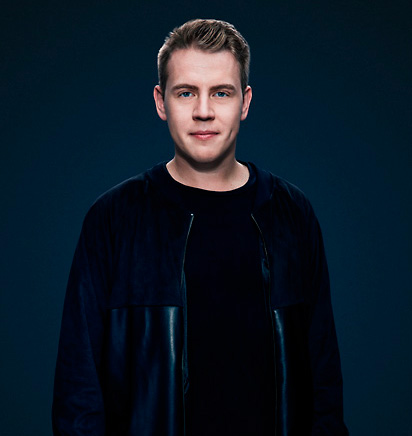 Featuring on DJ Mag's Top 100 DJs list, and having officially remixed artists including Katy Perry, Ed Sheeran and Olly Murs, Martin Jensen is not a novice anymore. Just over a year ago, however, things were pretty different. Scan Magazine spoke to the Danish DJ and producer about making the jump, playing Tomorrowland, and collaborating with his fans on his brand-new single.
"There wasn't much on my mind at all back then, because my time was filled with work: I had to go to my normal day job, and then I had to go touring the world. I pretty much wasn't sleeping at all between April and November," Jensen says when asked what was going through his mind last year, when things started to take off. He had been keeping down a demanding full-time job as a mechanic in the family business in Jutland for ages, despite his music beginning to make waves across the globe and an increasing amount of media requests and gig invitations starting to come in. "On 1 November last year, I decided I couldn't handle it anymore. I was too tired and had too many meetings, and I had to keep taking time off to travel and do interviews and meet with my label and… well it just didn't feel fair to the team back home."
Born in Silkeborg in 1991, Jensen cannot pinpoint a moment when dance music won him over – it was always there. In 2007, he started DJ-ing, mostly as a socalled 'mobile DJ', playing small birthday parties, school discos and similar community gigs. "I did that for about eight years and then decided to try to move into the club scene. Quite quickly, I got resident DJ gigs and, a year or so later, I felt bored and gathered a team to start producing my own stuff," he says.
Going viral
While standing in the spotlight was something that appealed to him, he never anticipated that making and releasing music would become his job. But when he released his first single, Sí, in 2015, it became clear that he was onto something. The remix of a Cristiano Ronaldo FIFA Ballon d'Or celebration from the previous year went viral and won him a huge fan base in the Latin countries, and the follow-up single, Miracles, featuring the singer Peter Bjørnskov, clocked up more than 20 million streams on Spotify. "It was all pretty weird," says Jensen. "It was clear that my music was really getting out there, yet I didn't have any gigs. I think I had four gigs that summer – that was it – and I wasn't really sure if my music was reaching out properly or not. It was quite hard, actually."
A new agent and his thus far biggest single, All I Wanna Do, put an end to his anxieties. Reaching 100 million streams on Spotify and prominent peak positions in the charts across Scandinavia and the Netherlands, Jensen established himself as a name to be reckoned with on the energetic and tropical house scene, before taking the world by storm with the mega hit Solo Dance. "Things just kept building – it's been good," he says. "We got to about 70 gigs last year and will hopefully reach 200 by the end of this year, so things are looking good for 2018. It's taken me to Asia, throughout Europe, South America… Solo Dance really pushed me."
A moment to remember was when Jensen's agent got a call from Tomorrowland, one of the world's biggest electronic music festivals. "I wasn't sure if it was a joke or not. I was all, 'please let it not be a joke, are you really serious or are you kidding me?'" says the DJ. "But we got the offer, and it was crazy, playing the main stage at Tomorrowland – my first time ever playing there. It was fantastic. Now the aim is to go back next year and play the main stage again, but a later slot this time."
He talks about taking the plunge, making the decision to go for music fully and whole-heartedly without a safety net, and uses the analogy of jumping – literally. "You want to jump, but if you land too quickly you'll never get anywhere in your career," he explains. "But if you jump off a cliff and you're not sure where the ground is, you can keep falling. Until you hit the ground, you haven't fallen. I haven't touched the ground yet, so that's why I'm still here." This seems characteristic of a DJ who refuses to focus too much on already achieved victories or specific future goals. "I don't want to set any more really tough goals, because I don't want to get stressed out about doing another global hit or something like that. I want to do it again, and it's my passion to do it again – but at the end of the day, the fact is that I really need to be here just making music and being me, you know. I want to create music for people to listen to it because they enjoy it."
'DJs are the new rock stars'
Jensen has always had a genuine relationship with his fans, and this year, he took it to the next level by asking his 2.5 million Facebook followers to not just help him, but contribute to his next single in an explicit sense. Going all in with his motto of 'I will find you and sample you', he created an app and got fans to submit vocal recordings – and now he is sitting on a gold mine, he says. "Some of them were funny, some of them were crazy good; this one girl, I thought she was amazing, like ridiculously good. So now I have all the videos and can search for people whose vocals have never been used before, and maybe I can track her down…"
The new single, Wait, is a vibrant, exotic house tune complete with vocals by Emma Lov of American duo Loote – yet another banger to prove that the dance scene is not just alive and well, but changing the music scene at large. "I think the DJ is the new rock star," says Jensen, using 21-year-old global star Martin Garrix as an example of a source of inspiration. "15 years ago, DJs were nearly non-existent, but how many DJs are around now? There are loads – DJs are taking over everywhere with great music and collaborating with all kinds of musicians from different genres. It's cool, because it's bringing some original old music back to the dance scene, and people are loving it."
It is tempting to refer to Jensen as the new shining star on Scandinavia's dance music sky, but he refuses to look at it that way. "Why are the Nordics producing so much good dance music? I think there's very little do to here, so people sit in their studios and make music," he laughs. "But I'm in my own little bubble and can't say that I represent Scandinavia; if I start to think of myself as bigger than the other guys, I won't work as hard. I just want to be the guy who makes music people enjoy and sing along to. If people sing along to my music, that's what matters. I've made music with my heart and soul, and I think that seems to be going pretty well."
TEXT: LINNEA DUNNE
Subscribe to Our Newsletter
Receive our monthly newsletter by email