Mösseberg Health Resort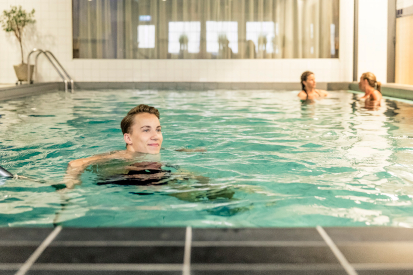 Timeless elegance and contemporary luxury
TEXT: LIZ LONGDEN | PHOTOS © SEBASTIAN STREITH
Visitors have been coming to Mösseberg to relax and re-energise since 1867. While much has changed in the world in 151 years, the health resort originally described as Sweden's most beautiful, still dazzles its guests with an intoxicating combination of old-school elegance and the highest modern standards.
To stay at the Mösseberg health resort is to follow in the footsteps of generations of celebrities and members of high society. Royalty, diplomats, artists and entertainers are among those who have flocked to the natural waters of St. Erik's spring to mingle, relax, see and be seen. And today, Mösseberg continues to attract high numbers of guests throughout the year, seeking to recharge their batteries in a unique setting.
The hotel's historic elegance is undoubtedly one reason for Mösseberg health resort's enduring popularity, shining through in its striking period architecture and its magnificent 'Jugund lounges', which date from the early 20th century and boast Northern Europe's largest collection of Art Nouveau furniture. There can be few health resorts where a sense of history can be felt so keenly.
Yet the resort is far from a museum, and also offers attractive modern convenience. As hotel manager Ursula Frölin explains, the fact that everything is under one roof, and that the hotel is large enough for guests not to feel cramped in, is one reason for its popularity. Another is its location, which offers a perfect balance between convenience and tranquillity. "We're very close to Falköping railway station, so we're very easy to get to and located very centrally. At the same time, you don't get the feeling of being in a town centre – even if it does, in fact, only take a few minutes to get into town."
Surrounded by nature
The sense of being out in nature comes from the resort's idyllic setting, which overlooks Mösseberg park, an area renowned locally for its natural beauty. In 1746, the botanist and 'father of modern taxonomy' Carl Linnaeus marvelled at the richness of Mösseberg's flora, and visitors today will be similarly enchanted by the surroundings. Whether it be picking a handful of wild cloudberries, enjoying a stroll or run through the park's many footpaths, or climbing to the top of the viewing tower, which was built in 1902 and offers a breath-taking view of the local area, the park is perfect for those who enjoy winding down outdoors.
Of course, the heart and foundation of the Mösseberg health resort is its natural spring water and hugely popular spa, and this is currently being developed and expanded. The renovation will broaden the range of facilities on offer and enable the spa to accommodate more guests – something made necessary by the health resort's ever increasing popularity. "We have been very busy for the past few years and it doesn't show any sign of slowing down," Frölin explains. "By extending and enhancing our spa, we hope to be able to offer an even better experience and to even more guests."
The new spa will open in November and, in addition to the two existing outdoor warm water pools, sauna, steam bath, foot bath and relaxation area, will also offer a heated indoor pool and shallow relaxing pool, where guests can sit and recline, immersed in the water. And, as always, the spa will continue to offer a broad range of luxurious spa treatments.
Authentic cuisine
If a few hours in the spa or in the hotel gym leave you with a hearty appetite, the hotel restaurant offers a culinary experience that is unlikely to disappoint. As well as being one of the first businesses in Sweden to achieve the 'Cittaslow' certification as a champion of the 'slow food' movement, the hotel is a member of 'Smaka på Västsverige' ('A taste of West Sweden') – an accreditation scheme that recognises restaurants offering authentic, high-quality cuisine, using the finest ingredients from local and small-scale producers. "We find that, more and more, guests would like ingredients to come from Sweden. But we try to go a bit further than that and, as far as possible, buy our produce from local farmers and producers, even down to the beer that we offer," says Frölin. "From our perspective, it feels like the natural and obvious thing to do."
Something else that Frölin feels is natural and obvious is the investment that Mösseberg makes in its staff. "Our staff are extremely good and we take great pride in them. We know that if our staff are happy and enjoy working here, that will also be reflected in the experience that our guests have with us. And that, ultimately, is what we're all about."
Subscribe to Our Newsletter
Receive our monthly newsletter by email