Noomi Rapace: 'I crave connection'
By Paula Hammond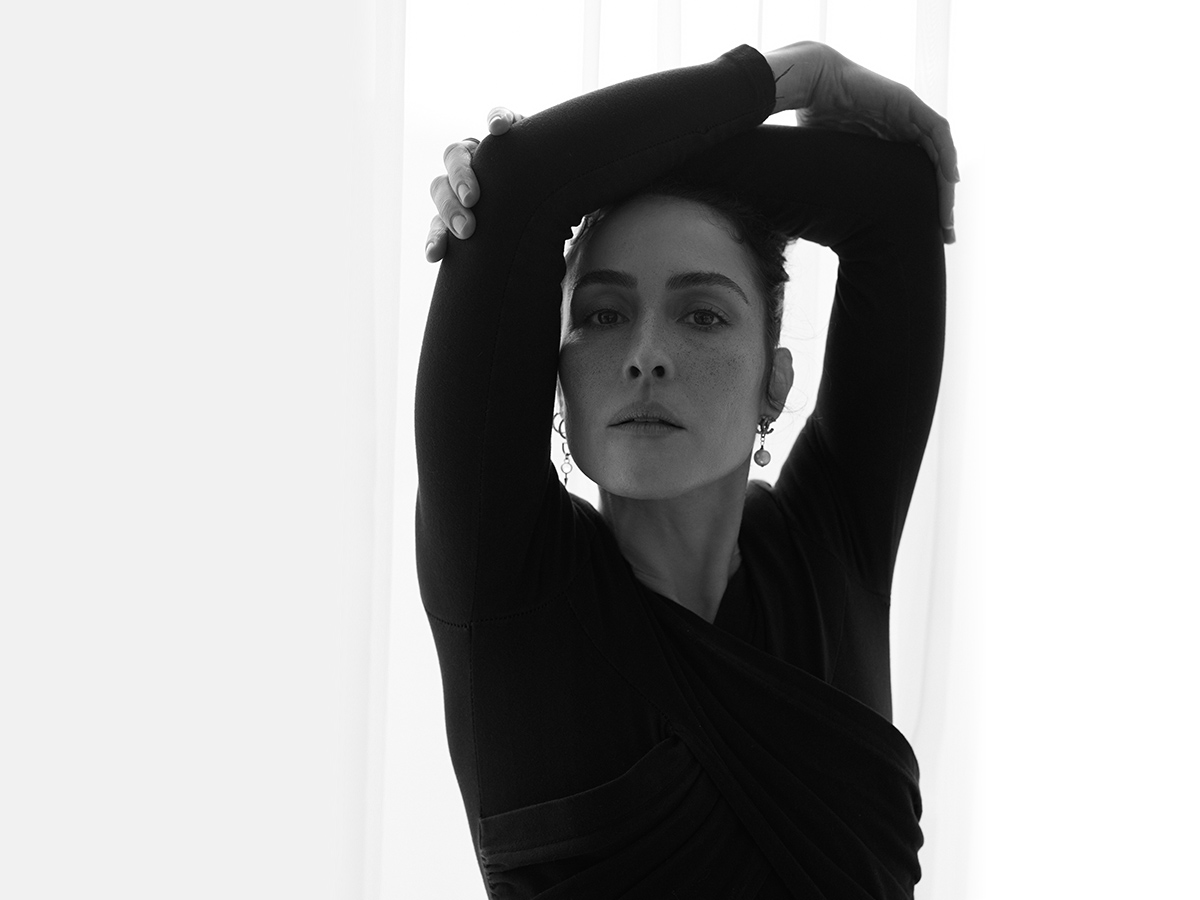 "Film is really, for me, the most beautiful form of communication and storytelling. I wish politicians, and leaders, and the people that sit on the big money and make the big decisions would give more support to the arts, because it's medication for the soul… and that's something we can totally see now during this pandemic."
Noomi Rapace's love affair with the arts began when she was seven, living in Iceland with her family. "My mum and my stepdad, who is Icelandic, were both part of a film called In The Shadow of the Raven," she says. "I basically tagged along and got a small part as a kid in the crowd. I was dressed up as this Viking – and it changed my life. I felt like I had discovered a paradise. A place of total freedom – and I didn't want to leave. I remember that I refused to take my dirty Viking clothes off at the end of the day. That was the beginning of the journey, and it's been my longest love story."
It's a journey that's taken her around the world, from her native Sweden to the high-pressure red-carpets of Hollywood. "I think," she laughs, "that I always knew I was going to leave Sweden. I felt that the world was mine and I belonged to everything and everyone. I've never had a specific place or country that I considered 'I am', and I've felt like that since I was a child."
Something old
These days, Rapace lives in London, but her work takes her all over the world — something that's been hard during a pandemic, when she's occasionally found herself "trapped on set in different countries" and unable to get back home to see her son.
Her most recent trip took her to Iceland, where she's been filming the dark, compelling fable, Lamb. The genre-defying film tells the story of a couple, María (Rapace) and Ingvar (Hilmir Snær Guðnason), whose life on a remote farm is shaken by an unexpected arrival. When the couple decide to keep the newborn, they find themselves pitted against family, nature and forces that are far more elemental.
"I grew up on a farm in Iceland," Rapace explains, "so I'm no stranger to that life: to hard work, the outdoors, getting my hands dirty. Everyday life on a farm is quite intense. Life and death is always present. You see animals get born and you see them die, but I've never delivered a baby lamb before and I've never driven a tractor, and both happened on my first day on set. It was full on, and it really felt like the birth of the movie because, after that, María moved in and she stayed in me for the entire shoot."
The film is a homage to wild, untamed places. Valdimar Jóhannsson's deft direction puts the still beauty of Icelandic scenery at the heart of the story, while evoking a sense of wonder and belief in the impossible. But, as Rapace reflects, while the story may surprise many, Icelanders have always had a deep connection to old places and old beliefs. "When I was growing up, my mother always spoke about the elves and the fairies. She always said 'they're here'. So, from an early age, I was very open to the idea that there are things that are present but we can't see. I think a lot of Icelandic people have that view and that kind of belief, but it's very matter of fact. There's nothing mystic or strange about it. It's just everyone knows – don't cross that field because the elves will get angry."
Lamb couldn't be more different from films such as A Game of Shadows and Prometheus, which propelled her to international stardom. "It felt," she reflects, "like a great gift had been given to me. A beautiful opportunity for me to go back to my roots and reconnect with the side of Noomi that used to do arthouse films. It was just pure acting. No fighting. No green screen. No wires. It felt like emotional oxygen."
Something new
For Rapace, acting is all about emotions, connections and getting to the heart of what makes people tick. As a devoted people watcher, she's always been interested in knowing how people become the way they are — in "putting the puzzles together".
It's something that feeds naturally into her craft and can make switching off, and finding Noomi again, quite difficult. "I haven't really figured out that part yet," she admits. "When I shot Lamb, María was living in me for the entire shoot. It's not like I think I'm the character. You don't need to call me by the character's name. But she did take over my dreams, and my thoughts. My entire being was occupied by the character. I guess I just embrace it and let it happen."
While she's better known these days for her film work, theatre is also very close to her heart. "The last time I was on stage, I played Medea and I did 50 shows. Coming home from killing my kids on stage every day, every night, was really brutal, so I had to take a proper break," she says. "That was 14 years ago, but I feel like the urge to go back to the stage is starting to creep up on me. But, it needs to be with the right people. For me, acting is never about the role. I don't want to play Macbeth or Blanche in A Street Car Named Desire. It's all about collaborations. Who I'd love to work with. Who I would like to be on stage with. Who I would like to play with. Who I want to spend all those hours with."
Listening to Rapace chat, it's clear that she cares more about her art than about any incidental fame or fortune. "I don't really find the fame part that exciting," she says. "I'm very interested in people and, when I have too much attention on me, that takes that away. It's communication, the connection with someone else, that I crave."
Valdimar Jóhannsson's striking debut feature film, Lamb, will be available exclusively on MUBI from 25 February 2022.
Subscribe to Our Newsletter
Receive our monthly newsletter by email