Petra, Petra, Petra!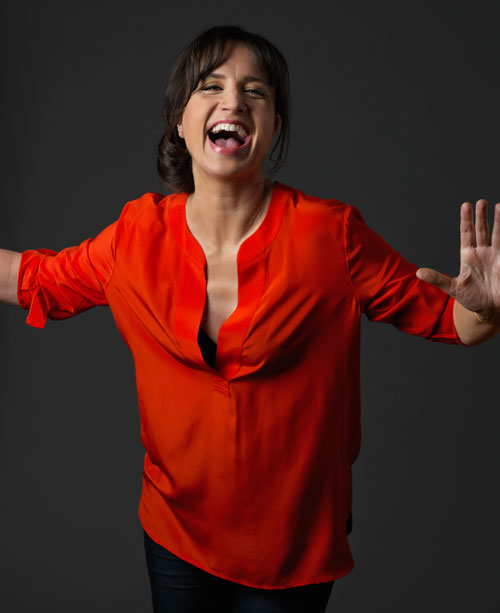 As one of the most successful Swedish comedians of all time, Petra Mede made the world aware of her sharp humour, poisonous tongue and brilliant entertainment skills as the sole host of the grand Eurovision Song Contest in Malmö, 2013. Now facing another international challenge alongside one of Britain's most acclaimed funnymen, Petra sits down with Scan Magazine to talk about the road to success, the importance of self-adoration, diva-hood and the BBC.
"I guess maybe I am!" Petra Mede exclaims when asked if she would be more comfortable with the epithet 'jack of all trades' rather than being fitted into one professional category. With a portfolio as broad as Petra's, boxing her in would prove very difficult. With successes in stand-up comedy, various TV shows, gala-hosting, TV-presenting and acting, she sure does cast a wide net.
"I'd love to be a proper Diva"
As an all-round entertainment machine, it is hard to imagine any grounds Petra ­hasn't­ set her boots on. Earlier this year she hosted the 50th annual Guldbaggegalan, Sweden's largest award show celebrating the film industry. It was her third time hosting the gala, and along with other honourable offers and hosting jobs she is now one of the most skilled presenters in Sweden – potentially Scandinavia. Surely an achieved objective like that would be enough to satisfy even the most tickling career hunger. Yet, the future for Petra is filled with exciting opportunities and plans for toes to be dipped in new waters. "I like being able to do a little bit of this and a little bit of that, and I realise how incredibly privileged I am being able to transmit that restlessness into a career," she says. Be it privilege or simply the reward for years of hard work and raw talent, Petra has in relatively few years made a big impact on the Scandinavian entertainment scene. On stage Mede presents herself with a certainty and a larger-than-life presence found in world supernovas. "I'd love to be a proper Diva, unbearable and arrogant," she laughs, "but it doesn't work at home unfortunately."
From tour guide to fate-propelled comedian
Having performed from a very young age, Petra found ways to work her comedic talent into her stage presence early on, but it would take a long time before she found her way to professional comedy. "I did classical ballet for so long," she says when we talk about her time at the Swedish Ballet Academy. "The focus there was dance, discipline and dedication. It was all very serious and at that point, comedy was far, far away from my everyday life. Don't get me wrong, I had such fun times with the people I trained with, but professionally speaking, being funny was not at all on my mind." Fate, however, was waiting around the corner as Petra injured her back and was forced to give up dancing altogether. After going back to university to study languages, she became a tour guide in Stockholm where she had to stand in front of curious tourists every day and talk about the city. "I started to come up with ways to keep them entertained during the tours. I made fun of the archetypical introverted Swede and made people laugh at their own prejudices, which was fun. If life had taken a different route I'd probably still be doing it."
But fate had, yet again, mapped out a different route. In 2005 her friend signed her up for a stand-up competition, which left Petra the winner. After that, things started moving really quickly. Within two years she was doing comedy full-time and was able to make a decent living by being funny. "Stand-up comedy, like any other industry, is very sensitive to trends, and when I 'made it' it was a kind of raw tone that was the hottest thing," she explains. TV-shows like RAW Comedy and Roast at Berns were two hugely popular programmes that launched a lot of new famous talents, while simultaneously boosting the careers of more veteran comedians. The new, young stand-up audience was hungry for more. "It was easy for me to find my voice in that climate, it went well with my natural humour and the way I joke with my family and friends." This can often be seen in Petra's routines and shows: the stingy comments, the sharp tongue and a tone dripping with sarcasm, something that may not be completely aligned with every occasion. "I quite often have to be censored," Petra admits. "When I write skits and bits for a gala or any other show, other writers go through it afterwards and scratch the really nasty parts they think will cause riots," she says.
Ellen, Tina and Amy – and a little Midler
As one of Sweden's biggest names in entertainment, Petra Mede looks to the greatest for inspiration. "When it comes to hosting events and award shows, I really like Ellen DeGeneres, Tina Fey and Amy Poehler. They are sharp, quick, and I like the way they brutally deliver punchlines by simply speaking the truth. Using that raw kind of truth-saying is a delicate thing. All depends on the audiences' reciprocation, and it's not always spot-on, of course. You have to be able to 'feel the room' and situations, but when you get it right, it's hilarious, shocking and it gives people something to think about."
Mentioning other giants who have paved the way for Petra's cultural career and interest, we come to talk about Bette Midler. "I grew up loving what she did – she's such an all-rounder. She's funny, a hard worker and she's not just the one thing. She does a multitude of things and has skilfully managed not to be placed in a box. She does it all." Describing Midler like this, the parallels to Petra herself are not far away. To this she laughs and then says confidently: "You know what, I think you're right, there is a little Midler in me. My one and only downfall is that I can't sing all that well," she says with a laugh. "Other than that, I'm basically flawless. I value myself very highly," she adds. She's not the only one.
Honouring 60 years of ESC
On 31 March Petra will enter the stage at Eventim Apollo, Hammersmith in London, side by side with TV presenter extraordinaire Graham Norton. Together they will host the Eurovision's Greatest Hits as part of the European Broadcasting Union's celebrations for the 60th anniversary of the Eurovision Song Contest. "It is nothing short of insane," Petra exclaims. "BB freaking C! And then me. And Graham! Oh my…" she muses. The expectations are high ahead of the big-scale celebration, which will be broadcast in over 20 countries. Winners from Scandinavian countries like Sweden, Denmark and Finland will join last year's winner Conchita Wurst and representatives from eight other countries in this grand concert. "I just hope I can do the event justice and the fans proud," says Petra in a moment of humility. "It's a big deal."
By Astrid Eriksson, published in SCAN Magazine issue 74 – Marts 2015 | Photo: Mats Håkansson / keepthepace.se
Subscribe to Our Newsletter
Receive our monthly newsletter by email