Randi Antonsen: Positive art with mysterious, curious undertones
If you visit Gallery VY in Verdal, you can discover beautiful and expressive art by the Norwegian artist Randi Antonsen, along with selected guest artists. Her paintings present a combination of bold colours, shapes and nature with a sense of mystery, which comes to life through little stories the artist herself constructs. "When I work, I somehow build a world for myself – a positive place I enjoy belonging to and want to invite the observer to discover," Antonsen explains.
TEXT: INGRID OPSTAD | PHOTOS: RANDI ANTONSEN
Randi Antonsen was born in Harstad and raised in the small fishing village of Gryllefjord at the far end of Senja. Here, in the midst of the contrasting nature, the towering mountains and the huge ocean, she discovered an interest for art. "Art has been with me through my whole life in different forms, but coming from a smalltown in Norway, it was difficult to pursue it as a career," she says. This resulted in her moving to pursue her artistic passion. Her journey started in Oslo, where she studied art, before working as an art educator in the northern part of Trøndelag. After this, she opened her first gallery in Inderøy.
Norwegian artist Randi Antonsen
Antonsen has over the last 20 years worked as an artist and art educator while participating in numerous exhibitions both in Norway and abroad. In the autumn of 2016, she opened her own gallery inside an old, charming former retail space. With the short and catchy name VY, which loosely means 'view' in Norwegian and is a nod to its location, the gallery has become a cosy addition to Verdal. Inside the gallery, the artist also has her own workshop, making it possible for visitors to experience her in action as they walk through the exhibition space.
Gallery VY primarily showcases work by Antonsen, but she occasionally also invites guest artists to exhibit in the space, making it possible for art lovers to discover new and exciting artists they might not have heard about before. "I find it exciting and inspiring to invite guest exhibitors to my gallery. It makes the space more vibrant and alive when I can connect their art with my own. The artists I choose are not the most famous ones, but simply those I admire and like, those I want to showcase to my visitors," Antonsen explains. She has hosted guest artists from Guatemala, France, and Sweden, but lately the focus has been on displaying local, Norwegian art.
Mirror.
'Art must be seen and experienced'
"I am very fond of and work closely with nature when I express myself through my art, and I love working with colours. I am also passionate about dreams and subconsciousness, something I'm actively trying to understand," Antonsen says. "After all, I believe art must be seen and experienced, and it can therefore sometimes be difficult to put it into words without doing so. It is all about intuition, to understand something instinctively without the need for conscious reasoning."
The artist works with acrylic paint, which has a myriad of properties, and a method of layers where elements and techniques meet to bring out different depths and new connections. With a colourful, emotive and expressive style, Antonsen manages to captivate the spectator and bring them into her own little world. "I want my art to be perceived as something positive, but it can often have a slightly mysterious and curious undertone," she says. "And it is important to me that it's beautiful!"
Antonsen often creates images in the technique described as digital graphic artwork, a relatively new technique in the art world, which the Norwegian artist Pushwagner is known for. The procedure is reminiscent of screen printing, but the difference lies in how the colour and ink are attached to the sheet. It also gives the artist greater control over the finished product.
A spirit in the sky.
What is a memory?
Lately, Antonsen has been especially fond of memories and has worked hard to try to capture these on the canvas. "The theme of my last collection relates to our recollection and reminiscence of the past. For this, I created a series of round images with female figures, which all relate to the question: what is a memory?" The artist invites the observer to discover what their own answer to this question is.
With its colourful and vibrant expressions, Antonsen's work has become popular on social media. "I sell my art in the gallery and through my webshop, but I actually sell quite a lot on Facebook, too, these days. It's so nice, because I can connect with people from different parts of the country and the world to help give them a unique piece of art for their home," she smiles. Her artwork can also be experienced in various exhibitions throughout the larger cities of Norway.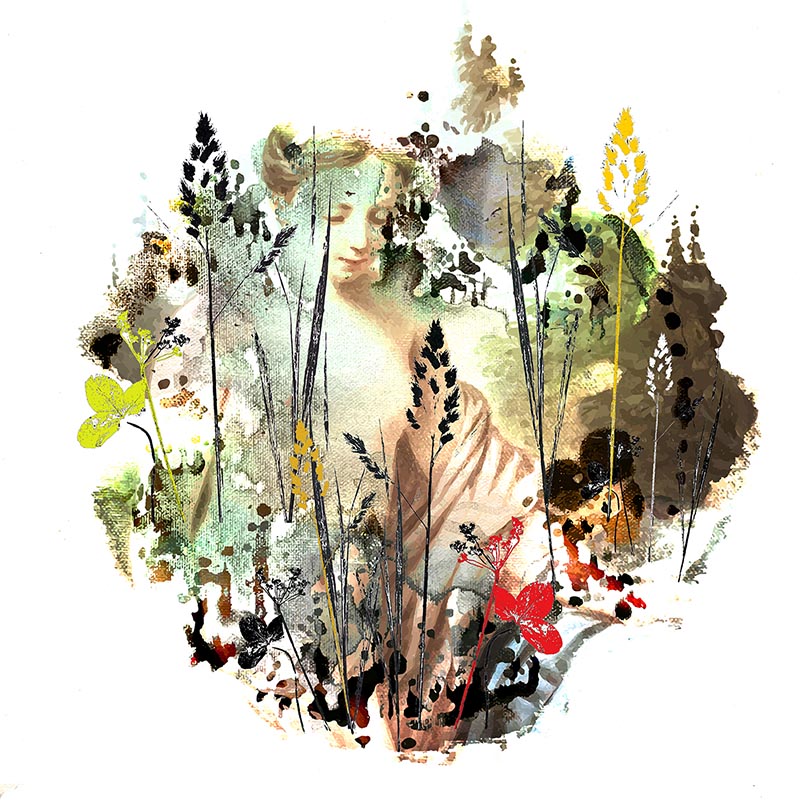 Summer.
Guest exhibitors at gallery VY this autumn:
Kine Hellebust, known from the Norwegian performance group Tramteatret in the '80s and '90s, will exhibit her photography.
Maria Irina Larsen, originally from St. Petersburg, is a puppet maker who will display artwork created with dolls.
Opening hours:
Thursday to Saturday, 12-4pm
Also open by appointment
Web: www.randiantonsen.com and www.vygalleri.blogspot.com
Facebook: randi.antonsen
Instagram: @randiantonsen
Subscribe to Our Newsletter
Receive our monthly newsletter by email