Rhys: An urban shooting star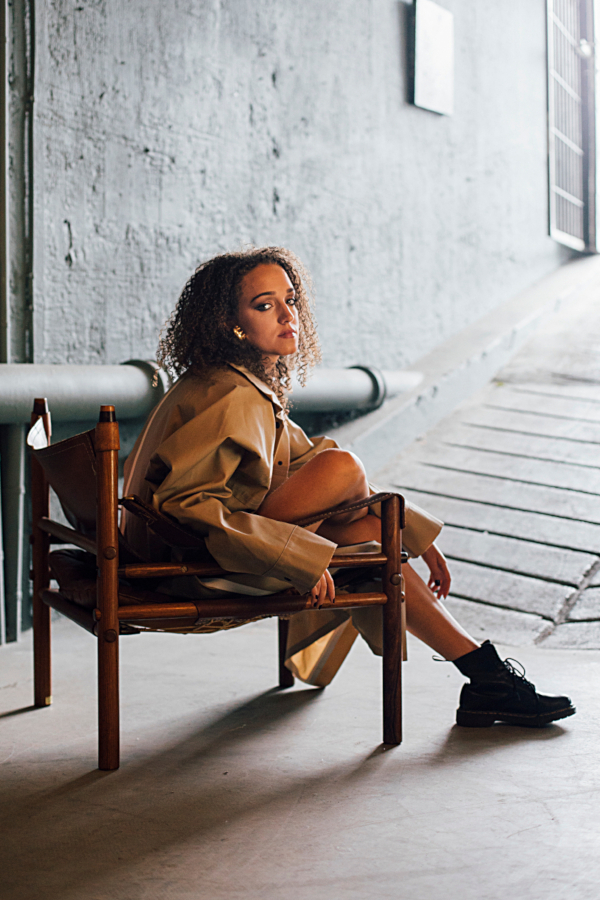 After spending the summer touring and playing for increasingly larger crowds in her home country of Sweden, up-and-coming artist Rhys is ready to take on the world. Scan Magazine caught up with her as she was navigating her way through the busy streets of Stockholm, a few weeks ahead of the September release of her debut album, Stages.
In the run-up to album release day, Rhys Clarstedt's days are filled with meetings and last-minute decisions, making sure that every little detail is exactly how she wants it to be. "I want to make everything perfect," she explains. "I don't want to feel insecure about anything when I release the album."
But even though Rhys might be a new name for some, the bubbly artist has spent most of her life singing and dancing: initially through being involved in musicals and theatre, then through talent shows, attending musical schools, and gradually developing as a singer and songwriter. At the age of 18, she was introduced to Grammy-nominated Swedish songwriter and producer Jörgen Elofsson, and they began working together. The result so far includes five singles, an album, and the prospect of a very bright future. But this path even being an opportunity was not always something Rhys dared to dream of when growing up.
Born in Portland, Oregon, Rhys moved with her family to her mother's native home of Sweden at the age of ten. "My mum wanted to go back to Sweden," Rhys recalls. "She had been in the States for 17 years and wanted to go home." Ten-year-old Rhys did not at all agree with the decision, but was fortunate enough to make a friend on the very first day of school. "I was lucky, she took me under her wing. But I didn't speak Swedish, I wasn't used to the culture, and I came from Portland where everyone is extremely friendly."
The culture clash was difficult to process for the young girl. For the first time, she was introduced to the Scandinavian mentality of not immediately opening up to everyone you meet; to preconceptions of America; and to etiquette — how to be proper — using the right cutlery; not placing your elbows on the table; and looking people in the eyes and nodding whilst raising your glass during a toast.
Despite the move being difficult to process at the time, in hindsight, she sees that it was the best thing that could have happened to her. Even musically, she is aware of the benefits of starting out in Sweden. Not only does the dual culture and background let her tap into two completely different sources of styles and sounds when creating music, but launching a career in Sweden gives her a very different reach than she would have had if starting out in America. "In the States, I feel like there might have been a smaller chance to get in contact with a big songwriter or someone who can help you with your career. It's such a big country, and that makes it a lot harder," she says. "Taking on Europe and America feels like the natural next step for me, so I just want to get good at what I'm doing first. I want to be prepared for when I take on that market."
Some dreams do come true
On the flip side, starting out as an artist in Scandinavia meant she had to deal with 'Jantelagen' — the 'Law of Jante' — the collective mentality that nobody should feel or act differently to, or better than, anybody else. Rhys says that it took some getting used to the idea that you should not stand out. If she told somebody that she wanted to be an artist, instead of the enthusiastic American response of 'Go for what you want!', people would ask: 'Are you sure? Go for what you can get!' "I was starting to question whether it ever happens to anyone," she says. "Does anyone ever get what they want?"
But as it turns out, some dreams do come true, if you simply decide not to settle for what you can get. Rhys stood her ground, worked hard, and the results are starting to show. This past summer, while touring Sweden, she noticed people starting to sing along to her songs during the shows. "That's kind of a new thing," she comments eagerly. "I feel like that was when people started connecting my face to my songs."
Going on stage can be nerve-wracking for any artist, however experienced, but Rhys feels like seeing the audience sing her songs and be familiar with the lyrics makes it all worth it. "I did about 30 shows over the summer, so I've kind of forced myself into their brains," she laughs. "They have not been able to avoid me!"
But even abroad, Rhys is starting to gain traction. Earlier this year, her song Maybe I Will Learn was used in the MTV reality TV series Catfish, a huge opportunity for an up-and-coming artist to be heard by millions of people all over the world. Making a career in music is difficult, and having that extra little bit of luck can increase your reach drastically. Sometimes, being featured on a popular TV show can be a doorway into a territory like America.
Mixing urban sounds with Scandinavian melancholy
But however helpful a little bit of luck can be, it is not something Rhys relies on for success. Hard work is the way to go. In September, Rhys' debut album, Stages, was released to very positive feedback from the press. It is a fresh-sounding album that has an upbeat sound and a production that embraces the urban, worldly feel of her American background, as well as the dark melancholy and sadness of the vast Nordic landscapes. Her music is a diverse soundscape that feels similarly familiar and new, with songs like Last Dance and Too Good To Be True having become massive radio hits in Sweden and achieving critical acclaim internationally too.
The duality of her sound is a recognisable signature that helps her stand out among all the other pop artists of today. For Scandinavians, the urban part is exotic, and for the rest of the world, the Scandinavian sound is equally intriguing. But with such a cheerful and outgoing personality, where does the melancholy in her lyrics come from? "I think it could be the weather and the fact that we have really long winters," she muses. "That's definitely when I write all my saddest songs, in the winter when it feels like there's no hope and no light. But being sad is the best time to write a song!" she laughs.
Now, Rhys is ready to take on the rest of the world with that unique Nordic inspiration behind her music.
Stages is available now.
Facebook: socialrhys
TEXT: LINNEA DUNNE
Subscribe to Our Newsletter
Receive our monthly newsletter by email