Röda Sten Konsthall: Contemporary art and creative activities for all ages
By Malin Norman | Photos: Ellika Henrikson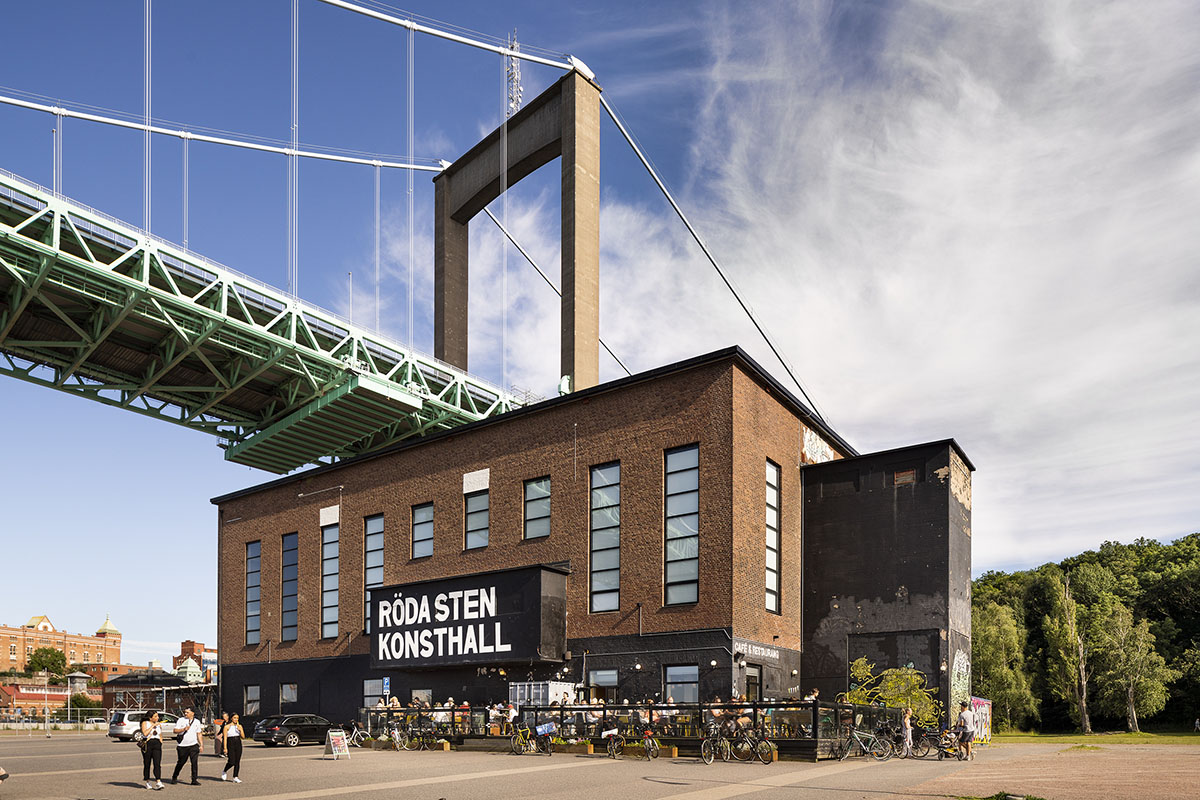 Röda Sten Konsthall is a creative, urban destination with a fascinating historic past, in close proximity to beautiful nature. Located under the Älvsborg Bridge, it could be said that it feels a bit like being in New York.
Röda Sten Konsthall is a popular recreational area in Gothenburg for tourists and locals including graffiti artists, skaters, dancers, sunbathers, strollers, families with children and senior citizens. "Röda Sten Konsthall is a magic meeting place for people of all ages," confirms Mia Christersdotter Norman, director. "Here, you can experience exhibitions and performances by Swedish and international contemporary artists, in an exciting location under the Älvsborg Bridge. You can also visit one of Gothenburg's most stunning outdoor restaurants for a tasty meal or a fika!"
The place is loaded with history. Here, you can find remains from the Stone Age and also medieval remains from the old Älvsborg fortress. The 18th-century East Indiaman was moored and keeled here, and enterprising Scots established a community in the 19th century, with their own church and school erected around Carnegie sugar factory and porter brewery. The art gallery sits in an old boiler house built in 1940, which served as a heating plant for nearby industries. The heating plant was closed in 1957, in connection with the closure of the sugar factory.
Inside and outside, you can see traces of the 1980s and '90s rave parties, as well as the graffiti painters, who were active here after the heating plant was shut down. In the early 1990s, the building was threatened with demolition; however, a group of people came together and formed an association to save it.
Röda Sten Konsthall has grown into an important art institution and nowadays is a well-known destination for international contemporary art. Across the art gallery's four floors, you can experience both new and emerging, as well as established, artists. The place offers exciting perspectives from the past and a taste of what the future of art will look like.
Extensive programme of summer activitie
Since 2004, you will have been able to find one of Gothenburg's legal graffiti walls, Draken (The Dragon), outside the art gallery. The two-sided 41-metre wall was created by artist Per Agélii, and anyone can explore their own creativity on the wall. "A lot of people come here to watch the artists or might try themselves," says Christersdotter Norman. "The graffiti wall and the skate plaza add to the atmosphere of being in New York and, at the same time, it's in a historic place."
At Röda Sten Konsthall, you can see everything from painting and photography to performance, video and sound art. There is a wide range of screenings, talks, lectures and creative workshops for all ages, inspired by the exhibitions' expressions and issues. An important part of the activities is for children and young people. Ung & Skapande is aimed at people between the ages of 12–25, and for younger children there are workshops on Saturdays and Sundays during summer. Röda Sten Konsthall also offers activities for school classes during semesters, as well as workshops aimed at adults.
Upcoming exhibitions 2022: 11 June–14 August This summer, the gallery is hosting a new exhibition with Hillside Projects, Arijit Bhattacharyya and Julia Schuster. The title, dhak dhak ho-hum ah eekff iii ie, takes inspiration from one of the artworks in the exhibition, exploring the transformation of thoughts in time and space, as well as the concept of movement of ideas and bodies. 3 September–20 November Also showing at the gallery will be an exhibition with Gabriela Pichler, Johan Lundborg and Pilvi Takala. Pichler and Lundborg are well-known filmmakers with works such as Eat, Sleep, Die and Amateurs. Takala is a Finnish artist, who was chosen to represent Finland at this year's Venice Biennale. During the summer exhibition, screenings are offered every Wednesday, Saturday and Sunday. Take the opportunity to participate in a tour with one of the dedicated educators. The screenings are free and included in the entrance ticket. Summer activities at Röda Sten Konsthall: 15 June–11 August, Wednesdays and Thursdays Workshops for those interested in graffiti and street art, who are between 12-19 years old. A chance to paint, print, spray, roll and test different methods. 18 June–14 August, Saturdays and Sundays Explore various artistic expressions and materials with inspiration from ongoing exhibitions together with art educators. Open for children from 3 years old, and adults. Web: www.rodastenkonsthall.se Facebook: rodastenkonsthall Instagram: @rodastenkonsthall Twitter: @rodasten
Subscribe to Our Newsletter
Receive our monthly newsletter by email