Sámi Cultural Centre Sajos: A versatile cultural centre in Sápmi
Text: Malin Norman | Photo: The Sámi Cultural Centre Sajos
The contemporary Sámi Cultural Centre Sajos certainly stands out, and not only for its striking architectural design. Sajos provides fascinating information about the Sámi as Finland's indigenous people, and the largest events venue in northern Lapland is also an attractive meeting venue with state-of-the art technology.
Sajos, located in Inari, on the southern bank of river Juutua, in the northern part of Finnish Lapland, is the centre of culture and administration for the Sámi in Finland, Here, visitors can take a journey into the living culture of Europe's only indigenous people.
The building's purpose is to create better conditions for the Sámi in Finland, and for them to be able to preserve and develop their language, culture and business activities, as well as cultural self-government. The building houses the Sámi Parliament (Sámediggi), which is the highest political organ for the Sámi in Finland, and other Sámi organisations.
"At our centre in Sajos, you can learn all about the Sámi people and culture, and about the Sámi Parliament and how it works," says marketing manager Katariina Guttorm.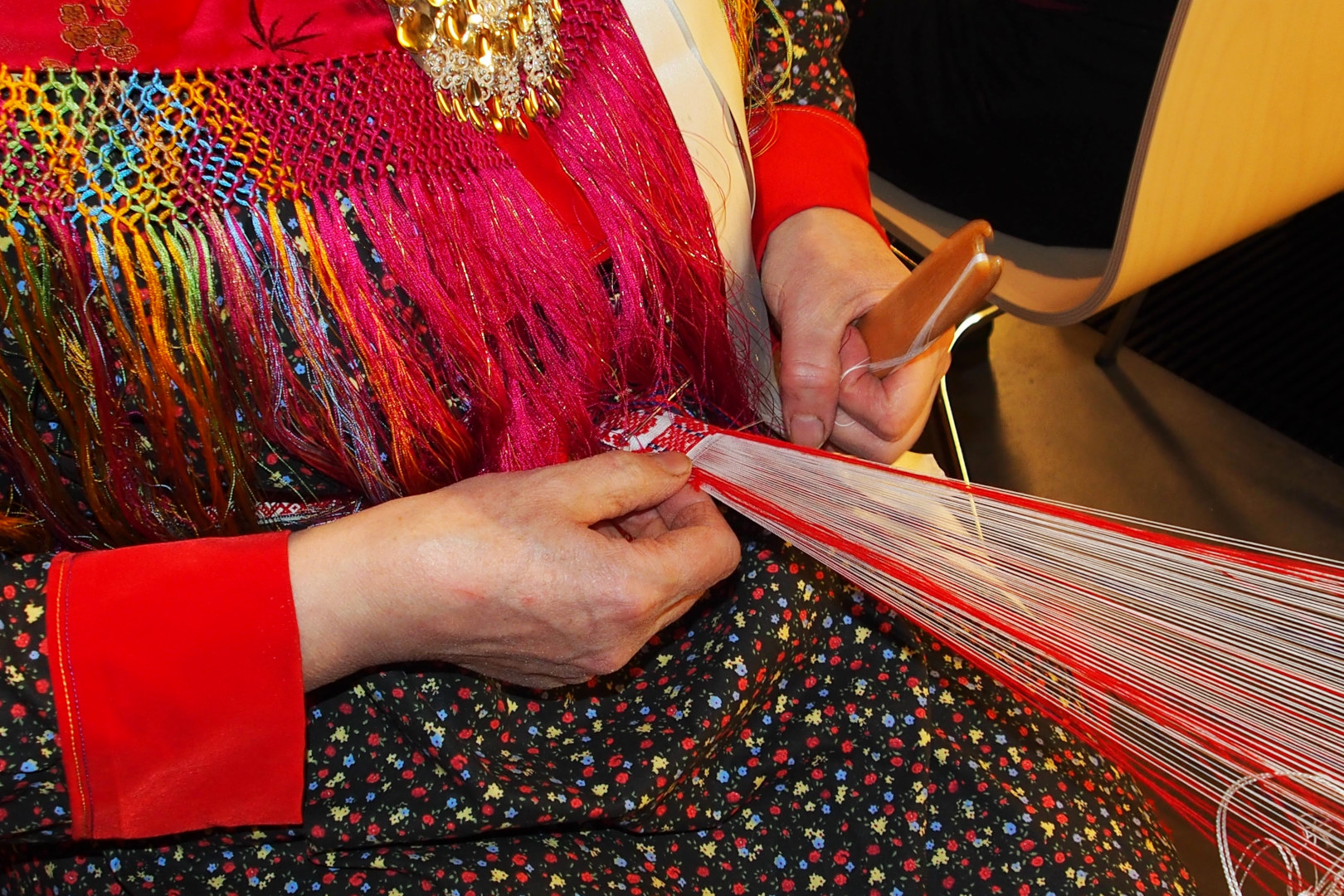 Contemporary architectural design
Completed in 2012, the remarkable reinforced concrete building definitely belongs in the modern world, with wood elements both on the exterior and interior from local trees such as spruce, birch and pine, all of which which express Sámi culture. Sajos was the winning proposal of a competition. Both architectural concept and interiors are by HALO architects from Oulu — a young team inspired by Scandinavian architect and design icons such as Alvar Aalto and Eero Saarinen.
The word Sajos comes from the Inari Sámi language and means 'a place where people stay for a while'. Fittingly, Sajos is a sustainable construction, with low energy consumption. The building's shape is inspired by a reindeer's hide and its form also takes inspiration from Sámi handicrafts and reindeer herding, one of the traditional livelihoods.
Eight organisations work in the building, including the Sámi archives, a library, and the Sámi educational institute's classrooms and offices. It also includes the parliament hall, an auditorium with capacity for in-house cinema theatre and concerts, with interpretation facilities, a multipurpose hall, meeting rooms, a café, and a recording studio with editing facilities.
State-of- the-art facilities
Sajos is not only contemporary and impressive in its visual expression and atmosphere, but it is also the largest conference and events venue in northern Lapland. Excellent conference amenities and high-end technology go hand in hand with genuine, living Sámi culture.
The centre offers a high international standard for meetings, training events, and conferences with up to 500 participants, including interpretation into four languages. With state-of-the-art light and sound, the premises are also perfect for concerts, theatre, exhibitions and fairs, and for private occasions such as weddings. In addition, Restaurant Čaiju is located on the first floor next to the lobby and conference rooms, and also provides special packages with catering.
With its unique setting in the heart of Arctic nature, Sajos engages all the senses, and the far north is the perfect setting for learning and experiencing at a tranquil pace. The area of Inari offers a wide variety of activities, such as hiking and kayaking, but there are also plenty of opportunities for relaxation. Guttorm emphasises the attractiveness of the destination as a meeting venue. "Away from the hustle and bustle of the city, we are surrounded by untouched nature and it's very quiet here, which is fantastic for company meetings and events," she says.
Sajos is conveniently located half an hour from Ivalo Airport, which is just over an hour's flight from Helsinki. There are plenty of accommodation options within walking distance in the village of Inari, ranging from cosy cottages to quality hotels.
Web: www.sajos.fi Facebook: sajosculturalcentre Twitter: @SajosInari Instagram: @sajosculturalcentre
Subscribe to Our Newsletter
Receive our monthly newsletter by email