Sannie Whigfield with a tie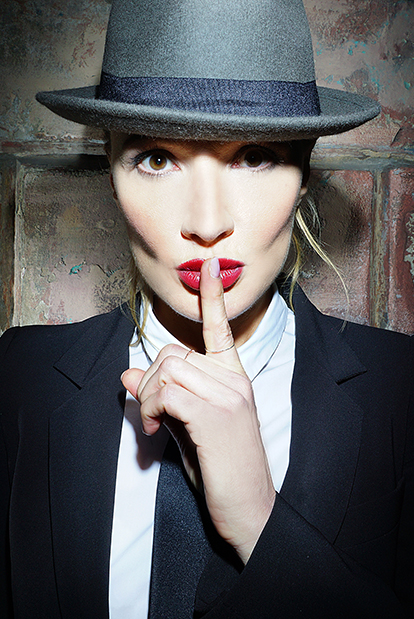 When Saturday Night became a worldwide hit in 1994, Sannie Charlotte Carlson became known as Whigfield in all corners of the globe, and eurodance fans were miming along to the legendary 'di di na na na' line on dancefloors everywhere. Two and a half decades on, Sannie reveals to Scan Magazine that she started out wanting to be a fashion designer and that, initially, all the record labels refused the now classic hit.
"Labels don't decide about hits – people do," she says as she answers the phone
in Italy. She has had a late recording session in the studio the night before and asked if we could postpone the call by an hour. "It took a good while before it really hit it big and entered the Guinness Book of World Records as the first debut single to go straight to number one in the UK Top 40. But it just goes to show – it was released in Spain in 1993, but none of the major labels wanted it. Then all the Brits returned from their holidays and started
calling radio stations requesting it. That's how it happened."
Asked if it is ironic that a singer from a part of the world renowned for producing global pop hits chooses to work with an Italian producer, she protests. "You see, back in the '90s there was a lot of Italo pop coming out. What we were doing was all quite light and a bit cheesy… But anyway, I moved to Italy to study to become a fashion designer and thought that's what I was going to do, but all my friends were working as DJs and one of my friends introduced me to who was to become my producer – and then I ended up staying. I've been based in Barcelona for a while and then London as I was producing a lot and writing with people there, but I have my dogs in Italy. It's my home."
'You can get too much chocolate'
Back when Saturday Night became a global hit, Sannie, which is the name she goes under now, was only in her early 20s and, she recalls, not really able to say no. "I didn't know how long it'd last, but as a solo artist it's not like in a band where you have other members to take the pressure off, and in the early days when I was still testing the terrain I didn't even really have management, so it did get to a point where I overworked myself," she says. "It was quite confusing but great fun as well – a lot of work and not a whole lot of sleep. I mean for any musician it's an amazing experience to get that, but a lot of young people just want to be famous without knowing why, and I remember that in the '90s that definitely wasn't my favourite part of the job." She talks about being able to go to the supermarket without being recognised as a sort of luxury.
"When you're famous, people feel like they own the right to disturb you. These days, I'm older and more relaxed about it, but I think back then maybe I lost contact with reality for a bit. I'm quite a simple person. I'm bubbly and joke a lot, but I was pushed into all these emotions and always smiling, and it became too much. You can get too much chocolate too, you know."
It would be easy to think that the comedown after such huge success would be hard, but Sannie does not describe it as such. After a few years, things died down – "you start selling less and less and realise it doesn't last forever," she says – but the creative life never stopped for her. "Music was my way of living; it wasn't really a job, it was something I had to do, so I started writing and producing for other artists and sort of worked behind the scenes for a few years. I learnt a lot from my previous producer – he taught me a lot about songwriting and all that. And so, one day, I was sitting there with some material and thought that 'hey, I'd really like to do this and see how it goes'." She pauses. "Doing a comeback is really difficult if you're known as doing something different – it takes a while before people accept it."
From Eurovision to Gay Pride
Still, Sannie has had what can only be described as an illustrious career, with five albums and countless global hits in her bag including songs penned for established artists such as Benny Benassi, Adam K and Ann Lee. The past few years have seen her produce house music and release singles with Holland's Armada Music among other things, and now her latest single is out – initially presented through the perhaps unlikely channel of the Danish Eurovision Song Contest qualifier, Melodi Grand Prix. "It was quite a strange experience, having people voting for you… Unfortunately, while the rehearsals went really well, 15 minutes before I was going on stage I had the most surreal moment with a panic attack, like an outof-body experience, and I couldn't control the song – I don't know what happened. But hey, I'm glad to have been part of it. Maybe it was for the best anyway as I'm free to tour and do what I like instead of being in Portugal now!" she laughs.
The song, Boys on Girls, is a steamy, pounding dance banger likely to get frequent spins in outdoor clubs this summer. Gay Pride festivals in particular might become avid fans, as the track is somewhat of what the singer calls "a rainbow song" about being free to love who you want. "It's incredible that in 2018 you still have other people deciding if you can get married or not," she says, adding that her new, more gender-fluid look with ties and suits might be appealing to the LGBTQ+ crowd. Having just turned 48 this year, she has chosen to reinvent herself, and miniskirts were never an option. "Of course in a country like Italy, where we have the Vatican, there's a lot less freedom, whereas in the rest of Europe it's quite normal and you don't really have to hide it so much. I just like to celebrate life, and my fan base can feel that. They know that I'm honest with the music; it's not like I write especially for them, but maybe there's a part of me that's a bit gay…"
With a fast-changing music scene, Sannie has chosen to keep focusing on strong songs and releasing singles, as few people buy into the concept of full-length albums these days anyway. "I finished another track last night!" she enthuses, adding that Boys on Girls has had a great reception among radio pluggers and that an EP might be on the cards if things go well. Her new sound is best described as electro-pop with simple hooks, perfect for clubs as well as radio. "Every time I have a new track, it's like my baby; every time a single is out, it's fun and it's what I enjoy doing. I'm just going to keep making music. I love writing and producing, and maybe I'll learn some gardening or get a hobby… I tend to throw myself into work but I'm trying to enjoy it more now than I did when I was young. You live a different way when you get older. You understand things – if something doesn't work, it's not the end of the world."
TEXT: LINNEA DUNNE
Subscribe to Our Newsletter
Receive our monthly newsletter by email